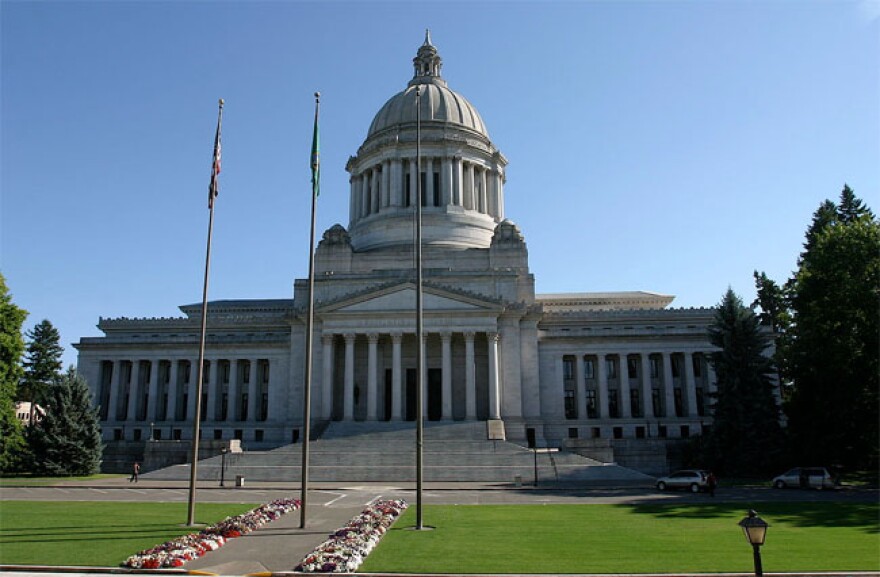 Washington Legislative Staffers Stage Sick-Out After Unionization Bill Dies
In an act of labor solidarity, scores of Democratic staffers in the Washington Legislature staged a "sick-out" Wednesday after a bill that would have allowed them to unionize failed to advance before a key cutoff deadline.
The work stoppage in the middle of a jam-packed, 60-day election year session was highly unusual, if not unprecedented. It also put majority Democrats in the Legislature — who are usually defenders of unions — in the awkward position of having to explain why they weren't allowing their own employees to form a union.
"Any kind of collective bargaining bill that we ever have tends to be very complex and every worksite is very complex, so you have to make sure that you're working out the details so that it will really work," said Speaker of the House Laurie Jinkins during a media availability Wednesday.
Jinkins added that she was confident that with some additional revisions the bill could pass the Legislature next year. She also said she supported the right of employees to stage a protest, noting it was one of the few legal ways for them to express their feelings. By law, legislative staffers are not allowed to lobby for or against legislation.
Senate Majority Leader Andy Billig, a Spokane Democrat, also expressed support for the idea of legislative staff unionizing and for their silent protest Wednesday.
"I understand their concern, I'm supportive of the solution. I support their action today," Billig said.
But a Senate Democratic staffer, who requested anonymity so as to not draw attention to the lawmaker she works for, called the demise of the unionization bill an act of "betrayal" on the part of Democratic leadership and suggested election year politics might have come into play.
"I fully understand that elections are tough and folks may be thinking about that, but it is so hard to work every day on workplace protections, but not have a way to protect our coworkers," the staffer said.
Jinkins said election year politics were not a consideration.
An estimated 80 to 100 or more Democratic staffers, including legislative assistants who work directly for state lawmakers, participated in the work stoppage. Many set their emails to 'out of office' with the message: "Due to recent events, I am unavailable today. In Solidarity."
Additionally, an Instagram page called dear_wa_gov_staffers featured anonymous messages that appeared to have been posted by current and former legislative employees.
The messages included: "I'm actively seeking new employment where my work will actually be fairly compensated" and "Really p***** off for my former colleagues who work so hard and deserve a union."
The House and Senate Republican caucuses said none of their staff participated in the work stoppage. The Legislature's nonpartisan policy staff were also not involved. The Senate Democratic staffer who asked not to be named said the workplace concerns transcend partisan politics and that the work stoppage was also on behalf of "folks that don't feel comfortable or safe" taking action.
The bill, HB 1806, would have authorized legislative branch employees to collectively bargain over issues including wages, work hours and conditions of employment. The measure passed out of two committees, but never made it to the floor of the House for a vote before a key deadline on Tuesday. A companion measure in the Senate stalled in committee earlier in the session.
The bill's demise was all the more surprising because the House version had 40 sponsors representing 70 percent of the House Democratic membership.
In a statement Wednesday, the prime sponsor of the legislation, state Rep. Marcus Riccelli of Spokane, noted that legislative Democrats have worked over a number of decades to expand the right to collectively bargain in Washington. That included passage of a bill in 2019 that allowed lawyers working for the state attorney general's office to unionize.
"It is a benefit to all when people join together and speak with a more collective voice to have a say about their compensation, and the environment they work in," Riccelli said.
In his statement, Riccelli said he plans to reintroduce the legislation again next year and, in the meantime, will work to "bring forward meaningful steps to address staff needs and concerns this session."
But the Senate staffer who spoke on the condition of anonymity said waiting another year was not acceptable and noted that a staff unionization bill also died in 2019.
"People rightfully are incredibly fed up with the work environment," the staffer said, citing low pay, high turnover and work conditions that have been made more difficult by the pandemic.
Using herself as an example, the veteran staffer said that until a recent pay raise her salary was low enough to qualify for housing assistance in the county she lives in.
Concerns about workplace conditions for legislative staff are not new. The issue came into stark relief during the "Me Too" movement as allegations of sexual harassment at the state Capitol surfaced.
After that, the House and Senate enacted a series of reforms, including new workplace standards, mandatory code of conduct training and, in the Senate, creation of a formal human resources office.
According to Jinkins, the House is currently in the process of hiring its own HR position. The Senate has also recently hired a diversity, equity and inclusion coordinator.
The Senate staffer acknowledged that improvements to workplace conditions have been made, but said more work and greater protections are needed — including the ability to bargain for higher pay.
Among the details that Jinkins said still have to be worked out with the unionization bill are who gets to bargain, what they get to bargain for and who is their employer.
"Those three things sound like easy things, but anybody who's worked in the collective bargaining area understands that they're very complex things to work through," Jinkins said.
Last year, Oregon legislative staff voted to become members of the International Brotherhood of Electrical Workers Local.
According to the National Conference of State Legislatures (NCSL), nonpartisan legislative staff in Maine have long worked under collective bargaining agreements. In addition, NCSL said at least some legislative staff in New York, Rhode Island and Vermont have union rights.
Legislation to allow legislative employees to unionize is also under consideration this year in California and New Hampshire, NCSL said.