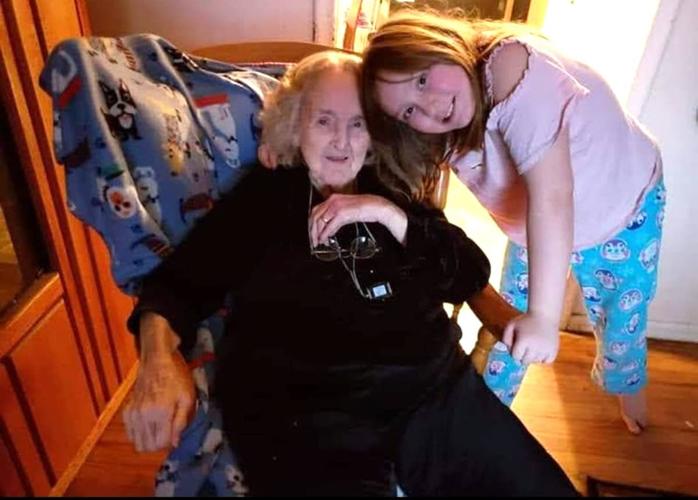 Grieving During The Pandemic – Part Two
During the pandemic, many people who lost loved ones had limited access to say their final goodbyes due to health restrictions at hospitals and assisted living facilities.

When 89-year-old Theda Killgore was hospitalized two years ago for pneumonia, her family was given one hour, once a day, for one person to visit her.

Theda was especially close to her great-granddaughter, Chelsea Andrews. The two would regularly do activities like puzzles, drawing and coloring, Chelsea says.
"She liked to play, do puzzles, draw color. (We'd get her) 400 pages of coloring books, and she'd have that finished within a week," Chelsea said. 

Because Chelsea is under 18 years old, she was never allowed to visit her great grandmother in the hospital. Theda's daughter, Jan Andrews, helped her FaceTime with the rest of the family, including Chelsea.

Theda's granddaughter, and Chelsea's mother, Melyssa Andrews, was also able to visit. By the time Melyssa got there, Theda couldn't speak. But the two listened to music together.
In a message following her interview, Melyssa wrote that she played Theda old country songs they had listened to when Melyssa's grandfather passed.
Songs like, "Are the Good Times Really Over," by Merle Haggard; "Seven Spanish Angels," by Willie Nelson; and "I'll Leave the World Loving You," by Ricky Van Shelton.
Melyssa writes, quote; "I played a lot of music and held her hand because she couldn't talk, but she squeezed my hand and she had tears. So I know she heard and knew I was there"; unquote.

The next day, Theda died. Because of her age and it being early into the pandemic, Theda was never tested for COVID-19, though her family believes that's what caused her death. What they do know is that none of them were able to be with her when she passed.

For 14-year-old Chelsea, losing her great-grandmother was even harder because she never got to say goodbye in person.
"There are some times, once in a while, I think she's still here. "It freaks me out, because then I remember that she had passed away," Chelsea said. 
Melyssa, who works at a local hospital in Washington, says although safety protocols are necessary, she hopes if something similar happened in the future hospitals would be able to offer better options to families.

She'd like for hospitals to give families the option to wear full protective equipment and be with their loved ones.

Visitor policies vary at different hospitals, with case-by-case exceptions often being made for end of life care. Even so, being with loved ones dying in hospitals can still be difficult to arrange for families, she says.

 "I have to be the one to tell people they cannot come in and see their loved ones because somebody has already visited or whatnot. So I've seen both ends, and both ends are not pretty."
---
This report is made possible by the Lewis-Clark Valley Healthcare Foundation in partnership with NWPB, the Lewiston Tribune, and the Moscow-Pullman Daily News.