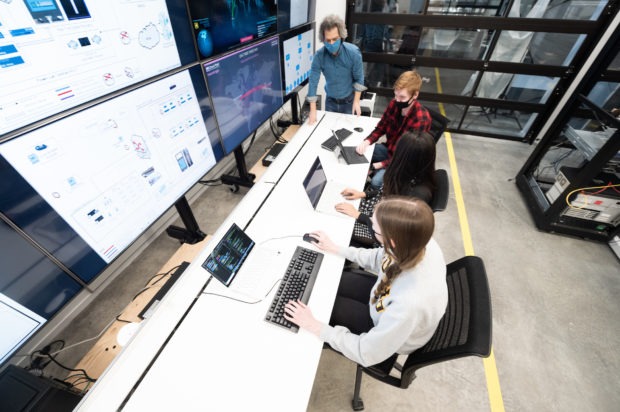 Cybersecurity Concerns – From Ukraine To The Northwest
By Anna King and Joshua McNichols
What's happening in Ukraine is a warning for the U.S. to increase its cyber-security – both online and in electricity grids. We have two reports.
First – Russian troops took control of Ukraine's largest nuclear power plant last week. The US is planning to build a more secure grid to address both cyber-security and more severe weather disasters.
After the fall of the Soviet Union, Ukraine worked hard to modernize its power system, disconnect from Russia's grid and hook into Europe's.
The prospect of Russia controlling Ukraine's energy system is now a security issue for European countries linked to the Ukraine grid.
Noel Schulz is Co-Director of the Advanced Grid Institute – a collaboration between the Pacific Northwest National Lab and Washington State University.
"That's one of the challenges in a military operation is that some of those electrical interstates will get disrupted,"Schulz said,
 "Much of the grid is actually out in the open. And so determined people can actually take 'em out," said WSU's Anjan Bose. 
Bose is a member of the National Academy of Engineering and was a senior advisor to the U.S. Department of Energy during the Obama Administration.
"At the same time as we're doing this, you see there is this threat of cybersecurity and the threat of more natural disasters," Bose said. 
Those same threats, cybersecurity and climate change, face the aging US grid.
And Northwest experts are in the forefront of both. Schultz says the new generation of workers need to understand both smart grids and cyber security.
"We just want to make sure we have the workforce of tomorrow to solve these problems. To create these microgrids that provide resiliency."
A big focus of the US infrastructure plan is modernizing the grid – a system that began in the age of Thomas Edison.
The challenges to our interconnected world include the security of the internet, here and abroad. Russia has been hit hard by sanctions, including by companies like Microsoft and Apple, which have said they'll stop doing business with the country. It's a day Russia has been preparing for.
Pedro Domingos is a professor of computer science at the University of Washington.
He says Russia always knew these companies could turn their backs on it someday.
And so, Russia prepared for it, producing clones of Microsoft Office and search engines and social media platforms.
But Domingos says Russia did not isolate itself as successfully from the West as China did.
"I think in this respect – China is the envy of Russia. Because they did manage to control the internet and cordon themselves off in a way that Putin would love to. But he hasn't – And it's going to be more difficult for him because people already very used to using all these things like Youtube and Facebook and so on and so forth. Whereas in China, they were shut off earlier."
Now, Russia has to expand its tech sector quickly, to replace western tech companies.
But Russia has less money than China.
And it can't afford the cost of manually monitoring Russians' online activities like China does.
That's good news for dissidents inside Russia, according to assistant professor David Kohlbrenner, also at the UW's computer science school.
He says activists in Russia have had the freedom to master tools that help them hide their tracks online.
Encrypted messaging services
And networks of routers – nested together like layers of an onion.
"This is classically why a lot of people in security like building these types of services. When there is a crackdown in a country, and when dissidents need access to tools to be able to coordinate, communicate, to you know, spread information to the outside world, these are the tools they turn to. And the fact that they had an open internet prior, means they could prepare for this kind of thing."
He says the fact that western tech companies are abandoning Russia – means the world will separate further into separate technological kingdoms.
But Russia's kingdom is different than China's.
It has fewer resources, and so, its walls will be lower.