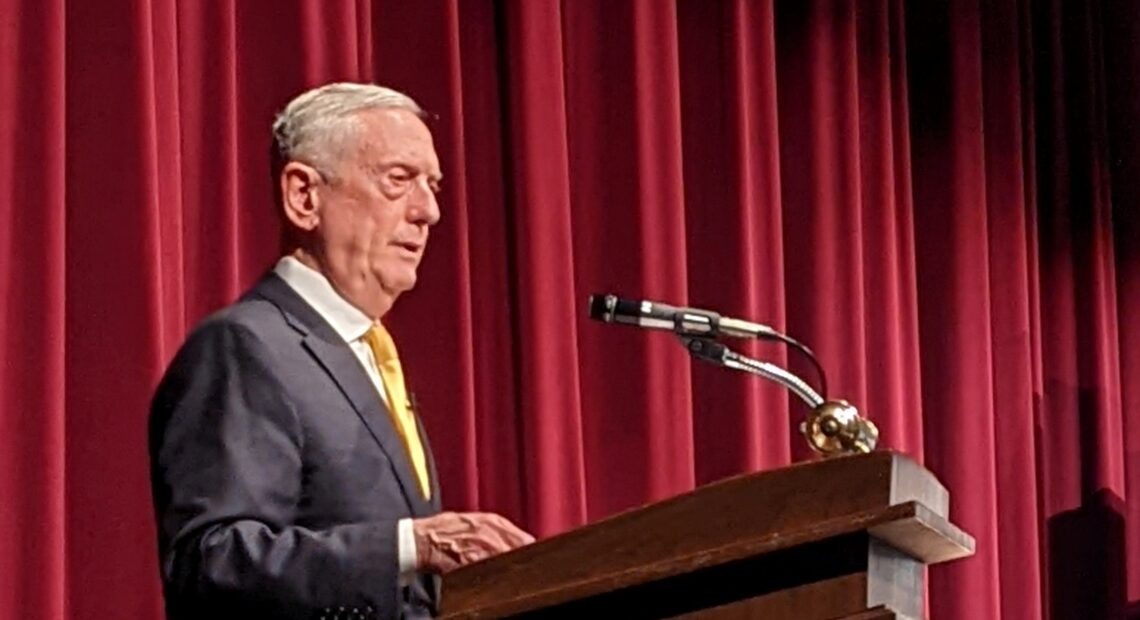 Former Defense Secretary James Mattis speaks at WSU
NWPB's Lauren Paterson reports on James Mattis' visit to WSU this week / Runtime – 1:08
WEB EXTRA: Listen to Gen. Mattis answering a series of reporter questions before his speech / Runtime: 8:51
Retired General and former U.S. Defense Secretary James Mattis spoke to a live audience Thursday, March 24 at Washington State University.
Mattis served in the U.S Marine Corps for 43 years. He resigned as President Trump's defense secretary in 2018 over policy differences.
Before the speech, Mattis took questions from reporters. Most of the questions centered on Ukraine.
When asked if the media is manufacturing consent for war, Mattis said the media is revealing reality.
Mattis brought up the Geneva protocols. He called them the rules of war.
"In there it says you will protect women and children. Have the Russians willfully been targeting women and children? Yes they have. Russia is creating this war, and it's totally on them," he says.
His lecture focused on his concern for political discourse in the U.S. He said its important to still respect and defend the rights of people you disagree with. And he encouraged young people to go into public service.
Mattis was born in Pullman, Washington. He spoke with reporters about visiting his grandparents on the Palouse while growing up.
Mattis' talk, "Democracy at Home and Abroad," is part of the Foley Institute's Distinguished Lecture Series.
The livestream of the speech and discussion are available for viewing on the Foley Institute's YouTube channel.