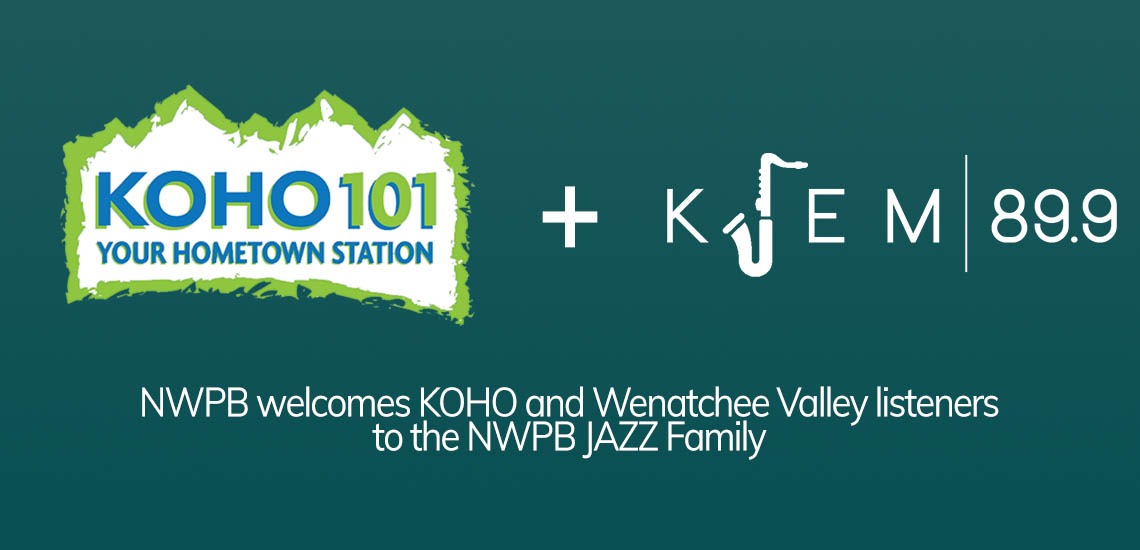 Jazz on Wenatchee's KOHO 101
On April 19, 2022, KOHO 101.1 FM began broadcasting jazz programming in the Wenatchee Valley. The new programming is provided by Northwest Public Broadcasting (NWPB) under a programming and services agreement between NWPB and Sleeping Lady Foundation, which owns KOHO. The arrangement allows KOHO to bring a new, unique music service to the region.
Beth Stipe, president of the Sleeping Lady Foundation said, "We are thrilled to honor Harriett Bullitt's vision of enhancing the community's broad arts and culture resources. This programming change will give our audience a new, exciting musical option not offered anywhere in the region."
NWPB's jazz service began in 2013 on KJEM, broadcasting from Pullman. Funded through philanthropic resources, KJEM provides an educational opportunity for college students to create, manage, program and produce jazz programs. Through this experience they learn the business of broadcast media. The jazz station compliments the NWPB network, which delivers an NPR News service and a Classical Music service throughout the Northwest.
"NWPB has served Central Washington for nearly four decades," said General Manager Cara Williams Fry. "We are excited to expand access to jazz music and provide additional listening options for residents."
Icicle Broadcasting, the company built by Harriet Bullitt to provide locally owned and operated radio to North Central Washington, was founded in 1999. When Harriet gifted KOHO to the Sleeping Lady Foundation, the priority was to continue the legacy of local radio, along with promotion of music, the arts and education that have long been Harriet's passions.
Deborah Hartl, Senior Vice President of Icicle Broadcasting and long-time associate of Harriet Bullitt commented, "We believe that NWPB, with its broad experience in community radio and its highly popular sister stations in our region, is an excellent strategic fit for KOHO. We think the Wenatchee Valley will quickly come to appreciate this exciting new alternative on the FM dial."
KJEM was created in honor of broadcasting pioneer J. Elroy McCaw. NWPB is a service of the Edward R. Murrow College of Communication at WSU, reaching 3.5 million people in 44 counties across Washington and parts of Oregon, Idaho and British Columbia. In 2022, NWPB celebrates 100 years of broadcasting from Washington State University.