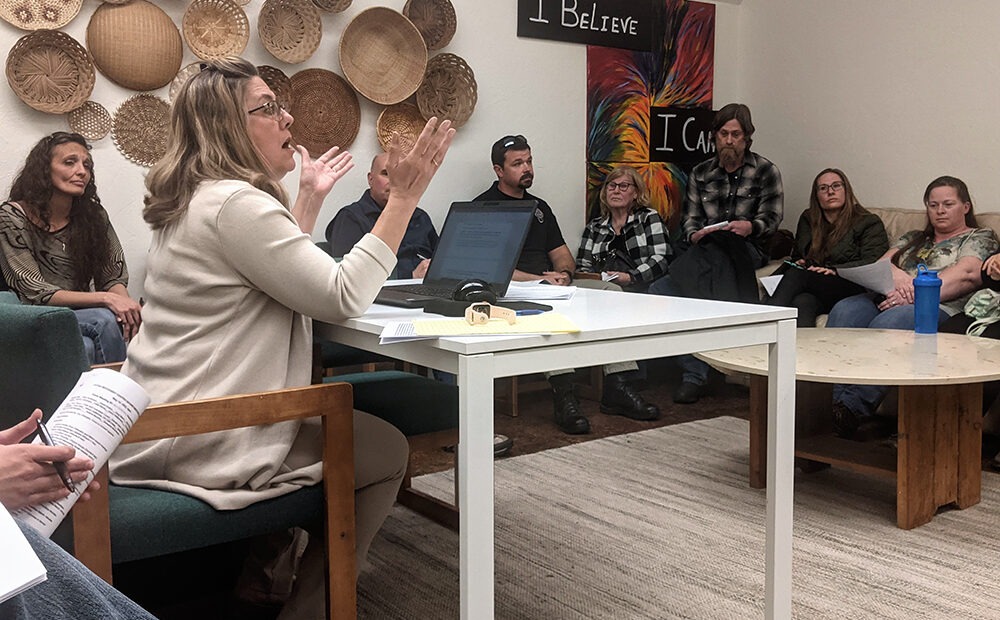 Neighbors Question Recovery Center Board On 'Oxford House'
Around a dozen neighbors of a planned Oxford House recovery home questioned the Latah Recovery Center board about how the home could affect them at a meeting Tuesday evening.
Several residents said they were upset they weren't informed of the plans for an Oxford House sooner, and had only heard about it through word of mouth.
"That's what most of us are hurt and upset about. And there was this failure of communication that we're learning through word of mouth and we live right there. So that was not a good start to establishing that trust."
That's Brooke Roth, one of the neighbors. Roth, along with other neighbors who are parents or grandparents, said they wanted to make sure their children would be safe, and asked about who would be allowed to live in the home.
In addition to sobriety and financial contributions, approval for an Oxford House is based on existing residents voting new members in with at least 80% approval. Stacie Hatfield, the Washington and Idaho senior outreach coordinator for Oxford House, says the two main convictions that routinely get applicants denied are arson, and sex offenses.
In the case of the Moscow Oxford House, which is located a few blocks from Moscow Middle School, any people with convictions limiting their proximity to schools would also automatically be ineligible.
Tony Kern, a former resident of a Lewiston Oxford House, was one of several people in recovery who spoke in favor of the project, along with members of law enforcement and board members.
Kern was previously convicted on felony charges, and says he owes his life to Oxford House and the men there who helped him. Many of those men were fathers, which is something he's now experiencing as a step parent.
Kern: "Those guys that helped me along the way, they now get to see their kids every day. They were working their asses off for nothing other than to be where you're at. That's what the world means to us."
Nationwide, Oxford Houses have a roughly 13.5 percent relapse rate, and residents are kicked out if they're found to be, or suspected of using drugs. That's a lower relapse rate than average — but enough, residents say, to give them pause.
Kelsi Banta, a probation parole officer, says when addicts relapse, they tend to avoid environments where they know they'll be under scrutiny.
Banta: "They're not going to go back to where the neighbors that are gonna be giving them that sideways look (are), because they're high. They're going to dodge you. They dodge me pretty hard, but they're really going to dodge you."
Several neighbors said they're supportive of the project and want to see it succeed — but were upset by the lack of communication, and wanted to make sure they were informed on future updates.
Jordyn Nafsinger, another neighbor, says she believes recovery housing is needed and valuable, but still worries for her children.
Nafsinger: "My aunt went through this and it saved her life. And so I really do support this for our community. I know that we need it. I just want you guys to know it's just very scary."
This report is made possible by the Lewis-Clark Valley Healthcare Foundation in partnership with NWPB, the Lewiston Tribune, and the Moscow-Pullman Daily news.