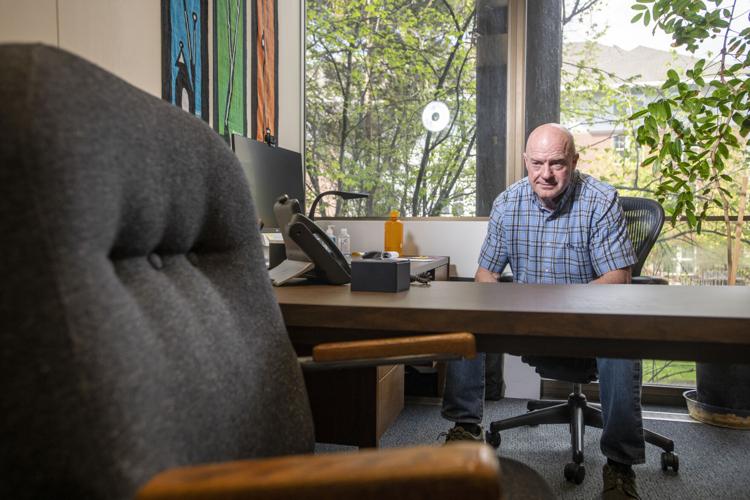 Support Beyond A Textbook: Forestry Researcher Uses Mental Health First Aid in Class
Randy Brooks probably isn't the first person you'd think of when it comes to mental health advocacy. He's a forestry professor at the University of Idaho. 
But in the past year, Brooks says he's spent more and more time working to be a mental health resource to his students. He's noticed that more than ever, students are withdrawn and struggling in classes.
Brooks: "I've never seen students struggling like this. And I've been with the U of I for thirty one years now and I've been on campus for a dozen years."
Brooks' interest in mental health grew out of his research on the health impacts of sleep deprivation on wildland firefighters. He found they suffer from impaired reaction time. Other research showed a greater risk of depression, anxiety, PTSD and excessive alcohol consumption.
Then two years ago, Brooks got the chance to become a certified Mental Health First Aid instructor through his work as an extension specialist. Much like the name suggests, the course teaches how to care for someone who is experiencing a mental health challenge or crisis, similar to how regular first aid  addresses physical ailments.
Brooks: "I looked at that as my next step, a stepping stone into the research I've been doing, because they all play hand in hand."
Part of Mental Health First Aid, Brooks said, is being a "noticer." Over the course of the pandemic, he saw more students, specifically freshmen and sophomores, were struggling.
Brooks gives all his students his cell phone number. When he notices someone is withdrawn or stops attending, he checks in. This semester, six out of twenty eight students were on his list. 
He also refers his students to the university's Counseling and Psychiatric services. But sometimes, his students are more comfortable talking with him than a stranger.
Greg Lambeth is the executive director of Counseling, Access and Testing at the U of I. He agrees the entire campus community should be involved in supporting students' mental health.
Lambeth: "I think that's really important that we are interacting with faculty and staff on campus, providing them the support and training that can help us to identify students who are in distress."
The university was recently chosen as a pilot location for Mental Health First Aid training, meaning more faculty will be equipped to help their students the way that Randy Brooks has.
This report is made possible by the Lewis-Clark Valley Healthcare Foundation in partnership with NWPB, the Lewiston Tribune, and the Moscow-Pullman Daily news. This report was produced with assistance from the Public Media Journalists Association Editor Corps funded by the Corporation for Public Broadcasting, a private corporation funded by the American people.