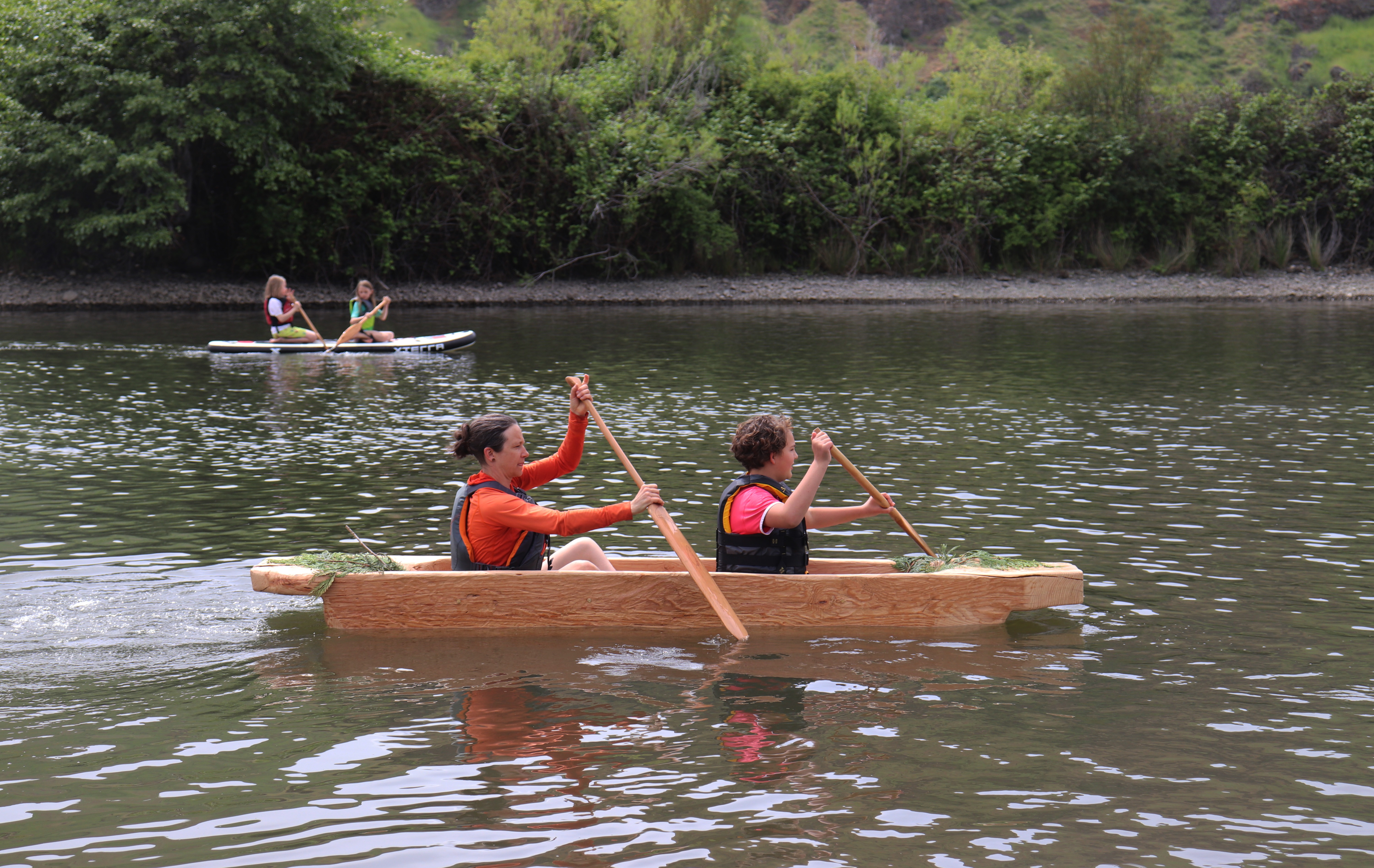 Carving Out Lessons From A Canoe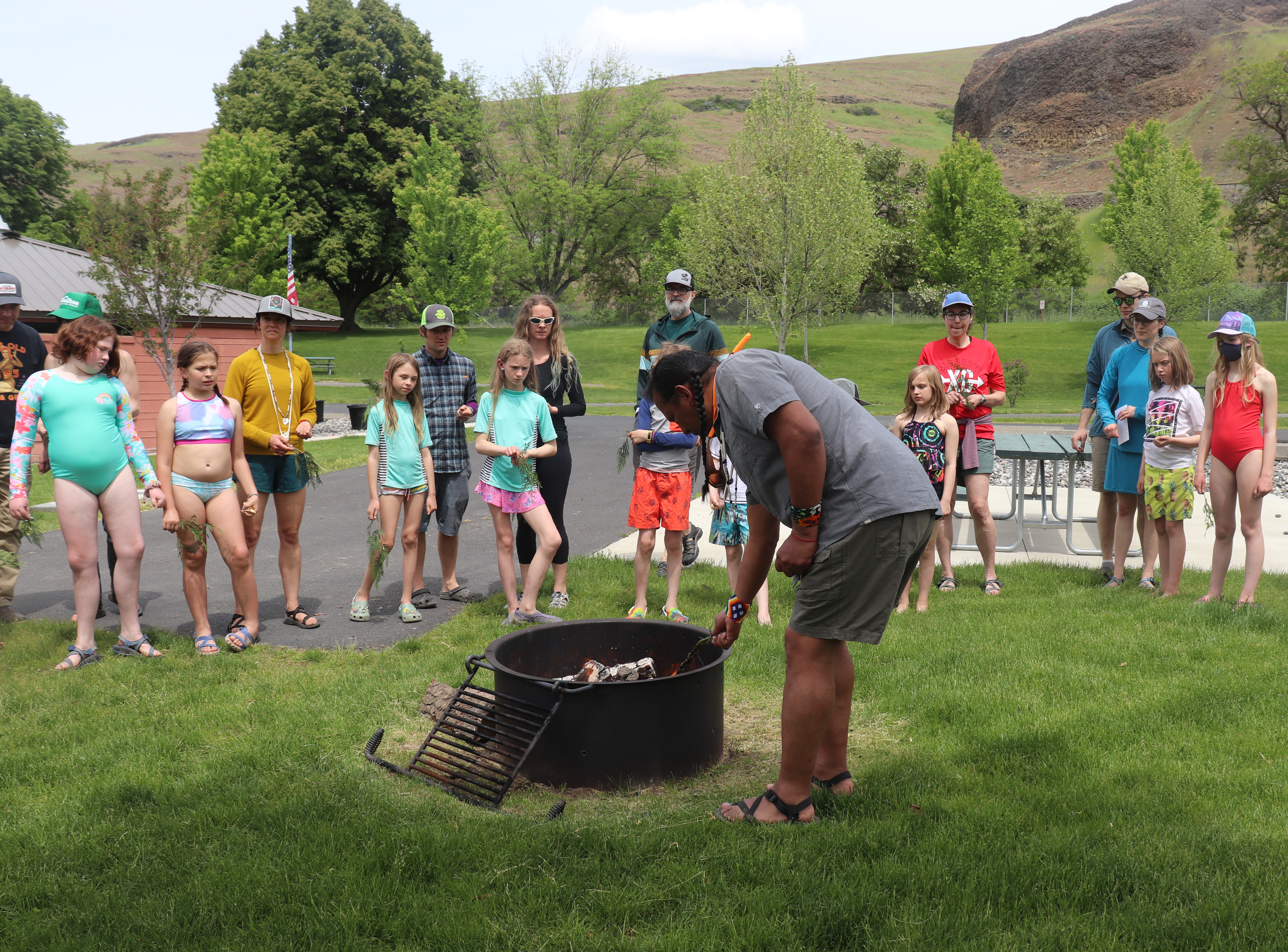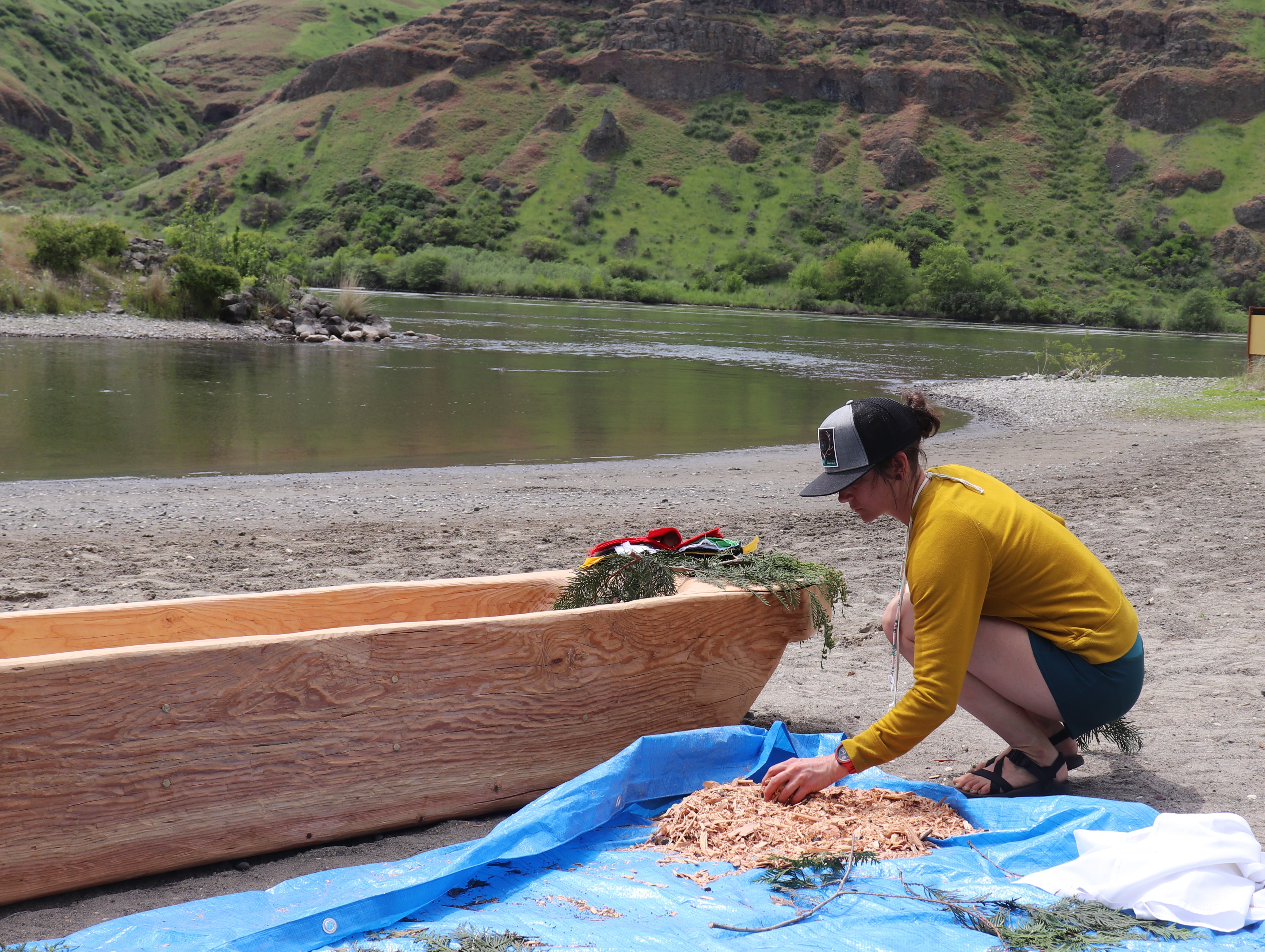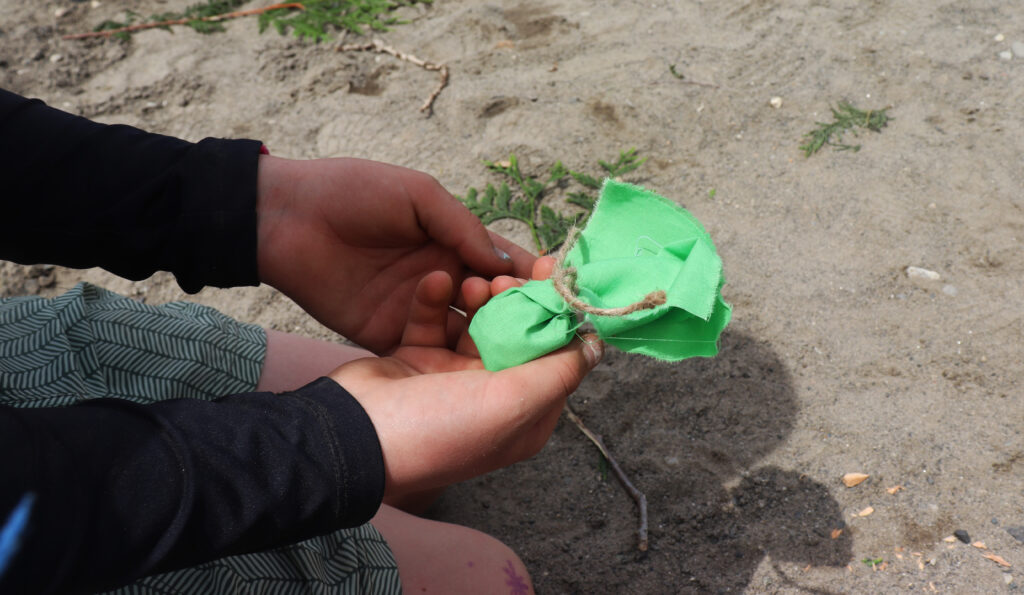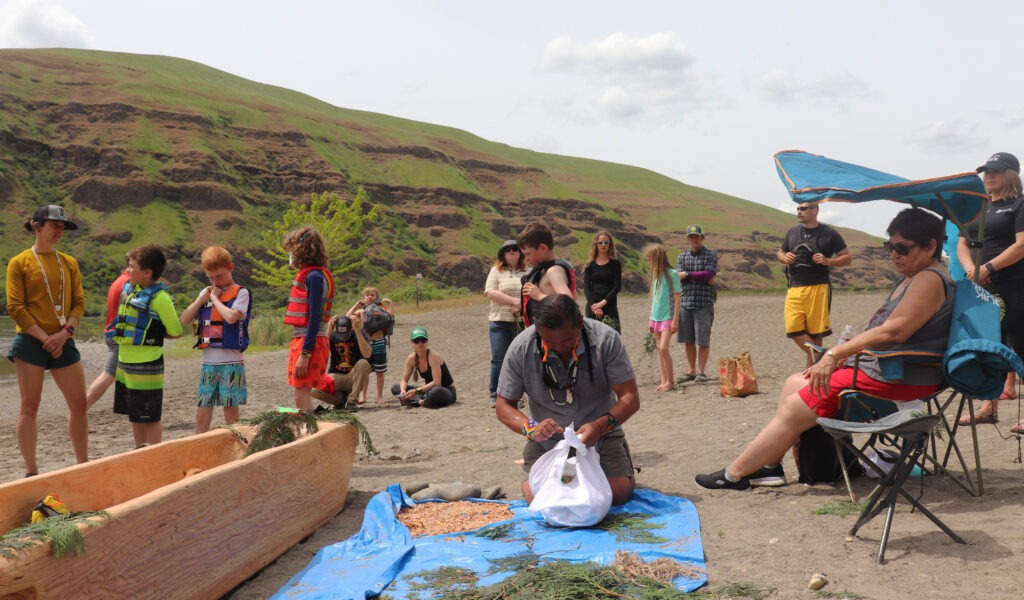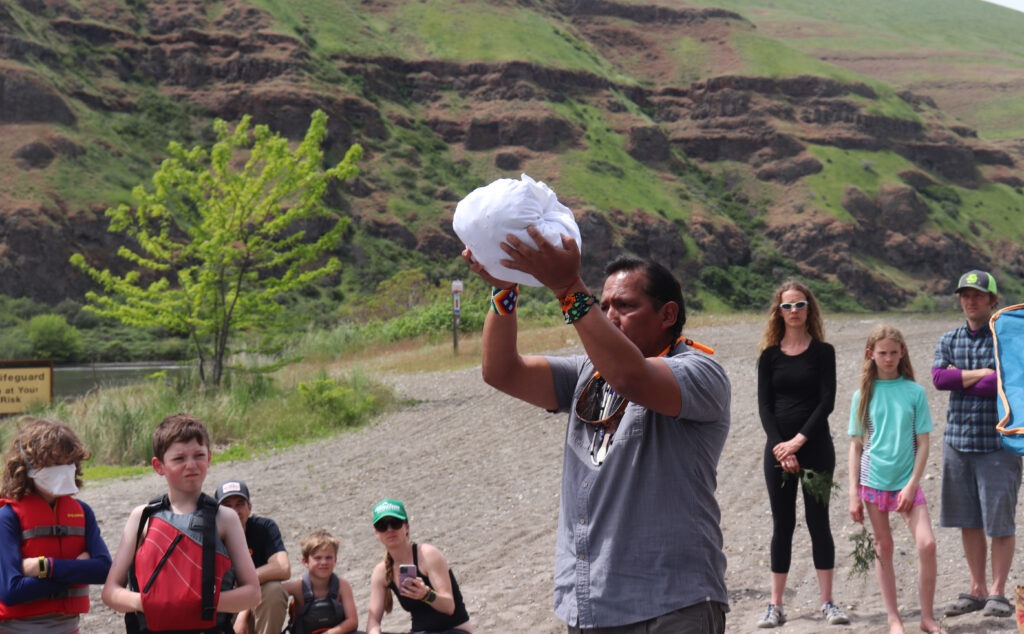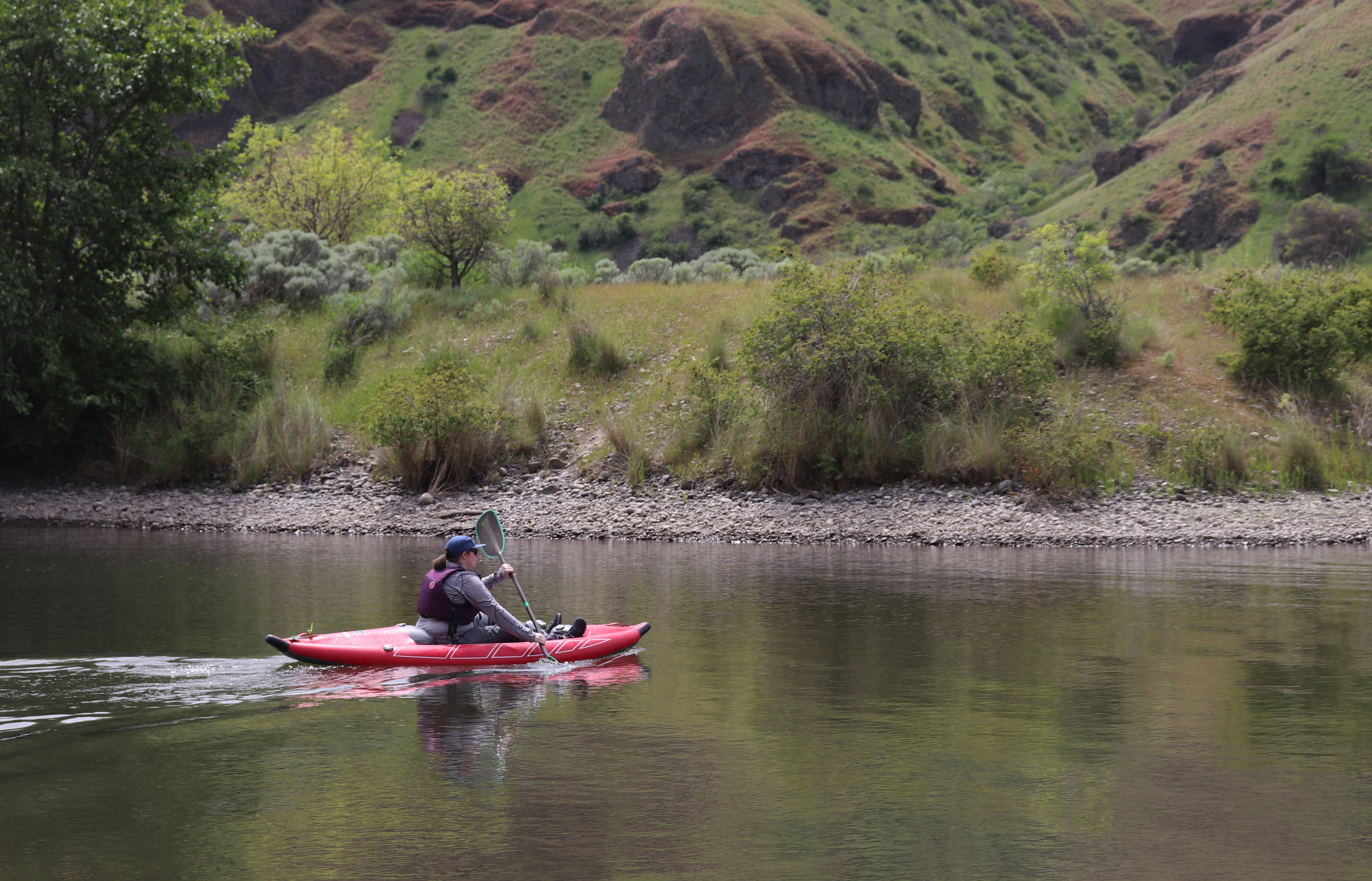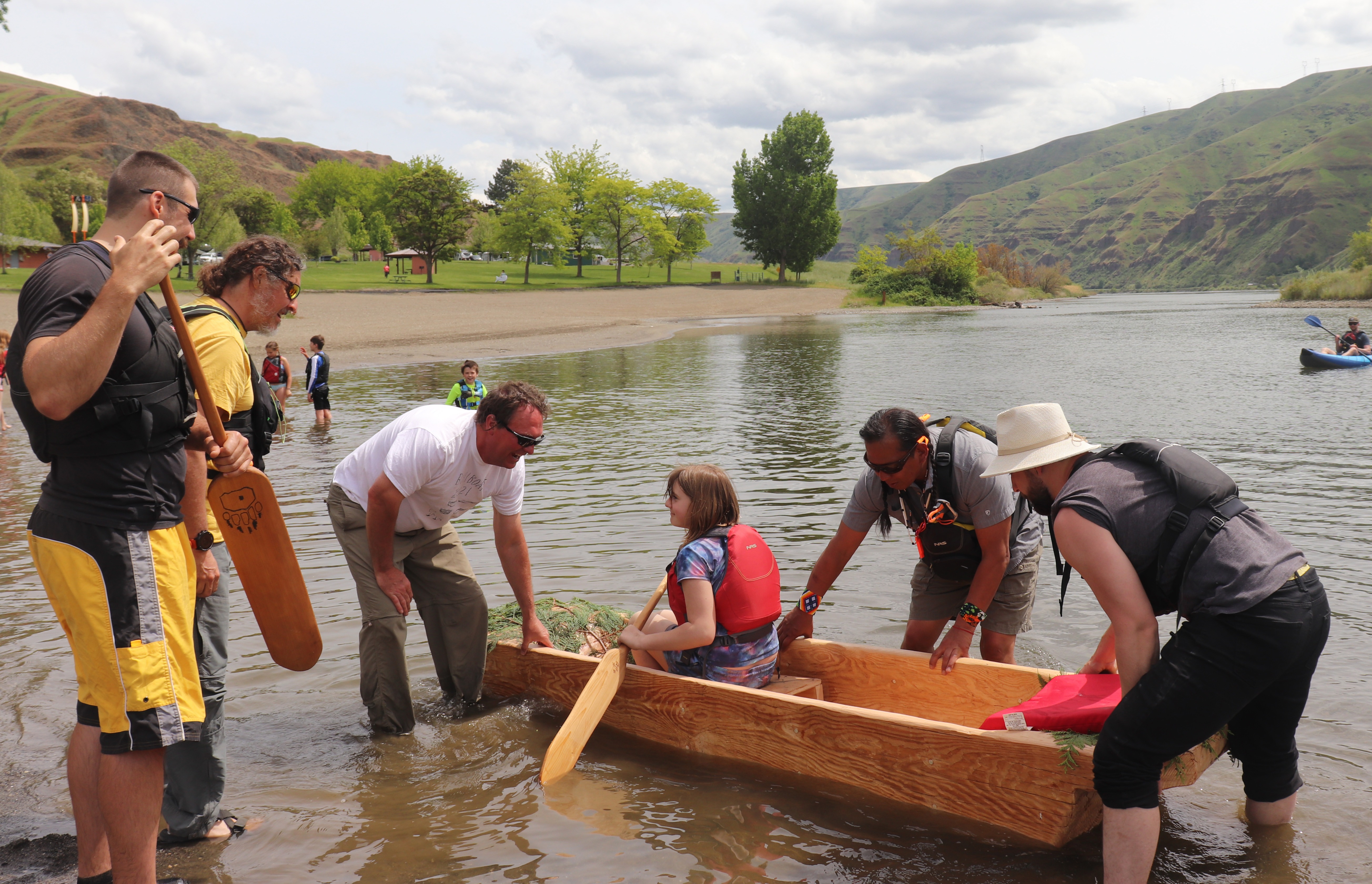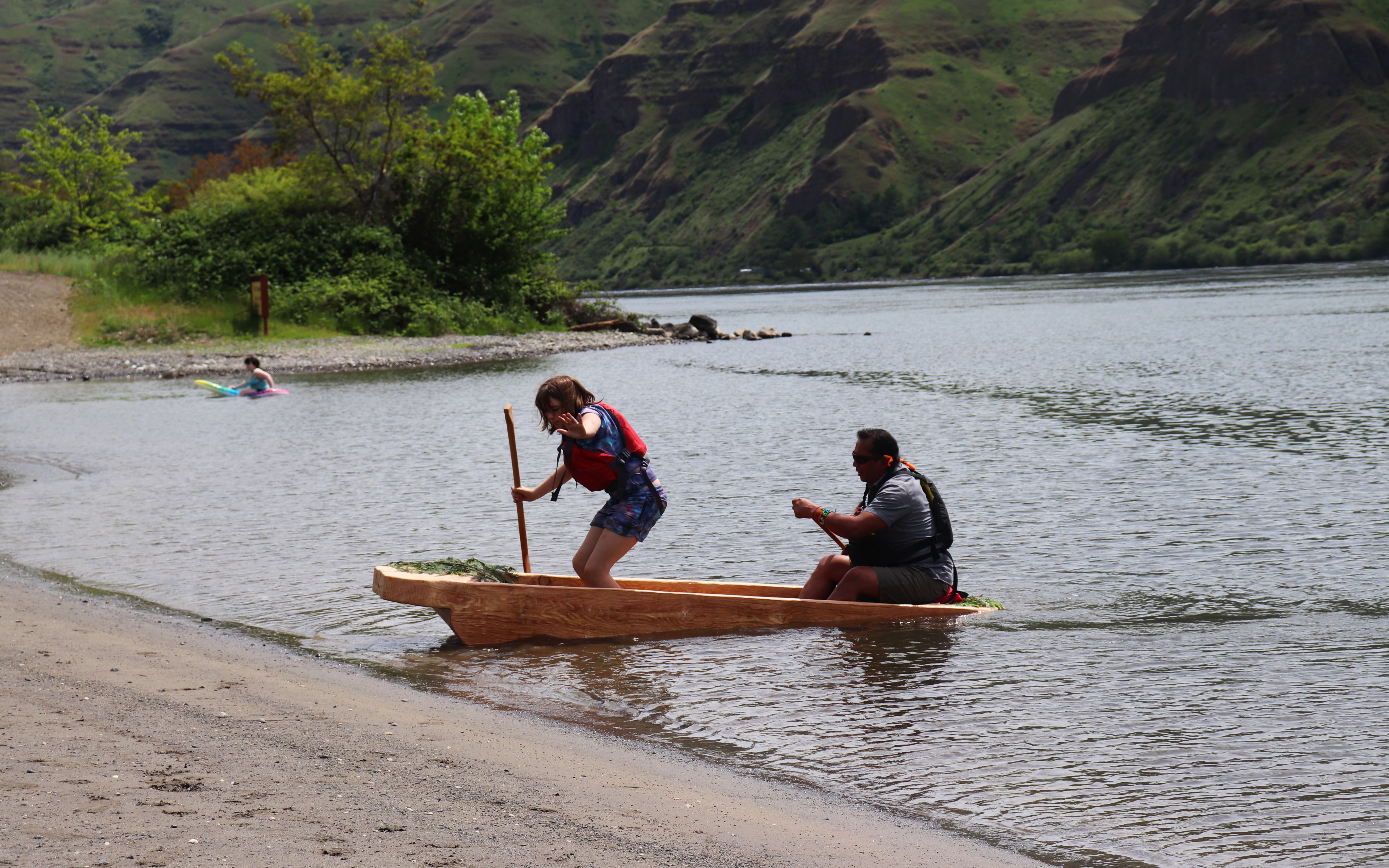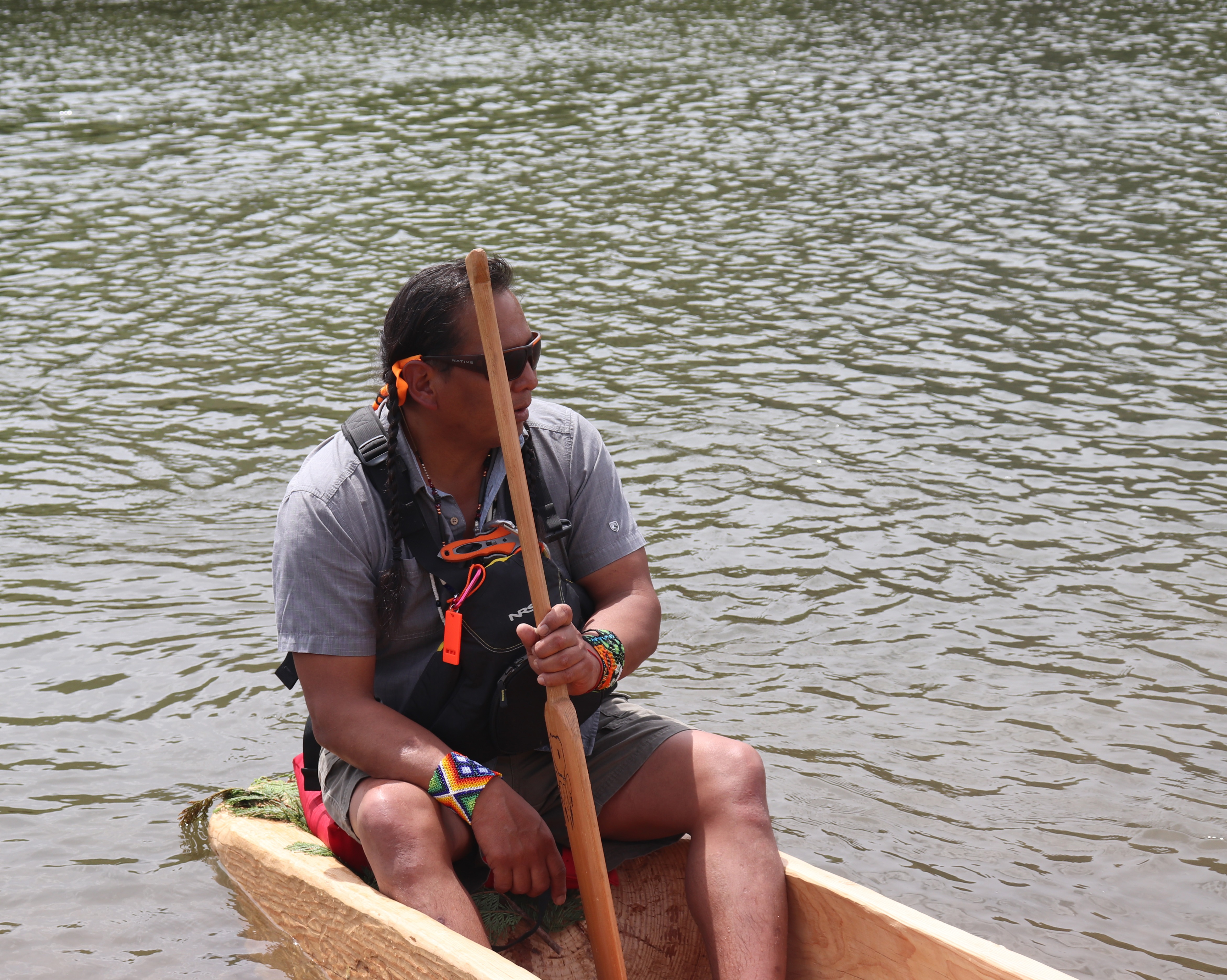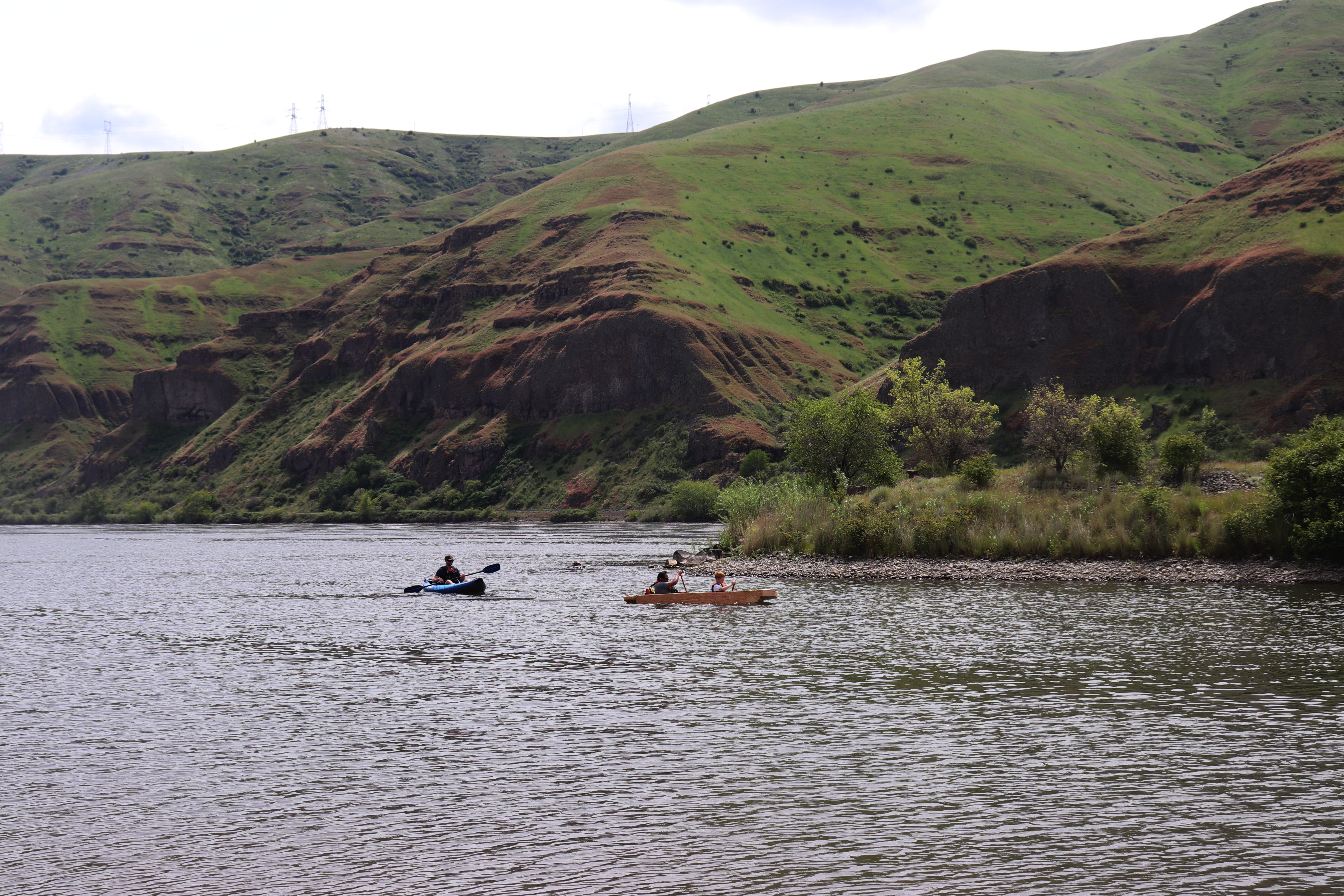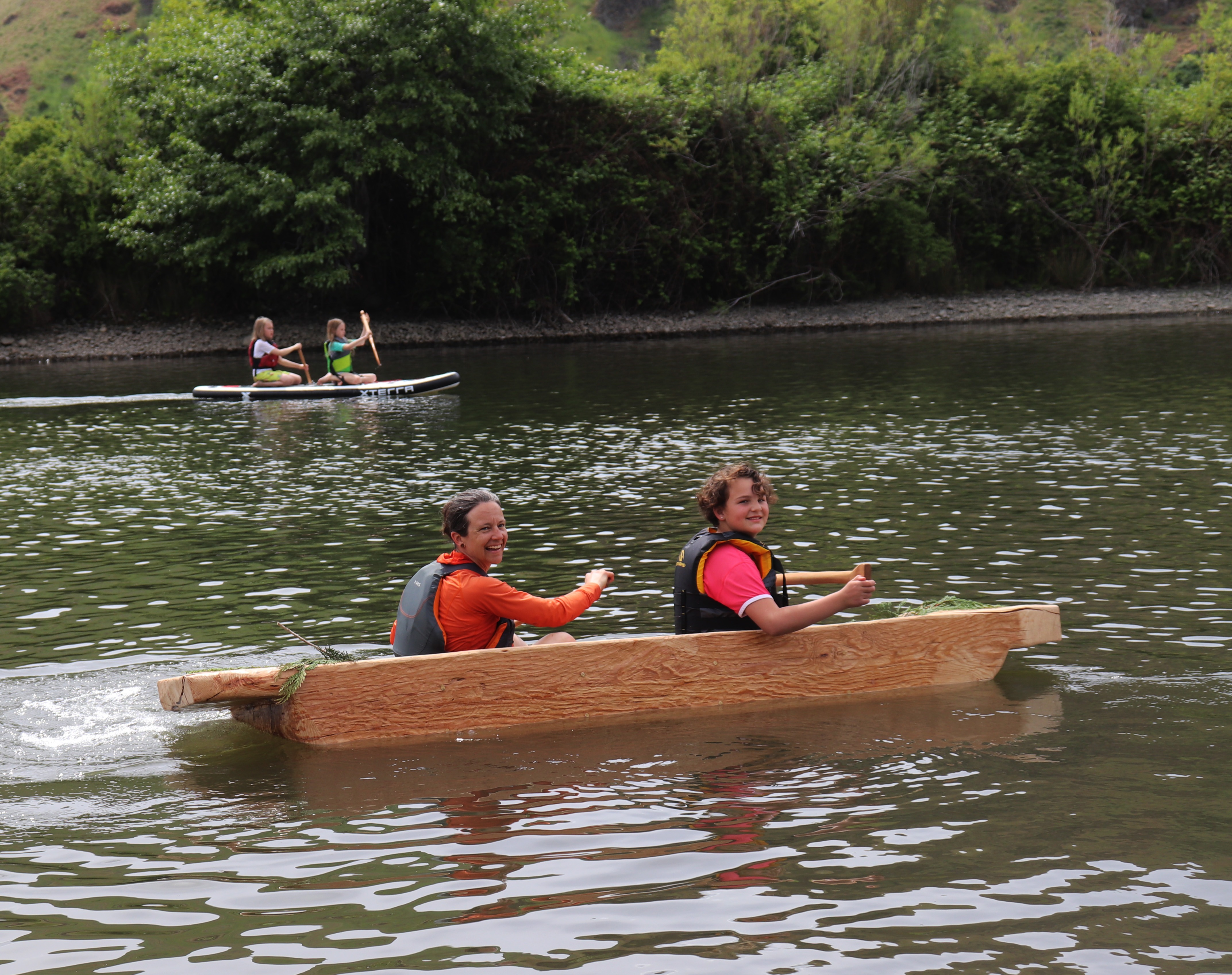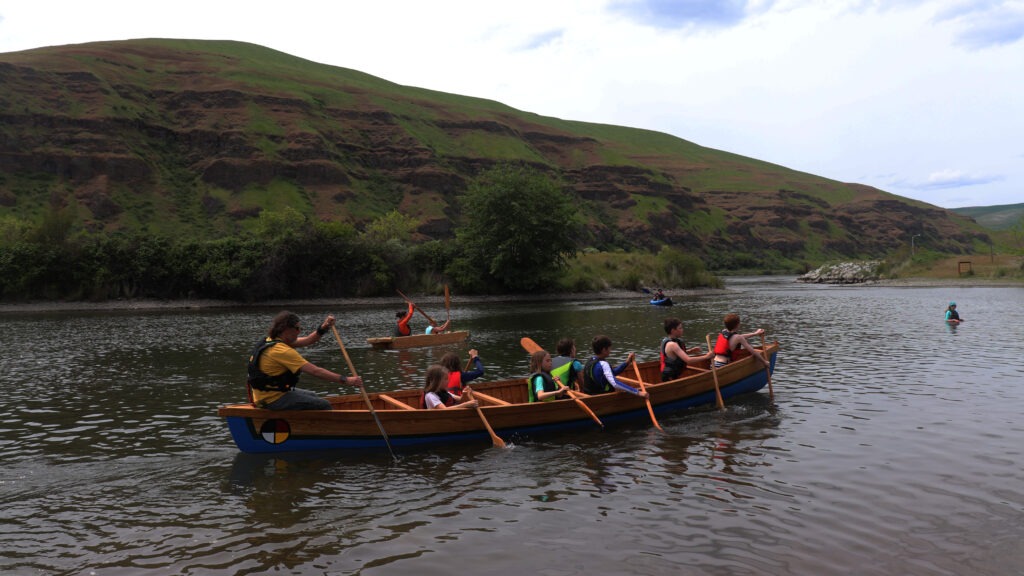 By Jayce Carral
The deep vocals of a song rose and fell in steady rhythm. The voice intertwined with soft crashing waves and gentle winds as students, parents and volunteers gathered for a canoe launch on Tuesday at Boyer Park and Marina in Colfax, Washington. 
The journey began in early March when the canoe was not yet a canoe, but instead a large log of Douglas fir. The tree was not the one originally chosen, but it was the one readily available, and it would serve well as the host to create a dugout canoe. 
Palouse Prairie Charter School's fourth grade class, which is led by teacher Renée Hill, was invited to help the Nimiipuu 5-4 build a canoe as part of the class's learning expedition titled a "Confluence of Cultures." This year is not the first time that Hill's class has built a canoe, but the program has evolved over the last six years into one that is focused on learning about Nez Perce culture and its people. 
"These children, at the end of the semester, go home to their families as the experts in my culture," said Gary Dorr. "And that's very limited — whatever knowledge they have."
Dorr, also known as Standing Red Bear, is of the Nez Perce people. He is a proud member of Nimiipuu 5-4, which is a group of Nez Perce who promote, preserve and protect their way of living that was established before the Treaty of 1855. This includes increasing the ability to legally protect their rights, preservation of hunting practices and promoting increased knowledge of the culture with Native and non-Native people. 
"By birth, Indians are activists," Dorr said. "These kids are learning about [our culture], and then I'm affirming it by showing up, and they're going to share that with their family. I know I have rights. All of our tribal members know we have rights. But [non-Native] need to know we have rights."
During Tuesday's canoe launch, Hill's students were asked to read their responses to two questions: what did they learn that wasn't related to physically making the boat and paddles and how are they promoting, preserving and protecting Nez Perce culture by building the canoe? 
Fourth-grader Lauren Venzke said Nimiipuu culture includes celebrating their traditions and beliefs. She learned that the canoe reflects their culture and keeps their traditions alive. 
Lauren joined her classmates, parents and volunteers as they tied off prayer strings, which were created by placing a handful of wood shavings from the canoe on a soft cloth and bundling it together before tying it all off with a string. Dorr gathered all the prayer strings in a white cloth that he securely tied and it was handed over to a member of the Northwest River Supply, who was there with a coworker to ensure the launch's safety, to sink into the depths of the marina. 
Being able to share his culture with students is one of the main reasons Dorr became involved with the school's learning expedition. Six years ago, he accompanied a friend to the school after hearing about a fourth grade class that was learning about the Lewis and Clark Expedition. This was a chance, he said, to share the real story behind the two as they traveled through the Pacific Northwest.
Explorers Meriwether Lewis and William Clark were, frankly, weirdos, Dorr said. They traveled through mountain passes that were avoided by the Nimiipuu people in the winter because of the large amounts of snow. The pair had gotten in such bad condition that they resorted to eating their dogs and horses, which was a decision that was unthinkable to the Nimiipuu. But the oddest thing they did was blow their nose into handkerchiefs that they then stored in their pockets. The practice led to a well-intentioned gift that the Nimiipuu later gave them: a deer bladder full of snot. 
This was a story a Nimiipuu elder shared with Dorr and other Nez Perce people during a general counsel meeting years ago.
"She said 'You'll never see that in the history books, but you got to remember that story,'" Dorr said. "We have to keep telling these stories. It's one thing for me to say we're still practicing Native things on the reservation, but it's easier for me to just come here and tell a story. Now they're relating that to our people without me saying 'This is what we are.'"
Later, in early May, this was a story that Lauren laughed about with her friend and classmate as they shaved off slices of wood from a paddle she was making. Lauren said she always shares what she learned in class with her mother when she gets home. 
But the knowledge the fourth-grade students gain is not just from Dorr. They do their own research as part of their learning expedition and come back to canoe camp — students take a bus to the Palouse-Clearwater Environmental Institute a couple times a week to work on the canoe and their paddles — to share what they learn with Dorr and each other. 
One by one, each fourth-grade student stood up from where they were circled around the canoe before the launch to share what they learned. The wind was blowing lightly, twirling the edges of their written papers, but they spoke with confidence and rising excitement as they neared closer to the launch. 
When each student finished, Hill stood up and praised her class and Dorr. Her voice cracked with emotion as she shared her experience over the last couple months. 
"There's been a lot of healing around this canoe …There's been so much good love and energy and raw emotion out into this from children, from adults, from family members from community members and all of that lives here," she said. "By helping carve out this dugout canoe, not only are we acknowledging the presence of the Nimiipuu and other peoples on this land … we're all offering the type of healing that we each need and that we each know how to give and when we know how to give it." 
Learning about Nez Perce culture has become a lifelong journey for Hill. 
Hill, 44, turned to teaching six years ago after switching careers. As a newly-hired teacher, her first assignment revolved around the history of Idaho, including the history of Native American tribes. 
"My heart sank … I was so terrified of being a white person, or a non-Native person who had good intentions, but did it all wrong," Hill said. "I tried to get out of it, but they didn't let me … then it turned into this huge blessing."
She met a man at a climbing wall who had learned how to build Indigenous-style canoes while attending Evergreen State College. He gave her a film documenting some of the process, and she immediately saw how a project like that could enhance the topics she was teaching in class. 
It was an ambitious project, especially in her first year, but she had a few hundred dollars in funding and was determined to make it work. 
"My job is to teach the standards, and I could do it all with paper and pencils in my classroom — just me and 24 kids," she said. "But I don't do very many things mindlessly; it's just the way I move through the world."
This was proven on Tuesday as volunteers shimmied orange ropes under the finished canoe and began pulling it toward the water. The canoe's wood was smooth to the touch, glistening from a waterproof coat rubbed into it. The interchanging colors of the wood stood in stark contrast to the blue waters as it was pushed in. 
Parents and volunteers held it in place as Dorr stepped into the canoe with his paddle in hand. From the side, a fourth-grader named Josie Tate came running as the first to join him inside. They settled in, making sure their weight was distributed equally, and with a final push, the canoe took off. With steady movements, the two used the paddles they built to row across the water. 
The pattern continued like that for the rest of the afternoon. Students would switch out on either side of the water, Dorr was replaced by Hill, who was later replaced by several parents and volunteers. The canoe was joined in the water by a David-Thompson canoe, paddle boards, kayaks and a floatable unicorn swim ring. 
Hill said there are a lot of things she still does not know about Native culture, but she continues to learn. She always searches for good resources that she can share with her students and their families, and she does not hesitate to admit when she doesn't know something about the culture. 
Hill's openness about learning and helping is a large reason why the canoe-making project has been successful, Dorr said. The project has also been supported by the school and its administration, as well as now partially funded by the Nez Perce and Idaho commission of the Arts.  
A reassurance for Hill that she is doing something right is when Native people are willing to come back again and work with not only her, but also her students and school. And through the project, Hill and Dorr have become close friends. 
"[Dorr] has given me the ability to humbly and kindly and appropriately teach kids and their families a really complicated history that is not easy to teach, especially in fourth grade," she said. "There's a lot of murder. There's a lot of death. There's a lot of harsh reality. There's a lot of sadness. And he's given me the capacity to learn how to do that — he's helped me and walked by my side the whole time."
In the first three years, Hill's classes built cedar David Thompson-style canoes, modeled after the Canadian fur trader who borrowed canoe-making techniques from several different Native groups. The second canoe her class built years ago was used in Tuesday's launch. Last year, with Dorr's help, the class helped build bull boats, which have firmer roots in Nez Perce culture. 
That type of boat has not been used on Nez Perce land since the Nez Perce people used them to escape the U.S. Cavalry when chased off their homeland in 1877. Bull boats look like half circles, structured from willow frames and covered in animal hide or canvas. 
That was the first step the fourth-grade classes took into Nez Perce culture. The steady evolution of the project, Hill said, has become less of a project and more of an invitation. The class is no longer just building a boat, instead, the class is invited by Nimiipuu 54 to help build a boat and learn about Nimiipuu culture as they do it. 
"You think you're building a boat, but you're not. You're building knowledge, faith and patience," Dorr said. "You're finding out your own character or other people's character. You have to come together with all these different mindsets to, in the end, produce this beautiful boat."
The dugout canoe was shipped to the Moscow Contemporary Art Gallery on Tuesday night. It will be part of an exhibit, along with one of the bull boats, that will open June 3. On June 9, Hill's class will present their experience during the exhibition.