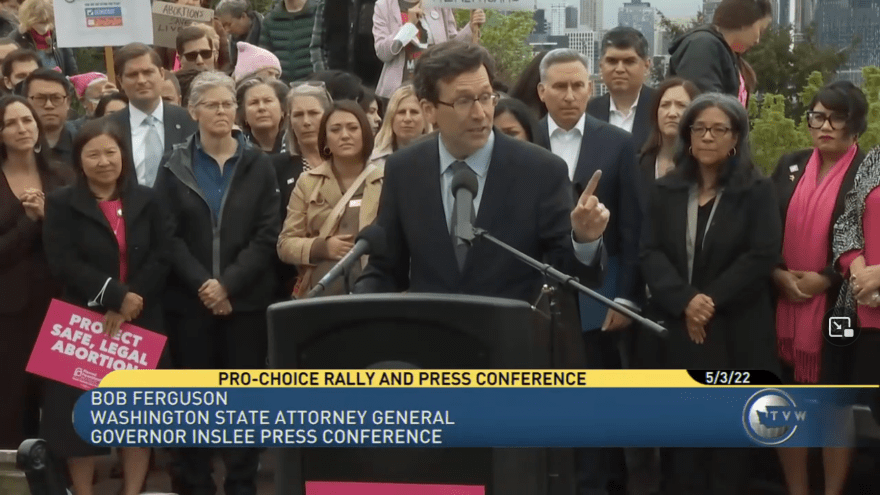 Washington Officials Vow To Protect Abortion Rights
This piece was originally published on May 4, 2022.
Governor Inslee hopes to embed those rights in the state constitution.
Washington state Democratic officials say they will battle to protect abortion rights in the Evergreen State, even if federal abortion guarantees are upheld by the U.S. Supreme Court.
Attorney General Bob Ferguson told a rally in Seattle Tuesday he will fight attempts by other states to track down women who travel to Washington for the medical procedure.
"Missouri has proposed legislation that makes it a crime for someone in Missouri to travel to another state to have an abortion. You know that will not be the only state that proposes such legislation. If Missouri or any other state passes such an unconstitutional law like this, and it affects Washingtonians, we will challenge it in court and I assure you we will win," he said.
At that same rally, Governor Jay Inslee told he'd like to embed that right in the state constitution.
"There are two ways to get that done. One, the state Supreme Court could rule that that right exists under our pre-existing right of privacy, our own version of Roe versus Wade. That is a possible route to get that job done. It involves litigation. It involves some time," he said.
"An alternative route would be to amend our constitution in the state of Washington to make this very, very specific. Now, to do that, we would have to have, at least the current situation, help from some Republicans, which doesn't appear to be in existence at the moment," he said.
Inslee said he expects the number of people coming from out-of-state to Washington for abortions and other women's health care services to drastically increase. So does Paul Dillon, a spokesman for Planned Parenthood in Spokane, who predicts his agency's providers will see a huge demand for their services if Roe v. Wade is overturned.
Copyright Spokane Public Radio 2022. To see more visit spoaknepublicradio.org