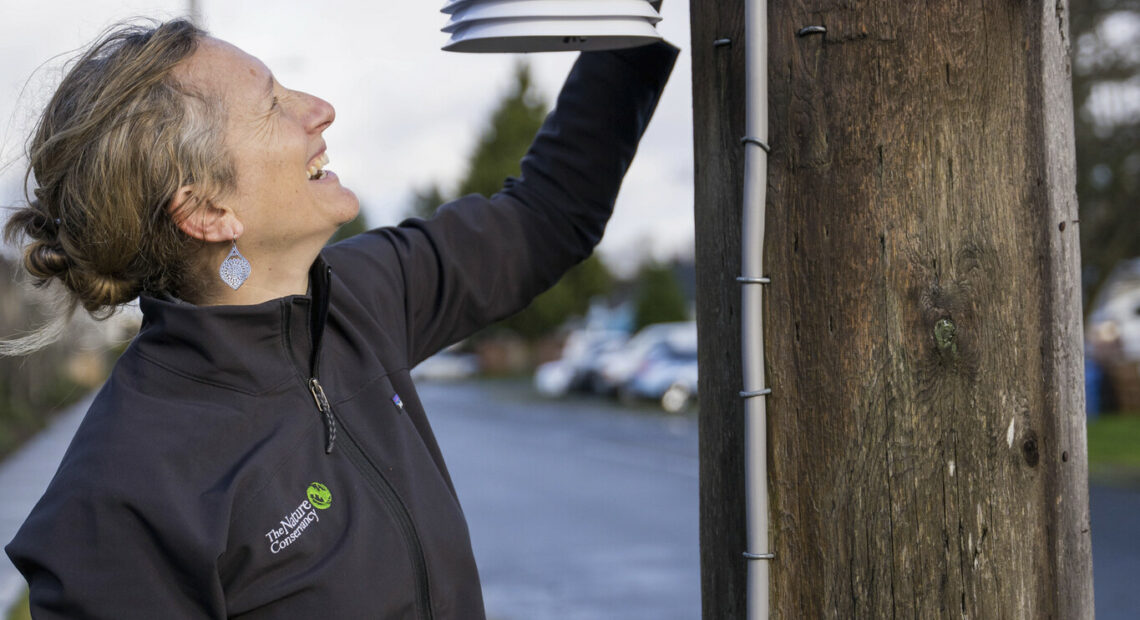 Greening Up A Formerly Redlined Neighborhood
On an early and rainy June day, Ailene Ettinger is using a power drill to install a small, metal device on a utility pole. The device is a temperature logger, housed under a white rectangular UV radiation shield. Once installed, it constantly measures air temperature in this South Tacoma neighborhood, sending the data via Bluetooth to an app that Ettinger checks on her phone.
As quantitative ecologist for the Nature Conservancy, she, along with her colleagues, will be tracking temperature data from this, and other temperature loggers in the area, for at least the next year. 
What will be revealed is anyone's guess — but the temperatures tracked will likely be higher than in other parts of Tacoma.
Why? The neighborhood was previously redlined — a discriminatory practice where people of color and low income residents were segregated to only qualify for home loans in certain areas deemed "hazardous."  A map of Tacoma showing redlined areas can be found here, created by Mapping Inequality.
Services were withheld from these neighborhoods — including access to green spaces. Trees and other greenery were not planted and planned for in redlined neighborhoods, according to the City of Tacoma, Urban Forestry.
The Tacoma Mall neighborhood has the lowest percentage of tree canopy cover in the city, according to the Tacoma Tree Foundation — 10% compared to the city's average of 20%.
"When you have an absence of trees and a bunch of absorbing surfaces, like concrete roads and buildings, it creates what's called the urban heat island effect," says Ryan Hebert, urban forestry analyst with the City of Tacoma. "And that can make areas on the ground in that neighborhood much hotter than surrounding areas, if they were to have tree cover."
This can be very unhealthy for residents.
The Urban Heat Island Analysis of Tacoma done by Earth Economics in 2020 estimates that three to 15 lives are lost in the city each year due to the urban heat islands. 
According to the Washington State Department of Health, 28 people died in Pierce County because of heat from June 26 through August 30 last year.