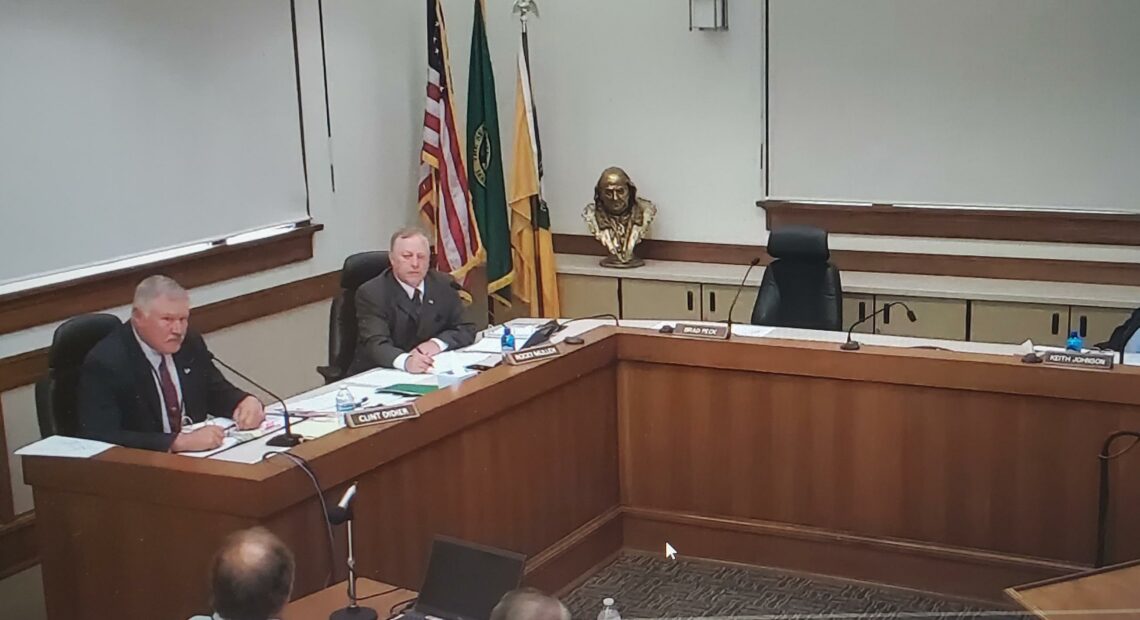 Tri Cities Mental Health Detox Facility Hinges On Contentious Benton – Franklin County Commissioner Cooperation
There was contentious dialogue at the Franklin County Commissioner's regular business meeting in the Tri Cities this week as a Benton County Commissioner joined to discuss the purchase of the mental health and detox facility. 
Benton County Commissioner Jerome Delvin traveled to Pasco to update the Franklin County Commissioners about the recent offer to purchase the old KGH building in downtown Kennewick.
The KGH building was a public facility that incurred debt while building a new hospital. It was then sold to Trios. Now, Lifepoint, a for-profit management entity that runs hospitals, is managing. The sale of the KGH/Lifepoint building comes with conditions that Benton county has agreed to which angers Franklin County elected officials. One of those sale conditions is about treatment stays. 
The KGH building will house the jointly run mental health and detox facility for both counties. Jerome Delvin explained:
"LifePoint did not want more than a three day stay at the Crisis Recovery Center if it was located there."
There is an advisory board made up of residents from each county and will make recommendations like who the provider will be and send those recommendations to both sets of county Commissioners. 
Franklin County Sheriff Jim Raymond will serve as the Law Enforcement Representative. During the meeting, Raymond shouted from the audience that agreements about the facility were already in place. 
Jim Raymond: "People from all over the Tri-Cities met, there was an agreement, that KGH would be the best place for a Recovery Center, a one stop Recovery Center…what's happened now is Benton County Commissioners have went out, they bought property. They're sitting here telling you what you can and can't do.
Raymond proposed that Franklin county run their own facility and break off ties with Benton County. The meeting grew more animated with accusations….
Michelle Gerber from the Benton Franklin Recovery Coalition told the Commissioners… 
 "Time is of the essence. I hope we can work together. I hope that Franklin County and Benton County can work together. I fully support the cooperation of the two counties and I understand it" 
Gerber stated that state legislators are looking forward to this facility and don't want any further delays or funding could go to other projects. 
Jerome Delvin spoke to NWPB late in the evening and said he would be open to having Benton County go out on their own and not partner with Franklin County. 
The Advisory Board is set to meet on the 29th. 
Benton County Advisory Board:
Sheriff Tom Croskrey, BCSO – Law Enforcement Representative

Chief Chad Michael, KFD – Fire/EMS Representative

Erika Barton, Kadlec ER – Hospital Representative

Sindi Saunders – Mental Health Expert Representative

Joel Chavez – Substance Use Disorder (SUD) Expert Representative

Jason Bliss – Lived Experience Representative

Shelby Beardslee – General Public Representative

Brian Ace – General Public Representative
Franklin County Advisory Board: 
Police – Sheriff Jim Raymond

Fire/EMS – Chief Bob Gear, Pasco Fire

Hospital – Joan White Wagoner, Lourdes Medical Center

Mental Health Expert – Robert "BJ" Olson

SUD Expert – Rebecca Grohs

Person with lived Experience – Angie Manterola

Member of the Public – Trevor Hummel, Erin Petty
The 17th member, from the persons with lived experience, will be appointed by the committee once they start meeting.