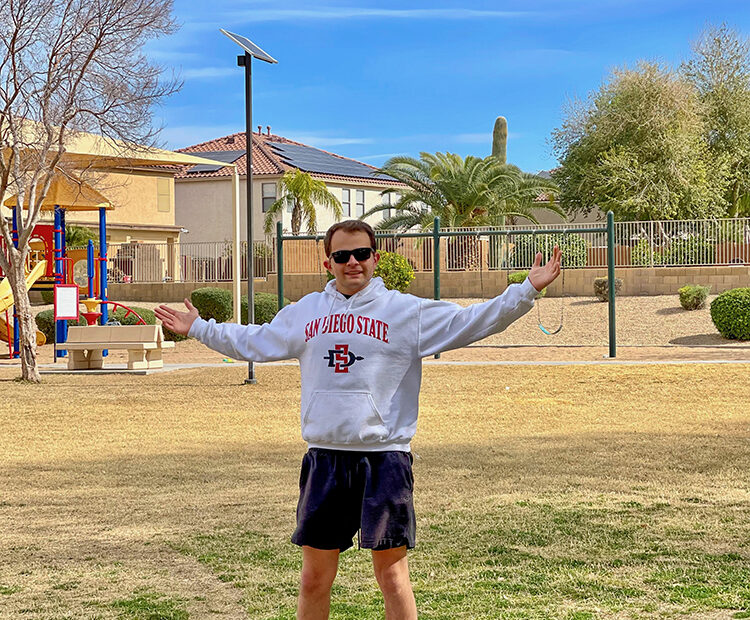 Moscow Man Celebrates One Year Since Near-Fatal Accident
On Sunday, Kyle Clary, 20, celebrated his one year "survive-a-versary" since a traumatic brain injury reshaped his and his family's life.
That survival, and where Kyle is now, is no small feat. On July 3 of last year, the then-19-year-old went swimming in the Snake River with friends and slipped on some rocks, hitting his head.
When Kyle was rushed to St. Joseph's Regional Medical Center for emergency surgery, he was given a 50/50 chance at survival. Even if he did survive, quality of life wasn't a guarantee, his doctor said.
Kyle's parents, Lori and Kevin, said the days and weeks following the accident felt surreal.
"We just immediately tried to stay in the exact moment that we were in and didn't try to think ahead and wonder about outcomes," Kevin said. "(We were) in the moment for quite a while."
On July 4, Lori started a Caring Bridge blog, where she made nearly daily updates on Kyle's journey. From there, she shared the family's ups and downs, like when his "fancy shoes" were taken off to avoid trapping heat from a fever, to hearing his voice again for the first time after the accident.
Community members and friends started filling the comments of Lori's blog with words of encouragement, bringing meals and helping the family start research into rehabilitation centers.
"People started a meal train to help give (Kyle's siblings) food; our church brought a prayer shawl," Lori said. "Everyone just really gave us that care and love and support that we needed, in addition to all the physical stuff that they were helping us get through."
Kyle's friends also helped — visiting the hospital when they could, and providing encouragement and music recommendations for Lori to play for Kyle as he lay in bed during recovery.
"(Lori) made another post and was like, 'We're getting really tired of Lil Uzi (Vert),' " said Kyle's friend, Talia Mullin. "I was like, 'Oh my God, play him, like, all of Kanye West's music like from the beginning.'"
Slowly, Kyle's condition began to improve. He started tracking people with his eyes and responding to questions. After months of hospitalization and rehabilitation, Kyle began to regain his ability to walk on his own.
The family had constant support from doctors and nurses in the ER, Lori said, and later, staff at the University of Utah Health Craig H. Neilsen Rehabilitation Hospital.
"We're not in the medical field at all," Kevin said. "You do gain a lot of respect for the nurses, the doctors and professionals who do this every day."
Today, Kyle is much the same as he ever was, said longtime friend Aiden Winn.
"We didn't really know the state he was going to be in (after the accident). And, like — it's a miracle. We went to Goodwill the other day, and were playing games. He can walk, he can talk, he can do everything himself. He's the exact same. So it's just crazy to see that."
But even against uncertain odds, Talia said Kyle's recovery wasn't a surprise to her.
"Obviously, it was a very serious, very devastating phone call," she said. "But for some reason, when I got the news, I just knew he was going to be OK. I just had a feeling — there was (never) a doubt in my mind."
Kyle's refusal to quit through months of recovery and difficult physical therapy made sense, Talia said.
"He's a very determined, very strong person," she said with a laugh. "Strong-headed, sometimes in a stubborn way, but ultimately that probably served him very well."
Toby Searcy, a friend since before kindergarten, said Kyle still has the exact same teasing sense of humor and quick wit he's always had.
"Nothing has really changed, regarding humor and how we interact with each other," he said. "I'm very, very thankful for so many things every time I talk to him … I really am so, so happy he just keeps making these strides."
Kyle can't remember much of the first few months following his accident, he said, but as he's progressed, he's enjoyed reconnecting with friends.
He's trying to get better first, Kyle said, but in the future he would like to finish his degree in business administration at San Diego State University.
Eventually, he hopes to learn the ropes at his parents' restaurants — Birch and Barley in Pullman and the Breakfast Club in Moscow — and take over management in collaboration with the Clarys' business partners.
He said he's thankful for the support he and his family have gotten from friends and the community at large.
"It was amazing to receive so much support from everyone," he said. "Thank you to everyone who supported me through all this in any way, whether it was taking care of my siblings or helping my family out, or just well wishes."
The community showing up for the Clarys made sense, Aiden said, because that's what they have always done for everyone else.
"Kyle and his siblings and parents are great people. The Clarys are some of the most kind and generous and just genuine people I've ever met," he wrote in a message. "They are the type of people that will help you however they can no matter who you are. So it doesn't surprise me that people showed up and helped and supported them, because that's what they do for everyone in this community. Good people attract good people, and you don't always see it until your in a time of need."
Kevin said the accident has given him a greater appreciation for the time they spent together. His advice to other parents who might face something similar: never give up.
"Believe in your son, your daughter," Kevin said. "We believed in Kyle against tremendous odds."
Kyle also had a message to share:
"Life is precious," he said. "Stop taking things for granted."
This report is made possible by the Lewis-Clark Valley Healthcare Foundation in partnership with Northwest Public Broadcasting, the Lewiston Tribune and the Moscow-Pullman Daily News. It was produced with assistance from the Public Media Journalists Association Editor Corps funded by the Corporation for Public Broadcasting, a private corporation funded by the American people. To read more on story, visit our website at NWPB.org