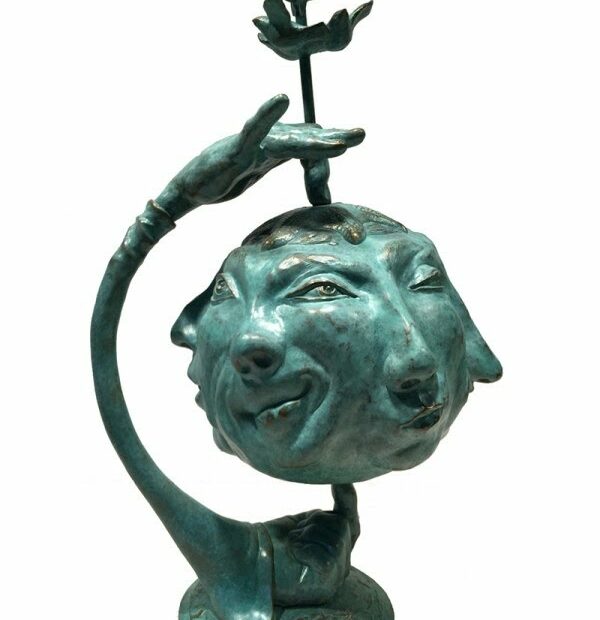 Step Into Gallery 110 At The Seattle Art Fair
Tri-Cities artist Greg Pierce travels the Pacific Northwest collecting rocks for his sculptures. Fused with clay and glass, each piece reinterprets the region's landscape. He's part of Gallery 110, which  represents artists from across Washington state. Reporter Lauren Gallup spoke with Pierce at the Seattle Art Fair.
"My name is Greg Pierce, and I'm one of the artists at Gallery 110. And I'm going to give you a little tour of some of the artwork.
So you're looking at rock that's from Oregon, Idaho, and Washington State primarily.
There's a place out in Eastern Washington, where there are these two basaltic columns. And there's a Native American legend of these two sisters and a whole story behind that. And it's a place that I've gone out to, it's a very peaceful and remote place. And it was also during the pandemic that I created this work. And so that's the title 'Shelter Two Sisters.'
This is a piece that actually is a moving piece of sculpture And this is the artist Michael Abraham … He creates these really fantastical sculptures and paintings … So I'm rotating the sculpture in my hand. It's basically like a globe that has a face on either side of it and a starfish on the top of its head, a hand is extending over top of its head. And a moon and sun are sort of rising up through a swarm of birds that are above the head. And so all of those elements can move and shift. So you can really get unique different perspectives on the piece.
First and foremost, we're interested in showing some of the most interesting, exciting contemporary art that we can find. But we're also really interested in creating a community and creating a community for not just artists, but for people in Seattle, and people who visit Seattle, to come and really have an authentic experience and engagement with local artists.
We have an emerging artists program. And this last year, we focused on BIPOC artists only. And so we put a call out, we had about 10 finalists show.
This is a piece by Bonnie Hopper. And the title of it is called 'Remember When.' And it's this beautiful, young African American girl who has this really sort of thoughtful look on her face. And the painting almost looks like stained glass around her. So she's surrounded with this sort of stained glass painting. And it's, it's a very powerful piece. And we're very excited that we are able to provide artists such as Bonnie an opportunity to have a presence at somewhere like the Seattle Art Fair."