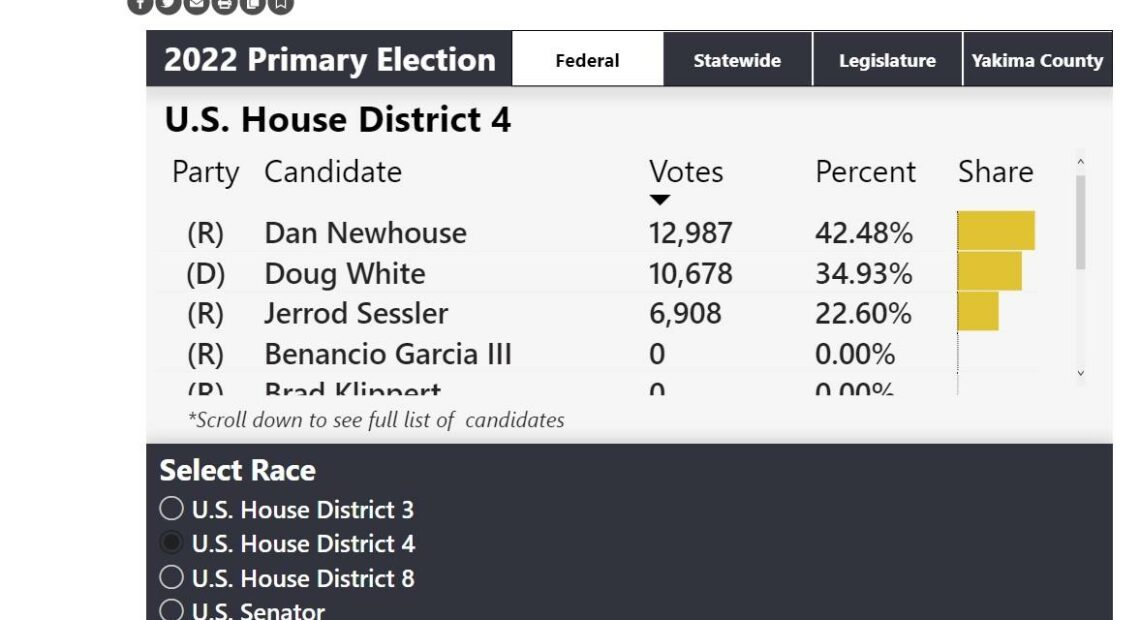 Allegations of Election Fraud By Congressional Candidates
A newsroom in Yakima was preparing for election night coverage and running tests of their system when it went live. Now two 4th Congressional Candidates in Eastern Washington have filed complaints.
Loren Culp sent out a tweet alleging tampering with the election and voter influencing.  He shared a screen shot from the Yakima Herald showing results for the Primary Election. 
Culp does not think the information on the Yakima Herald web page was a mistake. He believes it could impact election outcomes. 
Culp: "If you're for one of the people that was losing, and you see that and it's like, 'Wow, he's so far behind. You'll never catch up. There's no sense in me even voting.' So that kind of thing could have an effect of voter suppression."
The information Culp shared was a test according to the Yakima County Auditor Charles Ross. 
The page was built in our test environment.' Which is the Herald Republic's test environment, which does not appear on the webpage. They believe the testing would be holistically internal. It was just a process of them trying to make a more user friendly widget that would appear."
A police report was filed by the Culp campaign and it is being handled by the Yakima City Police Department. Culp tweeted he believes someone should go to jail. 
The Auditor did not find any laws were violated. 
The Yakima County Auditor's office will release initial election results tonight and every day until the election is certified on August 16th. 
Ross: "I'm absolutely 100% confident that whatever that was, has absolutely nothing to do with the tabulation numbers that will be coming out of our heart system."
Culp spoke at length about what he considers "chain of custody" issues with the mail-in-voting system and would like the state to go back to voting in-person. He also repeated misinformation regarding ballot harvesting and electronic counting of ballots. When asked whether he would accept the results of the election tonight….
Culp: "We're gonna look at the results just like everybody else. And we'll see what happens. I don't have any plans. At this point. We'll see what the results are."
Jerrod Sessler was the other candidate that filed a complaint.