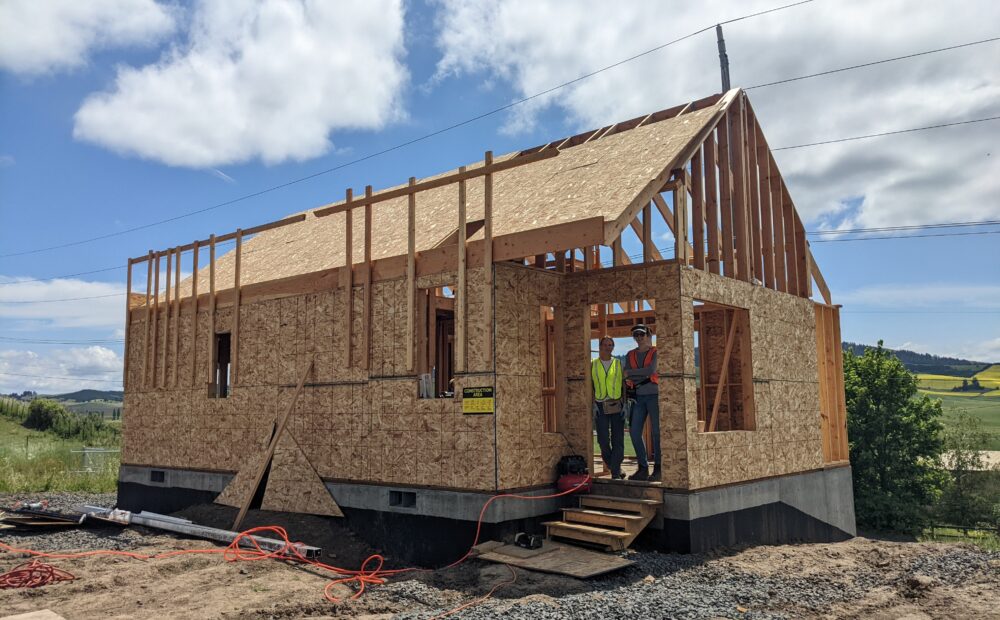 Local Organization Pairs With University Of Idaho To Build Affordable Housing
The Moscow Affordable Housing Trust and University of Idaho's College of Art and Architecture are working together to bring affordable houses to the Palouse.
Current students of the architecture program will design the home during the spring semester and build it over the following summer. The idea is to build six homes over six years, and create a small community for the residents.
The first house is 500 square feet, framed on a hill overlooking the green and yellow hills of the Palouse. The muddy footprints leading to the project site have dried in the summer sun. 
Architecture student Sterling Jones is set to enter the final year of his master's degree.
"It's easy to just put lines to paper, but if you don't know what it is that you're actually drawing, then it can cause a lot of problems," said Jones.
Learning how measurements and materials translate from paper to structure is one of the many skills Jones and his team have learned through hands-on work. But it's also been about learning the modern challenges of the construction industry, like the labor shortage and production cost increases.
"For example, we're trying to figure out how to do the HVAC ourselves with putting in a mini split unit and the quote, we couldn't get a quote for less than $10,000. And we're putting in a $2,000 unit," said Jones.
Affordable housing trust – how it works
The land part of the project is handled by the Moscow Affordable Housing Trust, a nonprofit organization created by citizens of Latah County. Executive Director Nils Peterson said he and other community members felt they couldn't do what was needed to create housing from within the City of Moscow's Fair and Affordable Housing Commission.
"What we're doing now is called Community Land Trust. And the reason for using that mechanism is it allows us to create permanent affordability," said Peterson.
The model works by selling the house, but not the land. Peterson says homeowners are paying a more affordable price because they're not paying taxes on the land itself.
"We own the land permanently. And there is a rental agreement between the land and the house. And that rental agreement is how we control that it is permanently affordable," Peterson said.
The land is rented to tenants at a lease rate of $75 a month, the guaranteed rent for 99 years.
Peterson said in 2021, the organization sold three townhouses for $160,000 each, despite being appraised for a market value of $205,000.
"That difference, the $45,000 is nominally the value of the land, and it's kept out of the transaction."
Peterson said there are income qualifications, and they require the buyer live in the house rather than turning it into a rental. When the owner of the house is ready to sell, they sell to another income qualified buyer, so the community's goal of having affordable housing can continue.
The land trust model allows them to create permanent affordability for homeowner houses as opposed to rental houses. He said the goal is home ownership.
Peterson said the Affordable Housing Trust model has historic roots in combating inequitable access to housing.
"Over time it has migrated to be used much more for residential purposes. But in big cities you'll find community land trusts used for commercial purposes as well."
But there are only so many houses that will be built, and home ownership still feels out of reach for many. Recent architecture masters graduate Madalyn Asker also works on the project, and said it feels impossible to save up for a down payment.
When she thinks about getting a home of her own, Asker says it feels like it will be a challenge for her and her four year old son.
"So like thinking about, supporting him and like his education, also trying to be able to afford a home is like, honestly, kind of unforeseeable in a lot of ways, especially when you're renting and like renting is, you know, half your income coming in," said Asker.
The cold spring pushed the construction start date to mid May. Peterson said the team hopes to have the house completed before the university school year starts at the end of August.