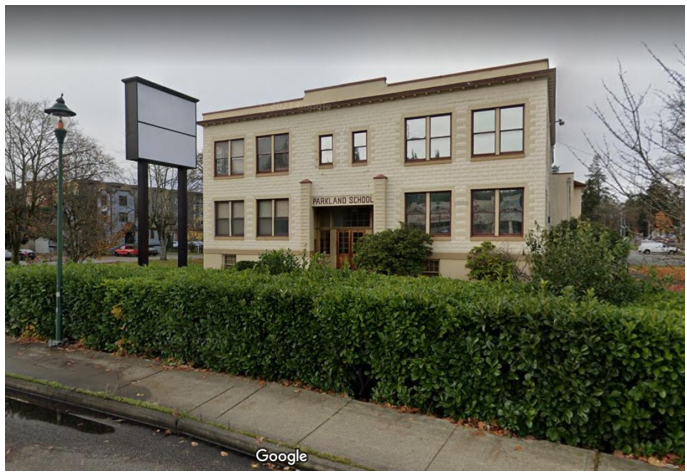 University President, Community & Developer Reach Tentative Agreement Over Historic Building
After months of pushback from Parkland community members over the sale of the historic Parkland School building, the stakeholders have reached a decision to please all. 
In a letter to two Pierce County council members, Pacific Lutheran University President Allan Belton outlined the tentative agreement.
PLU currently owns the building, and has made plans to split the parcel it sits on, so that the university can make good on their sale, and preserve the building. The original sale to Veer Architecture and DRK Development would have demolished the over 100-year old building.
The open field behind the school will be sold and developed into a mix of market-rate and affordable housing by Veer Architecture and DRK Development.
Community members will then have 12 months to raise $2.85 million to purchase the Parkland school building for community use.
The group Save Parkland School, formed of community members who oppose the plan by Veer Architecture and DRK Development to demolish the building and turn the entire site into housing. PLU has not used the building for a number of years and had been seeking a purchaser who would provide a benefit to the community, and has opposed offers from fast food restaurants. 
Belton met with a group of Parkland community members in July. Jani Hitchen, who represents district six on the Pierce County Council, says she feels this meeting pushed Belton to make an agreement for the community.
"President Belton was able to negotiate this change, which to me is really a wonderful step forward, it shows that community voice mattered," Hitchen said.
There are still logistics to be settled. The county will have to approve dividing the property into two separate properties.
Hitchen says it is her understanding that community members will be starting a nonprofit to raise funds for the building.