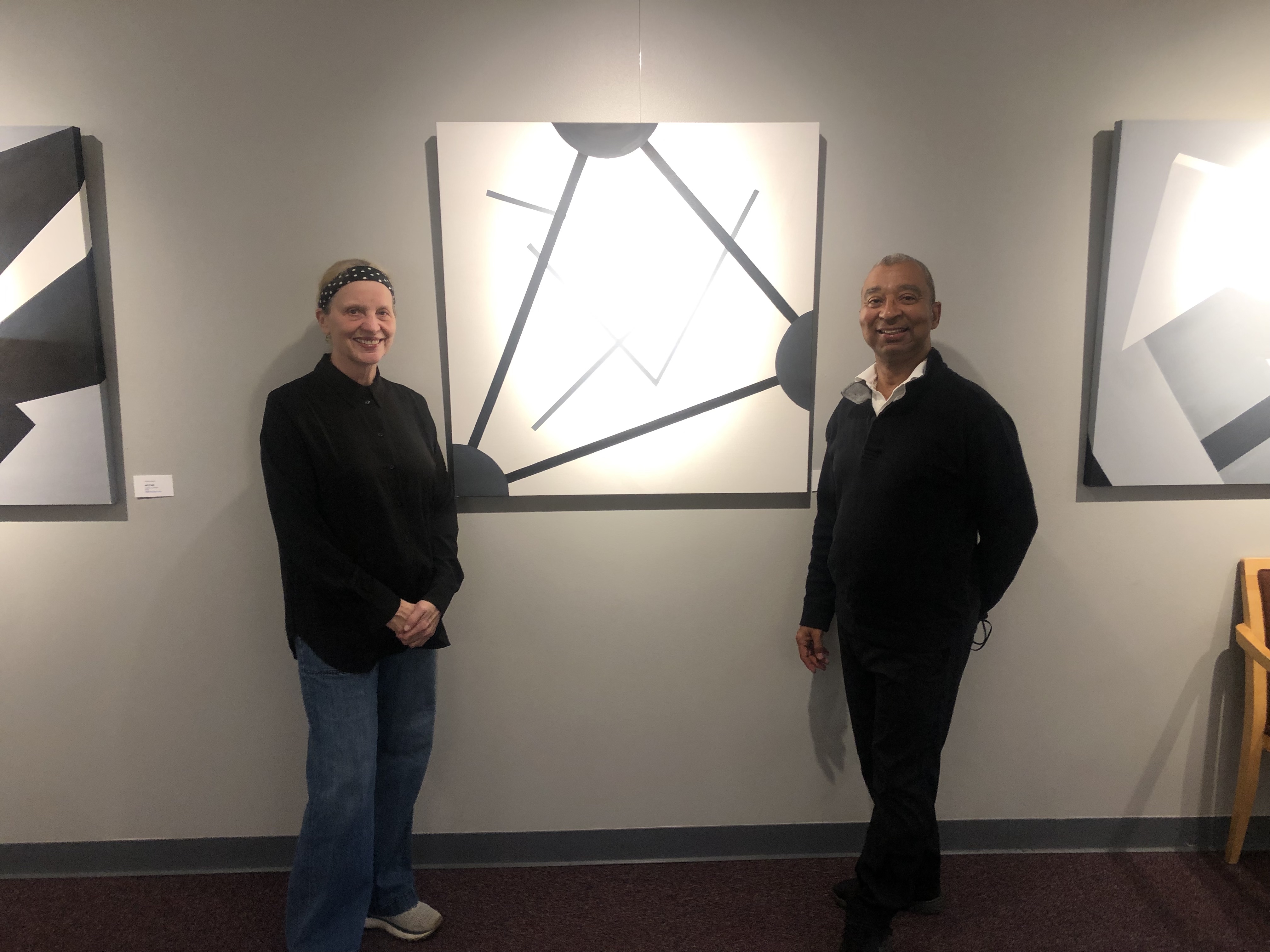 In Conversation With Artists JW Harrington and Dorothy Anderson Wasserman
On the second floor of the Catholic Community Services building, there's a hallway that has been transformed into an art gallery. The Tahoma Center Gallery on South Yakima Avenue is showing "Black and White, abstracted," a collection of 23 paintings by Tacoma artist JW Harrington. 
Harrington is a member of the Seattle artists' cooperative, Gallery 110, and he and fellow cooperative artist Dorothy Anderson Wasserman walked Northwest Public Broadcasting through the space.
The show features paintings from Harrington's MBTW series, named after the initials of the only two pigments he uses on the canvases, Mars Black and Titanium White. 
The 23 paintings displayed down the hallway move the viewer through the space — devoid of color, the shadows are more present, the lines easier to cling to, and the viewer can't help but feel the energy radiating through the pieces. It makes the gallery, a long hallway, feel like a portal to another world. 
For Harrington, the abstract series was an experiment. When he first began painting, he was enamored with color.
"Oh, God color, just color, [and] to think that you could just create any color," Harrington said, smiling at the reminiscence.
While he has done abstract series previously in color, such as "Color Abstraction," he has decided to push himself with this collection, deciding he was "drunk on color." He also realized the power that abstract work could have when it lacks color, forcing viewers to draw their connections with the piece. 
Walking through the gallery, dancer and collage artist Wasserman, is brimming with ideas about the show. She asked Harrington if he was influenced by his urban planning studies. He is a professor at the University of Washington Tacoma. 
"When I look at these, I almost feel like it's an aerial view of the streets and like circly places where cars would go around," Wasserman said. "So is that an influence?"
He said he had been explicitly influenced by a city for one piece, but it wasn't on display. Yet, he pointed out how he could imagine an aerial view of a busy city in another painting.
The painting, Harrington said, looks like three city centers, with major roads intersecting. There are three large charcoal gray circles and thick, black lines connecting them. 
Wasserman and Harrington agreed that the work was architectural in nature. 
Some of his ideas came from looking out a window and considering how he could abstract it.
"You're playing with it, you're simplifying oftentimes, or you're changing the colors, if you're doing color work. But these are supposed to be not representing anything," Harrington said. "But my ideas did come from somewhere, you're right, Dorothy."
The conversation between the two of them was a fluid connection between the two artists. The gallery, a cooperative, exists in an effort to support artists from across Washington and Canada.
Harrington said the cooperative enables artists to interact more, something he and Wasserman feel is a benefit.
"I have been totally amazed and so appreciative of the support I've gotten from fellow artists in Tacoma and Seattle and Gallery 110 for the work that I'm doing," Harrington said. 
Together, artists work through visual problems. 
Viewers can see how Harrington worked through an idea in this series. Beyond visual experiences that led to inspirations for individual pieces, the collection was ultimately inspired by an early 20th century Russian art movement called "Suprematism." The person who founded the movement, Kazimir Malevich, was born in Ukraine in 1879 and moved to Moscow as an adult.
Malevich became a renowned, avant garde artist and art theorist. His work had a major influence on the development of non-objective art. 
"It's very abstract, supposed to be totally not representing anything in particular. Some of his most famous paintings used only black and white, and some of them use color as well, fairly geometric, so they're often on a white background. And so the white background implied, to him, infinity," Harrington explained.
Photos of Malevich's work online immediately connect the viewer with the style Harrington has emulated. Geometric shapes and lines stand out against a white background. However, Malevich's use of color and his frequent choice for a clean and empty background differs from Harrington. In Harrington's work, the background is just as animated and often the clear lines transpose shadows that bring the eye through the painting, as opposed to looking at solid objects created by Malevich.
While art comes from the creative side of people, and can often feel emotional and spontaneous, Harrington has a more academic view of analyzing the creation of his art.
"An artist of any sort is interrogating how to get done something that they haven't done before and to their knowledge typically hasn't been done before," Harrington said.
At the end of the tour, Harrington said he hoped those who view his art will interrogate his work, and spend time asking what the who, what and why are of each painting. 
"Black and White, abstracted" is on display at the Tahoma Center Gallery from now until Aug. 30.