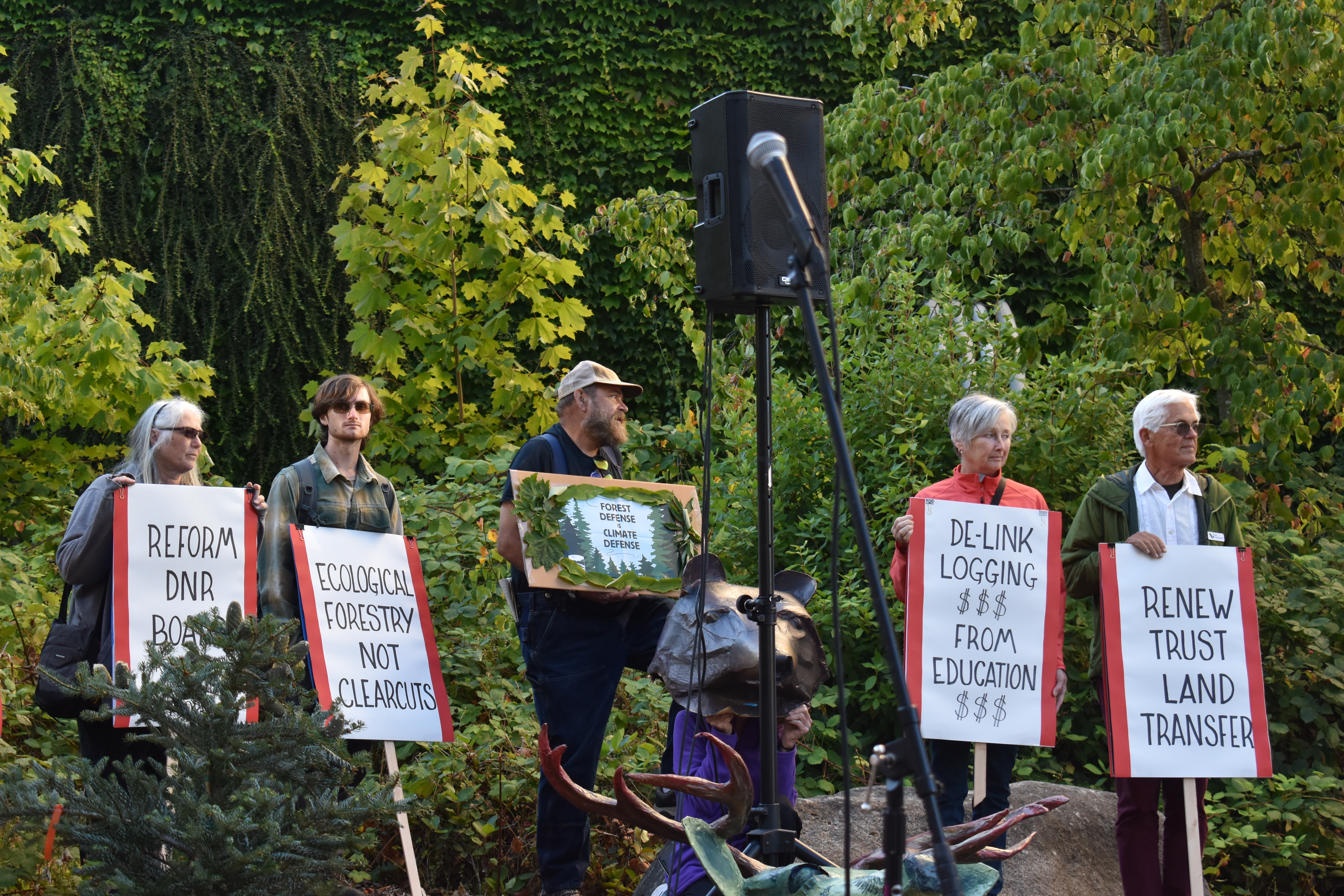 Rally Outside Board Of Natural Resources Meeting Demands Board To Address Call To Action
Hundreds gathered outside the Board of Natural Resources meeting in Olympia this week to demand the board make further commitments to forest conservation.
It was the board's first meeting since the state supreme court issued a decision on a case brought against it by environmental groups over land management.
Peter Goldman is director of the Washington Forest Law Center and lead counsel on the lawsuit.
"The Washington State Supreme Court at the end of July, issued a landmark ruling that DNR is not required by the state constitution or the federal land grant to maximize the revenues from these forests that DNR has the ability and legislature have the ability to decide how these forests are used and managed and how they generate revenue," Goldman said.
However, there's disagreement over what that means. Some public lands are managed for timber sales, which help fund different public institutions. 
Clallam County Fire Commissioner Greg Bellamy said they use the funding to purchase equipment, but that has declined in recent years.
Environmentalists though want legacy forests — the ones cut prior to WWII, conserved. And Thurston county commissioner Tye Menser called on the department to do just that at the rally.
"This represents only about 4.5% of the lands managed by DNR in our county, yet the majority of these acres are scheduled to be cut between 2022 and 2026," Menser said.
But timber representatives — including Bill Turner of Sierra Pacific Industries — urged the board they have a fiduciary responsibility to harvest timber from the lands they manage. Turner pointed out that the department is behind on how much timber they had planned to sell for fiscal year 2022 — by just over one million board feet of timber.
At the end of the meeting, the six-member board approved nine proposals for timber sales in October — including some that activists say contains legacy forest stands.