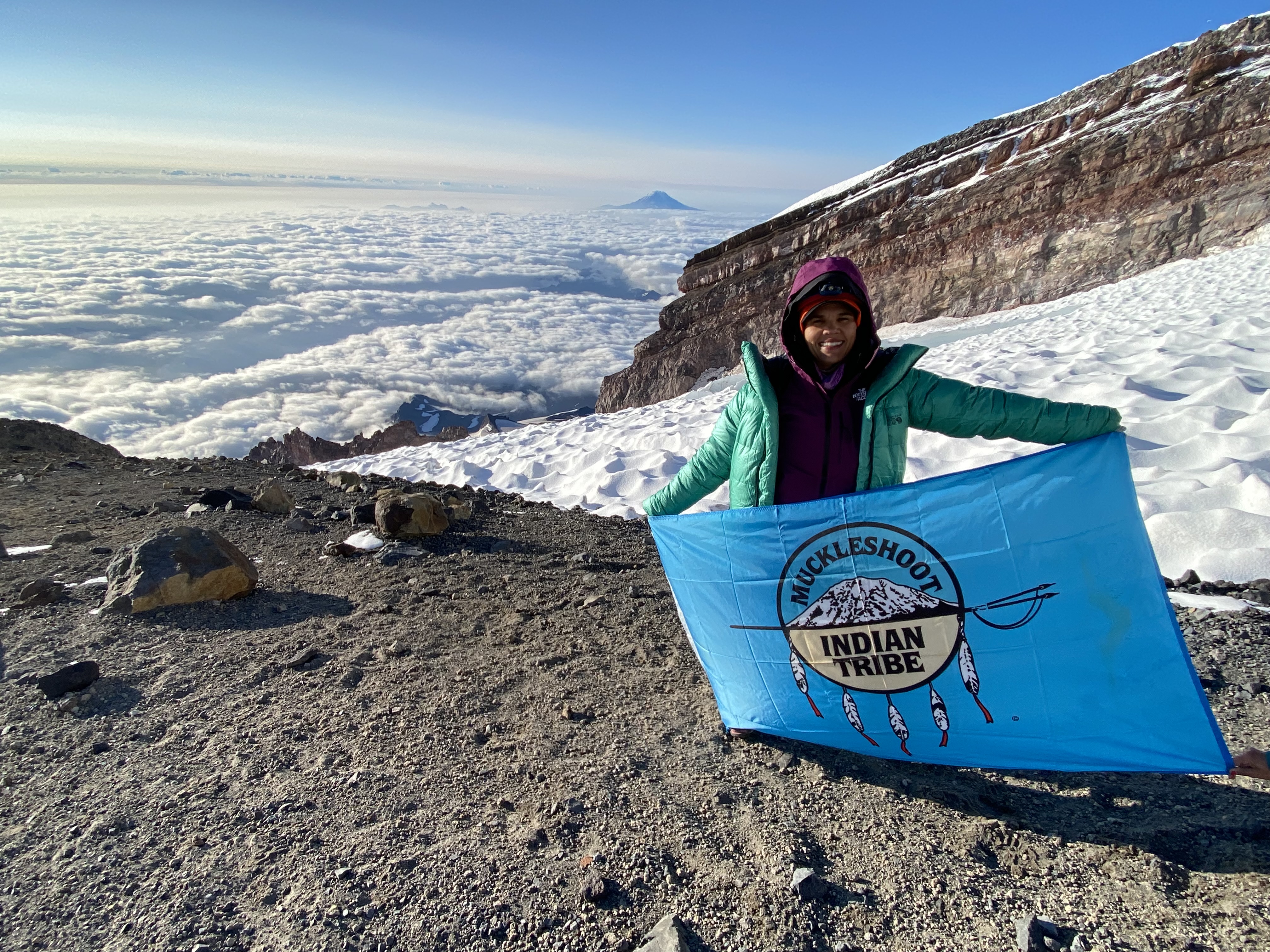 Climbing Mount təqʷuʔmaʔ For Representation
It's a short walk around Deep Lake in Nolte State Park in the foothills of Mount Rainier. At about an hour and a half at a steady walking pace, it's an easy day hike and not far from Tacoma. For Rachel Heaton, it's a good spot to don her 50-pound backpack and get a training walk in, for her planned summit of Mount Rainier.
Heaton had been training for the summit for months. In May, at that training walk, she told NWPB the climb would be, "a different level of physicality that I've never put my body through."
She made two attempts to summit this year. While she had to turn back on an earlier summit attempt in June, this month she made it to just about 13,000 feet — as close to the top as she could get due to warm weather taking out the summit route. 
"It was, hands down, the hardest thing I've ever done in my life," Heaton said. 
The climb wasn't just a personal goal for Heaton, but also a way to learn skills she could take back to her community. Heaton is a member of the Muckleshoot Tribe and a descendent of the Duwamish people, and by climbing the mountain, she said she hopes to bring visibility of Native people to these spaces. 
"Our lands have so much; and our people used to navigate them," Heaton said. "And so us being seen in them creates conversation and opportunity and visibility."
There has been an erasure of Indigenous peoples' long relationship with the mountain we call Rainier.
"We aren't visible in that space," Heaton said. "And our voice isn't visible in that space … When you go to Mount Rainier, most people don't even know that you're traveling through a reservation to get there on one side, and you're passing another reservation to get there on the other side."
Even the mountain's name contributes to the erasure of its Indigeneous history.
"Mount Rainier was named after a man that never even saw the mountain," Heaton said. "We have our own name for the mountain, Mount təqʷuʔmaʔ is on this side, or you'll hear Mount Tahoma … there's other areas where it's called Mount təqʷuʔbəd." 
Mountaineering is a sport that has long been dominated by white men, with resources to purchase gear, time to train, and perceived better physical ability. 
It was just this May that the first all-Black team of climbers summited Everest. 
"It goes to show you, Brown folks are not visible in those spaces, and especially Brown women are not in those spaces, summiting a lot of these," Heaton said. 
While she climbed, she made a point to engage her fellow climbers in conversations about this erasure. 
"I talked about what it is to have privilege to be in those spaces, and, helping people understand the trauma that our people have been through and why we're not in those spaces, and why we should be in those spaces," Heaton said.
Heaton's journey began at the age of 39, when she started doing more hiking while pregnant with her son as a way to exercise. This start blossomed into a career and passion for Heaton, who now leads hikes through her job with the Muckleshoot Tribe in the culture department.
Heaton did the climb with the company, Alpine Ascents, who guide people on summits across the world. While on the mountain, she learned technical mountaineering skills that she wants to share with her community. 
She also connected with the company, and next summer, she'll go back to the mountain to take part in another educational climb with the company Alpine Ascents. Except this time, she'll also be a guide, educating climbers about the Indigenous people that have called this mountain home for time immemorial.