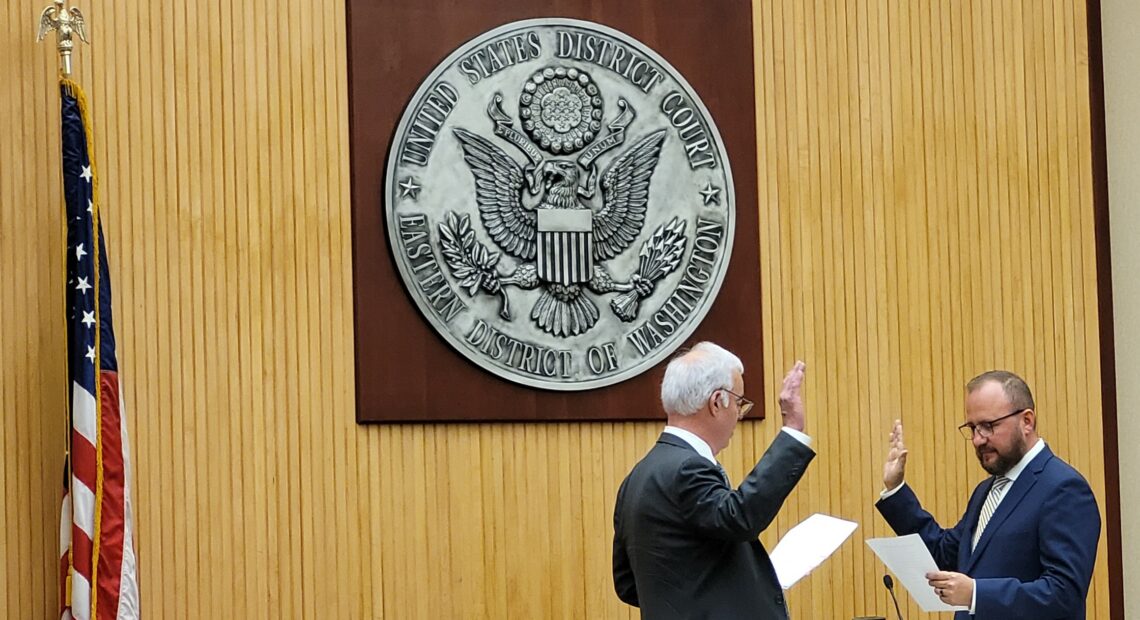 Latinos Justices work to expand diversity of Eastern WA's legal system
Latino judges in the legal system are few. But judges Sal Mendoza Jr. at the 9th Circuit Court of Appeals and Sonia Rodriguez-True, at Yakima County Superior Court are paving the way to have more diversity into the legal system. 
Salvador Mendoza Jr.
Sal Mendoza's journey to the 9th circuit is steeped in service. 
He was born in California to migrant workers from Mexico. The family moved to  Prosser – and  after high school he attended the University of Washington followed by law school at UCLA. 
"That kid from Prosser, that kid who was a farm worker that was, getting up at four and five o'clock in the morning to pick asparagus to work in the apples to pick cherries, to do that work, is now a sitting circuit court judge," says Mendoza. 
Mendoza was  also the first Latino judge in the Benton Franklin justice system and to serve as a U.S. District Court judge in Eastern Washington, working out of the Richland federal courthouse.  Until now, there had never been a Circuit court judge in the Eastern District. 
"I will be having my chambers here in Richland. And because I think that's important to be able to represent the values and the interests of the people of this community, not the values and interests of other folks that may be located in a more urban community or outside the state of Washington," details Mendoza.
Mendoza's wife, Mia, is also an attorney and the oldest of his three children a senior in high school. He says part of his success is knowing the right time to say yes and living by a simple philosophy.  
" Never stop trying to improve yourself or your community. And always give your 110% because that is that is what I think life is about. There is showing your best self and that I think results in joy," says Mendoza.
Judge Mendoza is setting up his courtroom and will soon  hear appeals with the other 29 Justices of the Court. 
Sonia Rodriguez-True 
Another trailblazer in Eastern Washington is Sonia Rodriguez-True. 
A shy girl who encountered a life full of challenges is now a judge. Sonia Rodriguez-True, is the first Latina in her position on the Yakima County Superior Court.
But to get there, Rodriguez endured a difficult home life.
"My childhood has some difficult parts to it, you know, there was drug use, there was domestic violence, there was alcoholism, things that were extremely challenging growing up. My mom had this highly value for education which sort of helped me overcome all of that."
California native Rodriguez-True moved to Washington as a child. She graduated from Annie Warren High School then explored her roots while taking Ethnic Studies at the University of Washington.
"I was very interested in studying about my culture, and my people's history. And it really brought me back to a connection with the Latino community."
She earned her degree in philosophy and graduated from law school at the same university.
Her work in the legal system, and involvement with different organizations, has connected with her community.
She says diversity in the legal system is important for people to trust the institution.
"Mirror what the community looks like in sort of achieving that endeavor, it's important. Having a diverse legal system means many perspectives are at the table."
Judge Rodriguez-True is proud to be the first woman and Latina in many of the positions she has held. But she would like to see more people with diverse backgrounds making a difference in the legal profession.