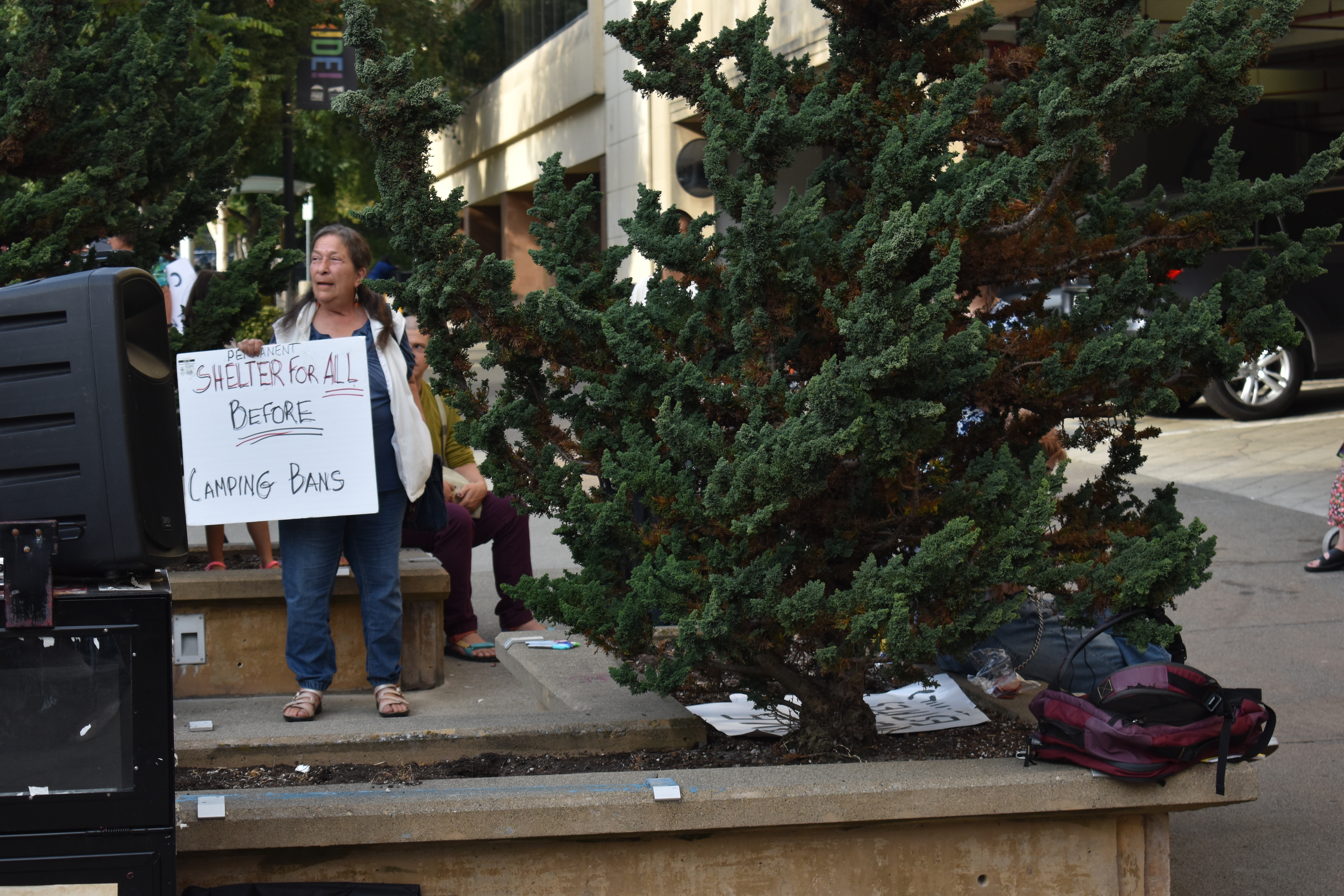 Tacoma City Council to vote on encampment ban around homeless shelters
Next week, Tacoma City Council is scheduled to vote on an ordinance that would ban public-camping within 10 blocks of homeless shelters.
Council member John Hines, who represents district one, introduced the ordinance. He said his goal is to make shelters, and the surrounding neighborhoods around them, safer. 
"The idea is that we have some of these sites that have had issues with encampments that are set up right outside or in the near area, and [have] presented some challenges for the residents of those areas," Hines said, referring to increased 911 emergency calls, as well as 311 calls for code enforcement. 
Were the ordinance to pass, Hines said members from the Homeless Engagement Alternative Liaison (HEAL) team would provide outreach to folks living in encampments about shelter and service options. According to the city's website, this team currently includes four Tacoma Police Department officers, a code compliance officer, four outreach staff and one designated crisis responder.
Hines was uncertain exactly what enforcement would look like if the ban were enacted. He reiterated that the city would follow its rule to provide at least 72-hours notice of an encampment cleanup.
Two proposals seeking to ban encampments in Tacoma have previously failed. Hines said both included some iteration of banning encampments citywide, while this proposal only does so within 10 blocks of a shelter, meaning it is a narrower focus.
"The goal is that people will take services and move inside," Hines said. Yet, he acknowledged that even if this ordinance passes, there will still be areas of the city where people still have encampments. He said that's why it's the city's continued responsibility to identify shelter options and community partners to expand those.
"This is a piece of the broader conversation we're having in the city, which is how do we provide more places for people to go," Hines said.
Hines referred to the city's proposed 2023-24 budget as an example of its commitment to this issue.The city plans to spend $100 million for all homeless and housing action items. Of that amount, roughly $50 million will go toward affordable housing and shelter options and about $2 million toward encampment response.
Community members and advocates have pushed back on the proposed ban saying the city needs to focus on permanent supportive housing and more service options for those who suffer from chronic homelessness, as opposed to clearing encampments.
"I recognize that the city needs to continue to make those investments. They need to continue to set up places for people to go to get shelter, to get housing and to get the services they need," Hines said. "I think the challenge, though, that I came back to is, encampments are not healthy or safe."
Concerns expressed about the safety of encampments are often dog whistles, and detract from the bigger issue, said Zev Cook, with the advocacy group Home in Tacoma For All. 
"When people are homeless, they need homes," Cook said at a protest against the proposed ban last week. "And that's what we're here to ask the city boards, to take action, to make sure that people can actually get housed."
There are currently eight authorized temporary shelters in the city. Each week, the Tacoma city manager's office releases an updated list with shelter available beds. As of September 26, there were 44 available beds total in the eight shelters.
According to the Pierce County website, there were an estimated 4,300 people experiencing homelessness in the county in July, with 1,300 shelter beds and 30 safe parking sites. That leaves an estimated 2,970 people without shelter.
The city is working on two more emergency shelter sites that Hines said will open this month. The city is partnering with the Tacoma Rescue Mission on an emergency mitigation site at Pacific Avenue and 35th street, which will provide 50 beds. That site will operate until it is developed for mixed-use housing, according to the city's website. The city is also partnering with Brotherhood Rise to open a 35-bed tiny-home village on 23rd street and MLK Jr Way. The city plans to have that site open through the end of the year.