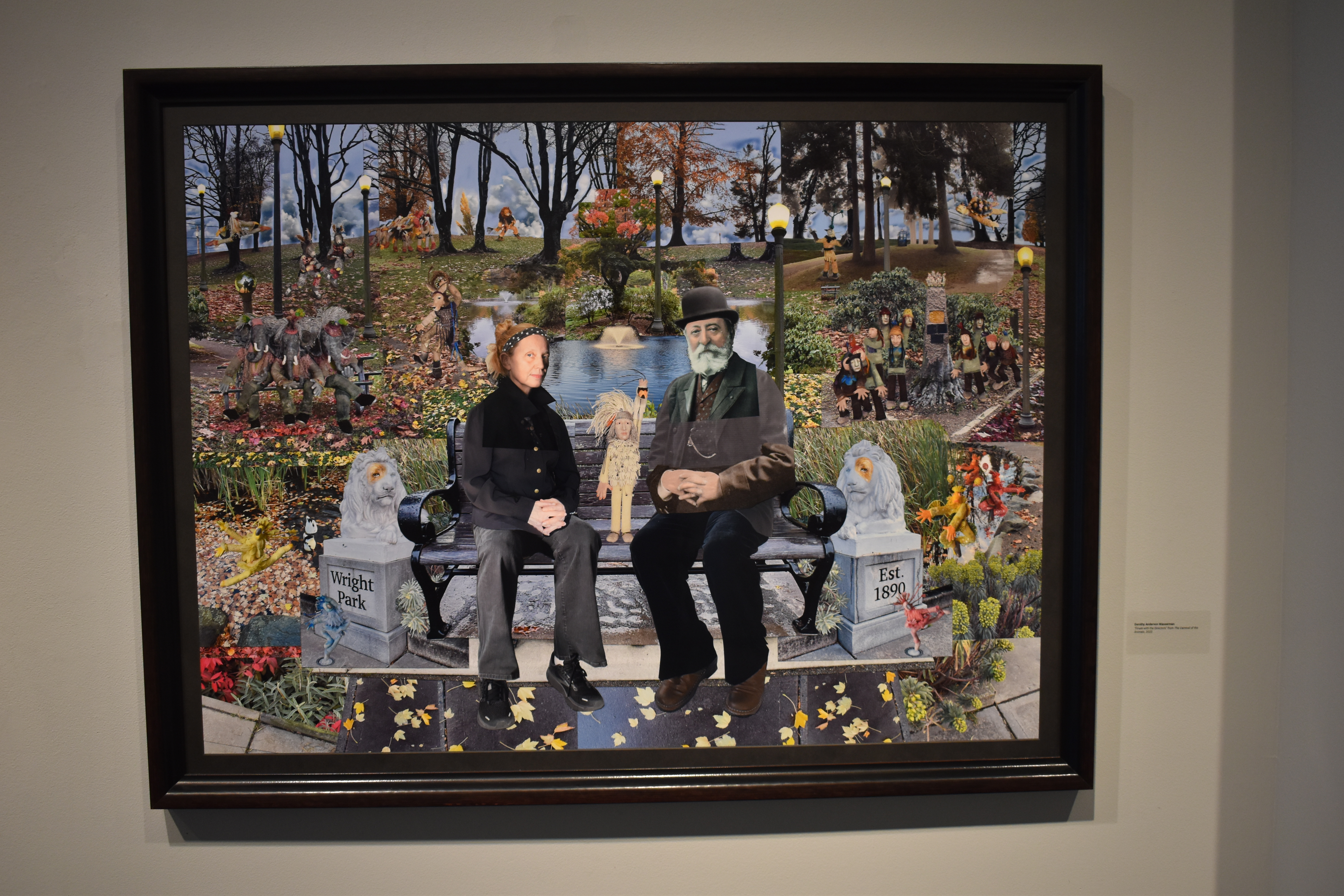 'The Carnival of the Animals' comes to life this October in Gallery 110
Four walls of Gallery 110 in Seattle have been transformed with dancing animals displayed within colorful, boxed scenes that jump to life against the otherwise white space. 
They are sculptures of human dancers, costumed like animals, the ensemble of Dorothy Anderson Wasserman's latest exhibit, "The Carnival of the Animals." It's a study of music, dance, theater and visual art combined.
Each of the 14 scenes of fiber-art, mixed media, relief sculptures represent a song from Camille Saint-Saëns' musical composition of the same name, composed in 1886 and released in 1922.. The dancers within them are informed by a famous choreographer. There's three George Balanchine ballet birds, elephants looking like the tap-dancing Copasetics, and a kangaroo posed like a Martha Graham dancer. 
Their animator is a true Renaissance man. Wasserman is a Tacoma-based dancer, sculptor and collage artist. 
In 2007, Wasserman was teaching at the North Jersey School of Dance Arts when dancer Elisabeth Holowchuk Sollog choreographed a ballet with the students to the Saint-Saëns' composition. Wasserman had a joyous reaction to the production. 
"I fell in love with how the dancers looked in their costumes, dancing to the music on stage, it was brilliant to me," Wasserman said. "And being an artist, I wanted to do something with it."
As a tap dancer, Wasserman felt the music wasn't right for her dance style, but she knew she wanted to create something informed by the music. 
In 2019, she began creating the sculptures. 
As a dancer, Wasserman went one step further in artistic inspiration and animated the sculptures to represent famous choreographers' styles. "Hens and Roosters" are meant to represent Twyla Tharp, an American dancer and choreographer, whose dance company Wasserman studied with in 1979. Real-life chicken movement made Wasserman think of Tharp's dancing style.
"She had people moving on stage, like almost tumbling over each other, except for highly choreographed and so beautifully done to all different kinds of music, too," Wasserman said. "There's pointed feet, there's flexed feet. It's very Twyla Tharp-like."
For one night, it won't just be the sculptures dancing in the exhibit. 
"It's been a goal of mine to bring dance into a gallery space for many years," said Gallery 110 Director Shaylee Timm. "And Dorothy's exhibition kind of seemed a bit too perfect not to."
SLOWBURN Dance Company, a Seattle-based contemporary company, will perform a preview of their upcoming show, "Excavate," on Oct. 15.
The dance was not choreographed in response to the exhibit, or the music it was inspired by, but Timm said it will be an opportunity to witness how the two respond to each other unintentionally. 
"It's going to inform me how dance works in this space," Timm said. "So it's a bit experimental."
Performing arts and visual arts often are separated by the theater curtain or museum gallery floor, but the two categories contain the breadth of art, and they are not separate entities. 
"In visual arts, you have the principles and elements of art, which include line, shape, color, there's pattern, there's rhythm," Wasserman said. "There's pattern and rhythm in dance, in choreography. There's pattern and rhythm in music, and poetry. So the basic elements are all the same … it's just the venue that has to be brought together."
Wasserman used a variety of materials to create the animals. Wire, plaster and cotton batting form their sturdy bodies and hand-dyed fabrics, glass beads and other adornments outfit them. Their faces, made of Bisque-fired, hand-painted clay, have tiny wires looped in the back, showing that these are animal masks over human dancers, whose faces we cannot see. The figurines are posed in dance positions in front of collages created with hand-dyed silk.
Each scene has layers to unravel.
"It's showing performers on stage in animal costumes, dancing to the music of Camille Saint-Saëns, informed by the style of a famous choreographer. So these are like little stage settings," Wasserman said.
The finale brings photos of the sculptures and the exhibition's collaborators together, collaged into Tacoma's Wright Park in Wasserman's neighborhood. 
Saint-Saëns died in 1921— but his presence is felt in each scene of sculpted dancers. 
"I felt so close to Camille Saint-Saëns, I felt like we really collaborated," Wasserman said, looking at the collage. "I know it's impossible and it's just totally my imagination. But I felt like the two of us collaborated."
"The Carnival of the Animals" is on display until October 29.