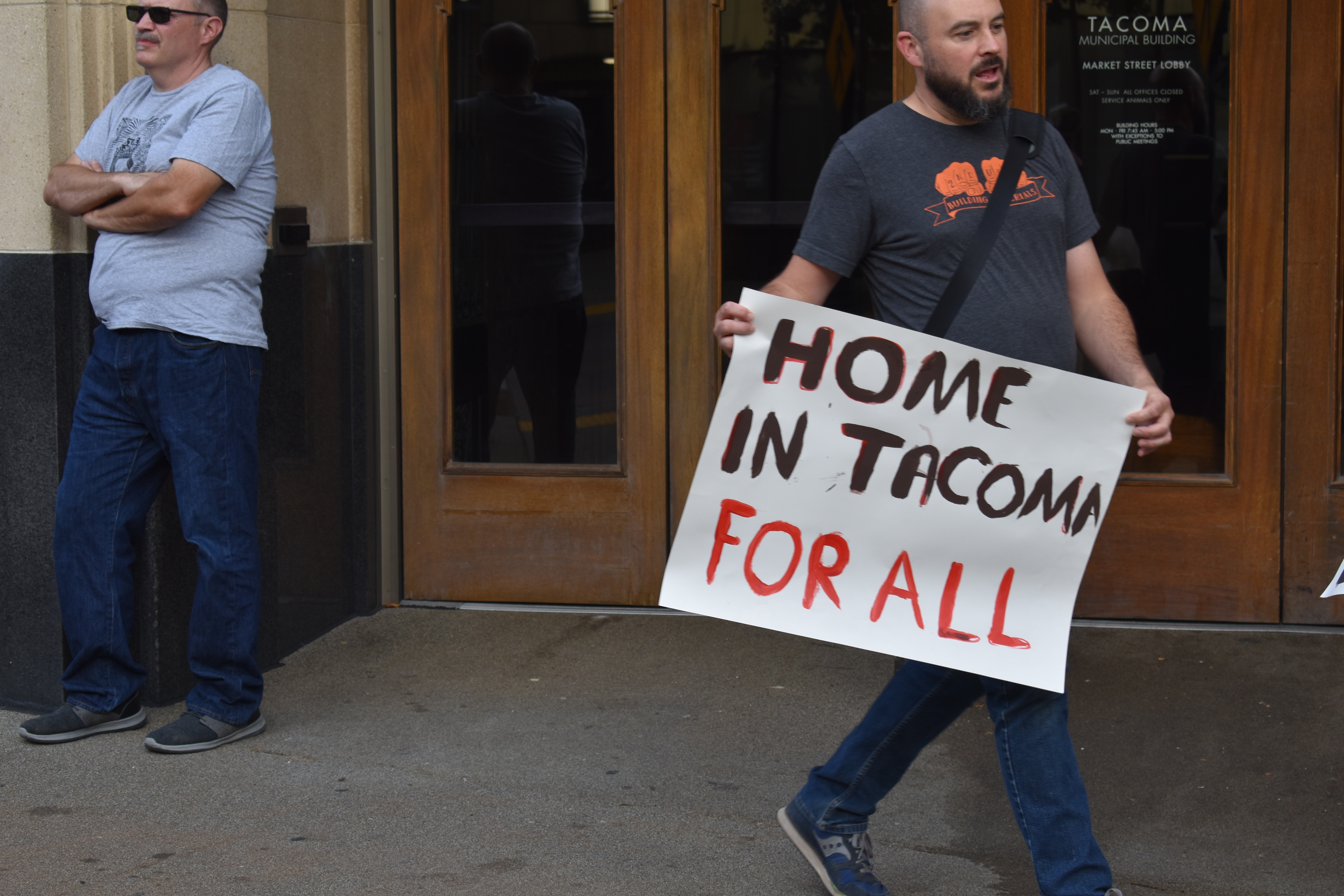 Home in Tacoma For All says they will fight Tacoma camping ban
The Tacoma City Council has passed an ordinance to ban camping within 10 blocks of emergency shelters in the city.
Zev Cook, a staff organizer with Home in Tacoma For All, says they intend to sue the city.
"This is just the beginning," Cook said. "I mean we are going to fight this and we fully plan to take the city to court."
Cook referenced the Martin v. City of Boise ruling, which in part, ruled that cities cannot criminalize sleeping on the street when shelters are full.
Tacoma Mayor Victoria Woodards amended the ordinance to not go into effect until Nov. 14, when a low-barrier, 50-bed shelter will open in Tacoma at 35th and Pacific Avenue. 
"It is important to me, and to this council, I believe, that if this ban should pass tonight, that it lines up with the opening of a low-barrier shelter that will provide services," Woodards said. 
Cook estimates that anywhere between 300-500 people are living in encampments that would be impacted by the ban. 
"The idea that there's enough shelter beds in Tacoma is laughable," Cook said. "And we're gonna prove that in court."
As of October 10, there were 34 shelter beds available in Tacoma, according to a weekly update by the city. However, in all of Pierce County, there are an estimated 4,300 people experiencing homelessness and only 1,300 shelter beds and 30 safe parking sites are available. So even if all those spaces become occupied, nearly 3,000 would still be left without shelter in the county.
The ordinance does not ban all camping in the city – only within the defined emergency shelter sites. Yet, as winter approaches and the ordinance goes into effect, Cook worries about the potential impacts of the ban.
"There's going to be more sweeps [of encampments] and winter's coming," Cook said. "And we're going to be working with some of the mutual aid groups in Tacoma to make sure people have tents, sleeping bags, warm clothes, food and whatever else they need."
Council Member Kristina Walker introduced an amendment to the ordinance to include an evaluation of its effectiveness. This would include publishing data on the number of safety issue calls received by South Sound 9-1-1 in the areas where camping is prohibited by the ordinance. The April 2024 evaluation would compare call data from both before and after the ordinance goes into effect.
Multiple council members spoke out against the ordinance, including Council Member Kiara Daniels, who said she felt that the council had not fully listened to the needs of the community with this proposal.
"We have real people at stake with this," Daniels said. "I think that government can do better and I think we can find a solution that is comprehensive and timely, and that really shows our values. And this is not it for me."
The ordinance passed on Tuesday, October 11 with dissenting votes from Council Members Daniels, Keith Blocker and Deputy Mayor Catherine Ushka. 
Violators could face a fine of up to $250 or up to 30 days in jail once the ordinance goes into effect.