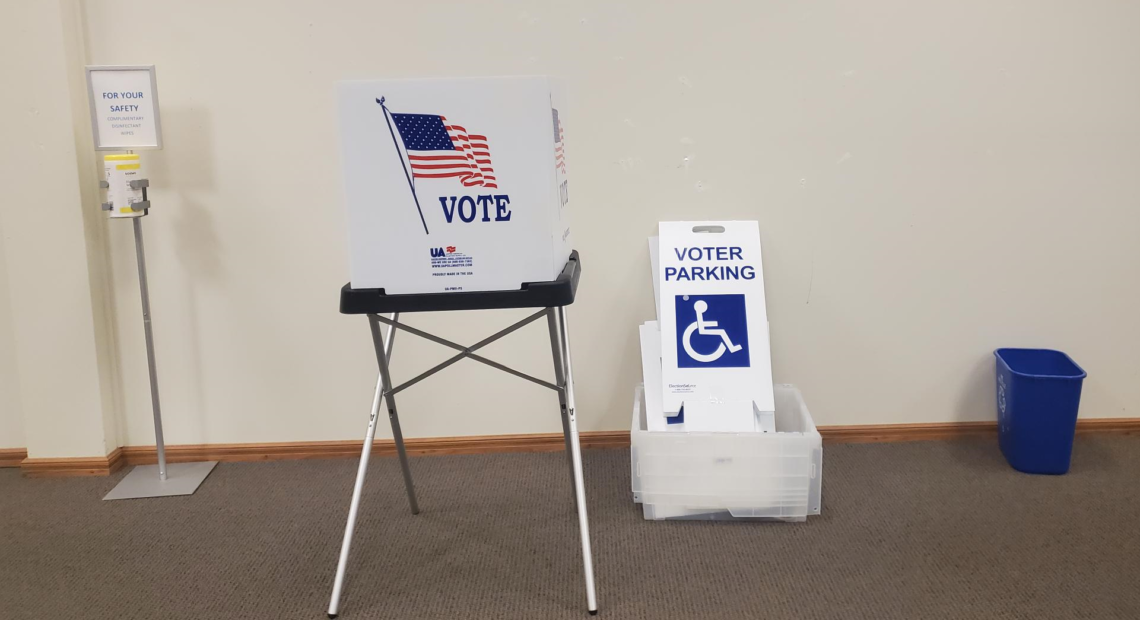 Voting access for people with disabilities in Washington
Thousands of Benton and Franklin County adults are living with disabilities. Most are legally eligible to vote. As the general election approaches, Dori Luzzo Gilmour dug into the tools that make voting more accessible. 
Everyone, if they live long enough, will most likely end up having some type of disability. People with disabilities are guaranteed the same rights as able-bodied people to vote.
"Thanks to the Americans with Disability Act that was passed in 1990, [it] ensures that anyone with a disability has access to in person voting," says Vanessa Pruitt, a visually impaired woman living in Kennewick.
Benton County Auditor, Brenda Chilton, wants more people to know about voting accommodations, such as the accessible voting units in Richland.
"It's really just a ballot marking tool," says Chilton. "So it helps them mark their ballot, and then they're able to print that ballot."
These units are set at wheelchair-height, with a monitor, a colorful keypad with braille characters and headphones for those with visual impairments. A computer voice reads through the selections on the ballot. After the voter makes their selections, the ballot is printed and eventually counted.
But since 2020, only one person has used the machines.
Chilton wants more people to know about these accommodations, and to understand that the county is here to help. "Even though we call it an accessible voting unit … it can be used by anybody," she says.
The auditor's office will also provide curbside voting for those who can't enter the building. If a voter is not able to come to the voting annex, they can let the auditor know, and two county employees will be sent to their location.
Vanessa Pruitt says before getting these accommodations she had to rely on caretakers to assist in filling out her ballot, caretakers who didn't always recognize her independence and right to make her own voting choices.
"They know that helping someone vote may be perceived as having control over the voter," Pruitt says, adding that these sort of accommodation measures allow voters with disabilities to freely exercise their right to vote without repercussions. "So I want to make it clear that this is what I want and need to do. I don't want to be in a position where I felt before, where I was feeling that the quality of [my] care would be affected with a conflicting vote of my choice."
Shanna Larter is Executive Administrator for the Edith Bishel Center For the Blind and Visually Impaired in Kennewick. The center provides a newsletter to 500 clients throughout the region relaying information about VoteWA.gov. That's where any voter can find information about candidates and ballot initiatives and check the status of their ballot. She says the website includes accessibility features such as audio readers and PDFs with visually impaired reader assistance tools.
For voters who are overseas or whose ballot was lost or damaged and voters who just want to stay home, there is the online markable ballot. Anyone with access to a printer can also use the online markable ballot, says Stuart Holmes, the Acting Director of Elections for the Secretary of State.
"This online marketable ballot is actually designed to be usable with screen readers or other assistive technology," says Holmes. Ballots are rejected if not signed correctly, but Holmes says the signature page is designed specifically for people living with disabilities. Instead of a signature line, voters are told to simply sign anywhere on the last page.
An audio version of the voter pamphlet is also available for voters. "We partner with the Washington Talking Book Braille Library out of Seattle," Holmes says. "So we actually have an audio version of the voter's pamphlets, and the same one you receive in the mail from the state. You can send us an email, and we'll send it to you on a USB drive or make the audio files available."
Vanessa Pruitt says all of these accommodations are trying to achieve the same goal: to make voting possible for every citizen. "I need to make sure that I have all the dots and all the T's crossed and everything that is in place," she says. "Because it is very important to have my voice heard in the election process."
In-person registration and voting in Washington state is open until the evening of the General Election on November 8, 2022.