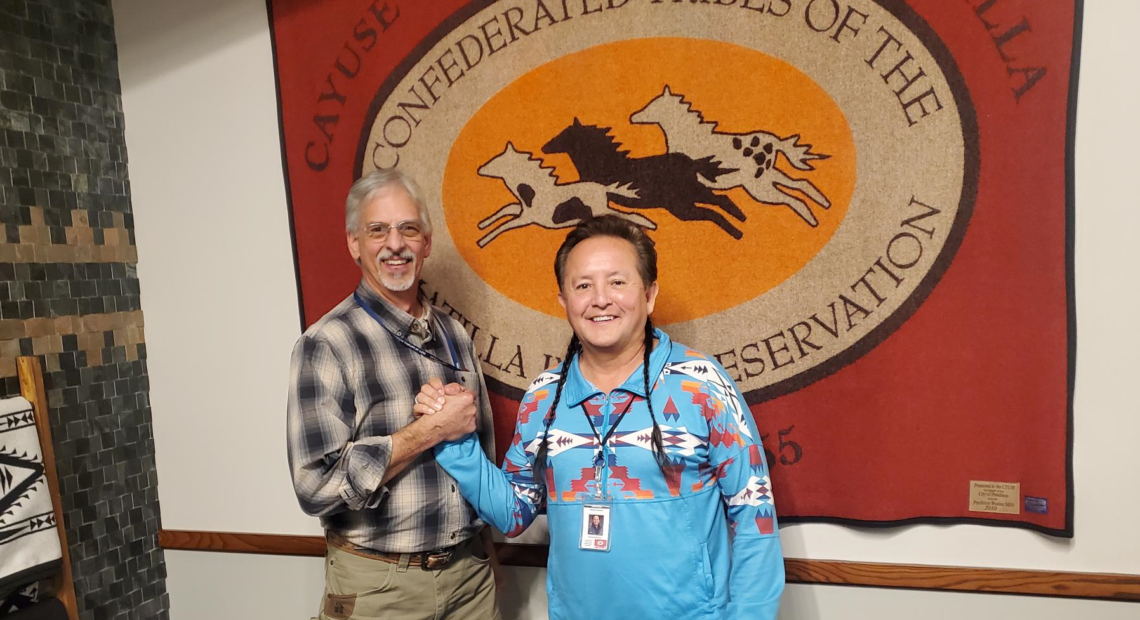 Native American Heritage Month – In their own words: Don Sampson
For over 30 years, Native American Heritage Month has been federally recognized. Northwest Public Broadcasting reporters are interviewing Indigenous people throughout the region to learn what they think about the month and what they want people to understand about their culture and who they are. 
Don Sampson is the Chief of the Confederated Tribes of the Umatilla Indian Reservation (CTUIR) and he was also the first tribal biologist for the tribes. He started as a technician 40 years ago, stocking lakes with fish for the CTUIR fisheries program. Sampson said that's when the tribes began to use Indigenous concepts in its natural resource management. Now, Sampson holds many leadership positions.
"My Native name, my Walúulapam name is Piupiumaksmaks. Piupiumaksmaks is Yellowbird," said Sampson. "I'm the hereditary chief along the lineage of thousands of generations. I'm also the executive director of the Confederated Tribes of the Umatilla, Walla Walla and Cayuse. It's a confederation of tribes here, whose homeland is 6.5 million acres throughout southeast Washington and northeast Oregon."
As hereditary chief, Sampson is helping tribal members learn about the history and traditions of their ancestors. Sampson said sharing these traditions with non-Native people is important.
Over the last 40 years, the Department of Natural Resources has developed culturally-competent stewardship of the land, Sampson said. The tribes have sent members to universities while also grounding members in traditional knowledge. By focusing on professional education and tribal history, he said the CTUIR Department of Natural Resources is now a leader in the nation in resource management.
The tribe shares its history and traditions through community events and educating non-Native communities.
"I think it's a good step in the right direction," said Sampson. "Oftentimes, we have now we what we call Indigenous Peoples Day on Columbus Day … rather than on Columbus Day, which was what we call Manifest Destiny – the impact that basically created genocide across the lot of the Americas. Just most recently, the [Walla Walla City Council] passed a resolution acknowledging Indigenous Peoples Day. And that was a big step because there were people there that didn't understand it, didn't understand why we should even acknowledge it …well, you live in our homeland. You're guests in our homeland. The United States stole 6.5 million acres of land from our Indigenous people."
Sampson said he wants the public education system to improve so that people know what really happened to Native Americans in this country. He said Native American Heritage Month is one way to start educating people. 
"Obviously, one month a year is better than nothing. But it's a long way from the truth. And I think, at some point, the United States government, education systems in the United States, have to begin telling the true story – the real story of Indigenous people and what we have contributed – but also what we've given up. And last, particularly, what the obligation of every citizen in the country is to these Indigenous people. So, I think that's the main story. That's where we have to be," said Sampson. "Once they understand that, then we don't have to do this constantly, – educate non-Indians about the real history of America. Because what is told in the history books is a lie."
Sampson stresses that people should know about the land that they live on, the first people there and that Indigenous people still live here today. 
"It should be every month of the year. Everybody should learn something about one of the tribes that are local to them," Sampson said. "Learn about the history, learn about the culture, learn about the importance of where they live. I'll tell you, every person that lives in the Tri-Cities, in Pendleton, in any of these counties in northeast Oregon or southeast Washington, probably 99% of them know nothing about whose land they live on. And they need to understand that. At least acknowledge it."
This story is part of a series of conversations with Indigenous people throughout the Northwest reflecting on Native American Heritage Month.