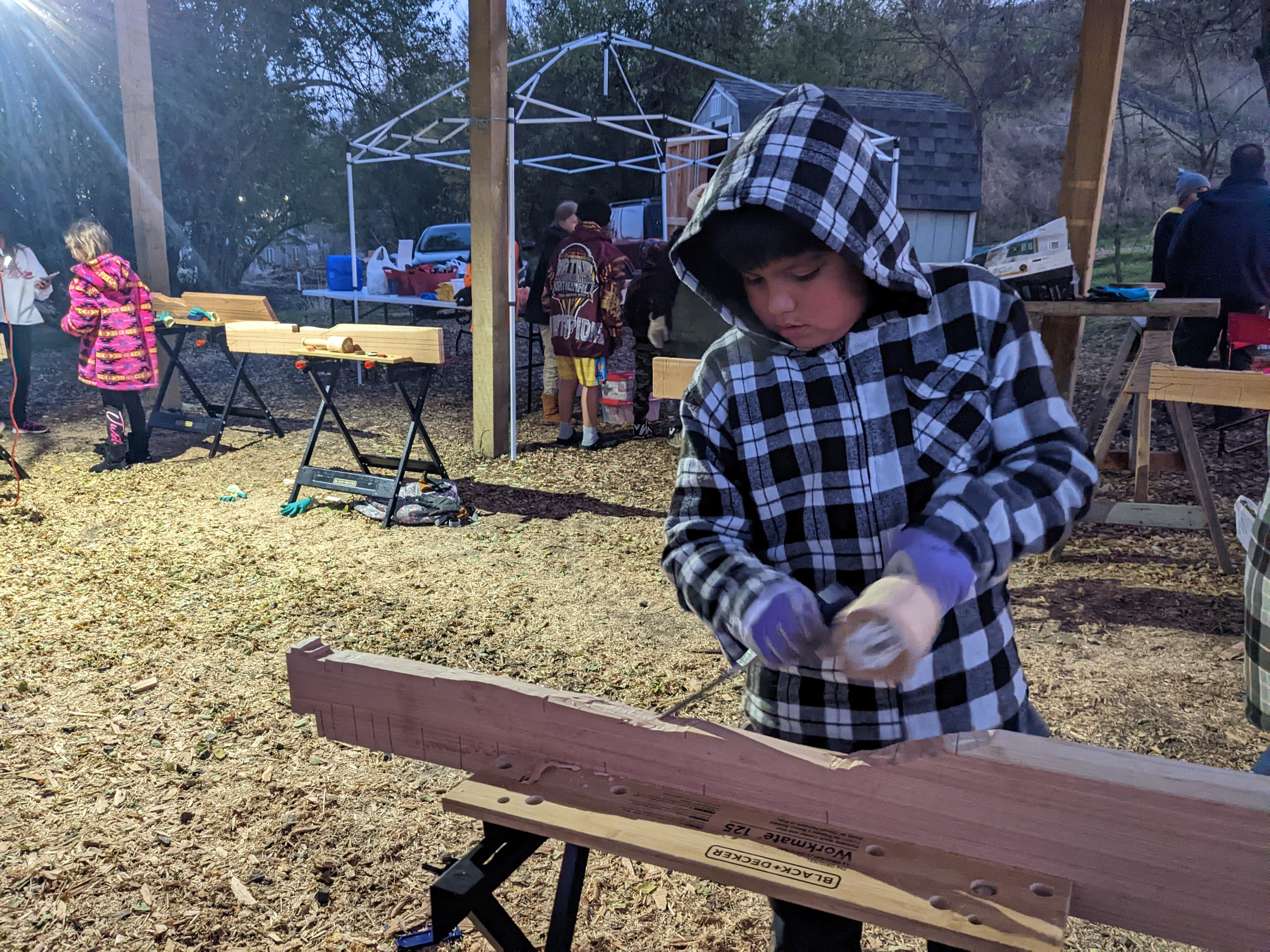 Northwest waterways: Nez Perce canoe project infuses culture into after school learning
Julian Matthews walks the stairs to his downtown Moscow office. He's the coordinator for Nimiipuu Protecting the Environment. 
Matthews said he and fellow Nez Perce tribal members first started the group to do more local activism, such as pushing for the breaching of the Snake River dams. Now, they're also infusing tribal culture into after school programs.
"I told our council this many years ago I said, 'You want your kids to lose their culture, keep sending them to the state of Idaho schools," Matthews said. 
Matthews said he sees this project as a way to make sure tribal and non-tribal youth are learning about the cultures of Northwest tribes.
The group has an after school program in Lapwai, Idaho, where students meet every Wednesday to work on carving their own canoe paddles. Eventually, they'll help carve a canoe.
"It's kind of really their space where they can come and do things they want to do," Matthews said.
Jalone Greene is a Nez Perce tribal member and a fourth grade student at Lapwai Elementary School. He and the other students come to the canoe site every Wednesday after school. 
"I'm carving paddles and stuff, and painting, and beading, learning how to bead. Carving the paddle's fun," Jalone said. 
Tribal member Lucinda Simpson is on hand Wednesday nights to teach young students about traditional foods, roots used for medicine and the Nimiipuu language.
"They do learn, they do learn some about the language, like our word for camas is not camas, it's qe'mes," said Gary Dorr, a Nez Perce tribal member.
Farther north in Moscow, Idaho, Dorr works with students of Palouse Prairie Charter School. Students learn about woodworking and make canoe paddles, and Dorr shares Nimiipuu songs and stories. 
"I tell people that today we're Nimiipuu with full time jobs and part time culture," said Dorr.
But, anything tribal members can do to share the spiritual and creative side of their tribe is a way to keep their culture alive, Dorr said.
"This is the creative part where we're building paddles. We're building boats. We're learning how to operate in the water with these things," he said.
As a tribal member, Dorr said he should know these Northwest waterways like the back of his hand.
"When we make these canoes, I think that's what we're hoping to instill in some of our children," he said.
After years of building canoes and paddles with area youth, Dorr said the group is gearing up to make canoe journeys. 
He said he plans to meet up with members of the Colville and Spokane tribes this summer, traveling south from the headwaters of the Columbia River in Canada. 
By June, Dorr said he's hoping to finish a bigger canoe. He said he plans to paddle the Snake River down to where the Columbia River and the Snake River meet.
"That's what this journey is about, going down the Snake and Columbia rivers. Our plan is to go all the way out to the ocean," Dorr said. 
He said he's hoping tribal youth also will be interested in making the journey. He said by sharing songs and spirituality with local students and teaching them skills, Native Americans become more than just a story. 
"Whatever venture in life they take, they'll take a little bit more understanding of us," Dorr said.
_____
CORRECTION, 12/1/22: An earlier version of the story misspelled Lucinda Simpson's name.