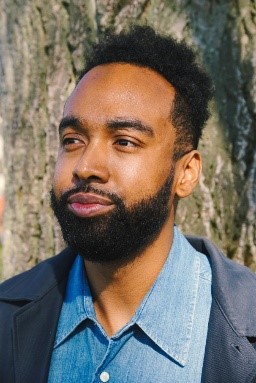 Tacoma Art Museum awards inaugural The Current grant to artist Darrell McKinney
The Tacoma Art Museum has announced the inaugural winner of a grant for Black artists. Darrell McKinney, a sculpture artist and designer based in Tacoma, whose foundation is in architecture and fine art in concrete, was awarded $15,000 to use at his discretion.
But, it's not just financial support that McKinney will receive from the museum. Victoria Miles, the arts administrator behind The Current grant, is aiming for the museum to build relationships with Black artists and community members. She says she wants those relationships to be genuine.
"Being a Black art administrator, I really just wanted to push (Tacoma Art Museum) TAM to interrogate how they're building relationships with Black artists, what does support mean to them?" Miles said. "And what does it look like to build community with Black folk in Tacoma?"
Representation is a piece of building those relationships and community. Miles, who has worked at the museum for almost five years, said she's noticed a lack of Black artists showing in the space, which doesn't reflect Tacoma. 
There is a wealth of Black creatives in Tacoma, Miles said, but a lack of support and opportunity forces artists to seek work elsewhere. She said she hopes The Current grant will help keep artists in Tacoma.
But, she said she without genuine intentions to build lasting relationships, bringing Black artists into the space could feel tokenizing.
"I worry that that can become a tokenizing effort, if not done with intention," Miles said. 
That's why she said representation isn't the final solution.
"How do we get beyond representation? And that's really looking into, 'what does support look like?'" Miles said. 
Miles said that means that the museum really needs to be listening to the support artists say they need on an individual level. Grant awardees are given the full support of the museum's facilities, staff expertise and labor to use however they choose. That could be career support or the creation of  a new program.
McKinney said he's still deciding how he will use that support. 
As a sculpture artist, McKinney often uses concrete and other materials found in the built world we surround ourselves with daily.
"With the concrete, it's this material we kind of have a relation to our entire lives. It's in everyday industry. Its foundations of buildings, but somehow even with that, it still kind of fades into the background," McKinney said.
Because concrete is utilitarian and cheap, it's an accessible medium. McKinney said he wants to play around with the value and perceptions of concrete.
"How can you take this material that's in everything, but make it the centerpiece of the show and get that attention drawn to it?" McKinney said. 
That approach to material has shaped a lot of McKinney's practice. 
For his work, McKinney said he draws a lot from his lived experiences, communicating issues with his art around race, culture and history.
A lot of his work is inspired by Tacoma, and he sources many of his materials locally. 
McKinney was one of seven Black artists chosen in 2020 to transform a former Rite Aid building in the Hilltop neighborhood in Tacoma. The artists were tasked with evoking the culture and history of Hilltop in their work.  
McKinney chose to create contemporary friezes inspired by Greek and Roman architecture in concrete. Instead of famous people or moments in history, McKinney depicted buildings central to the Hilltop in his friezes: The Boys and Girls Club, The Fish House, Quickie Too, the hospitals, Hilltop Loans and Mr. Mac's.
"They're very specific to people in the Hilltop community, they instantly recognize a lot of these buildings and can speak to how they are sort of foundational in a lot of different ways," McKinney said of the friezes. 
Another project rooted in Tacoma history was One Way Mirror, where McKinney took windows from old Tacoma homes and turned them into mirrors, reflecting the audience back. The work was shown in Seattle's Central District, which has a similar history to Tacoma's Hilltop neighborhood.
"I was sort of thinking about how that neighborhood has changed a lot, where at one time, it was a predominantly Black neighborhood. It's sort of shifted significantly away from that," McKinney said. "It was speaking toward seeing yourself in your neighborhood. And who does the neighborhood actually reflect anymore?"
The materials also have significance to Black Tacomans. McKinney said. The windows come from remodeled homes, older homes from a time when the Hilltop was a predominantly Black neighborhood.
For McKinney, the support and ongoing relationship of the art museum in the city where he's based is crucial.
"I feel like artists should have a presence in the community they're from, or the community that they're based in," McKinney said.
McKinney said The Current grant feels like a good step in the right direction to get people in the door, but that the support is "good on paper," and needs to be realized in reality. 
During the inaugural year of the grant, there's plenty to experiment with and ways to grow.
"I think my vision is really that I just wanted to support as many Black artists as possible for it to grow. Maybe one year we have one awardee. Maybe in, like, four years, we have 10 awardees. Maybe we take over the museum," Miles laughed. "I don't know."