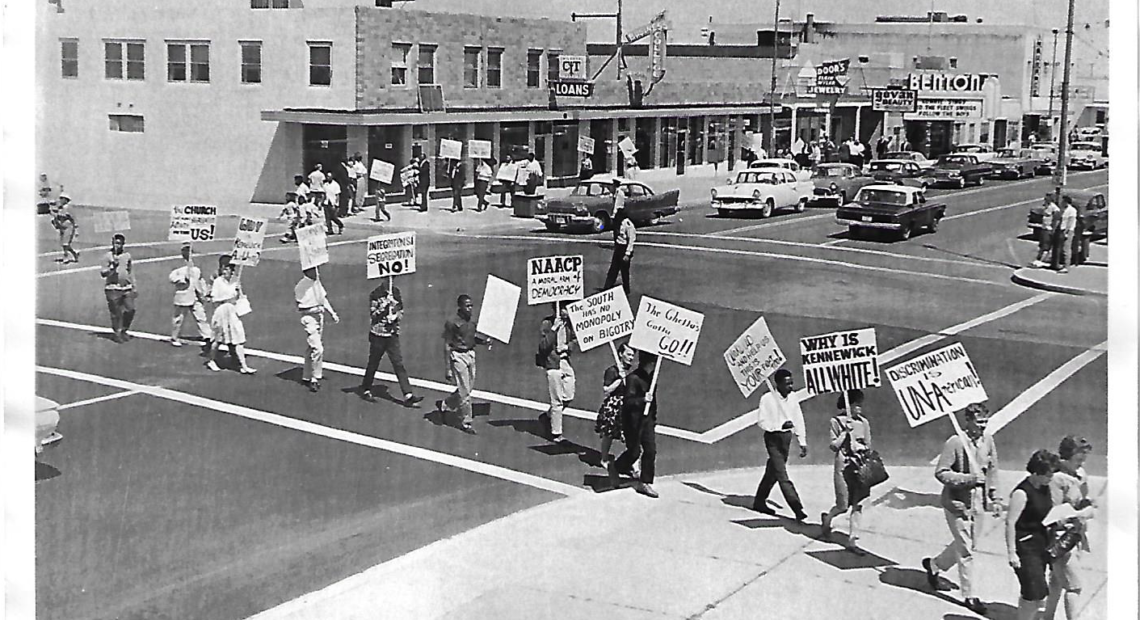 How Jim Crow policies shaped the Tri-Cities
EDITOR'S NOTE: This is Part 1 of a two-part series connecting historical segregation policies to how minority groups struggle to get political representation today.
Segregation, red-lining, and sundown town policies in the 1940s through the 1960s shaped the Tri-Cities: Pasco, Kennewick and Richland, Washington, according to a recent book by two history professors at Washington State University Tri-Cities. 
During the 1940s and 1950s, Jim Crow-era policies forced Black, Hispanic and other racial minorities to live in East Pasco, preventing them from living anywhere else in the region, like in Kennewick, said Bob Bauman, a history professor at WSU Tri-Cities.
"In Kennewick, African Americans were excluded completely by racially restricted covenants," Bauman said. "Real estate prohibited anyone who was nonwhite from owning a home in Kennewick, and police would remove anyone who was nonwhite who was in Kennewick after sundown. There was a sort of term for these sorts of communities in different parts of the United States called sundown towns."
Bauman and Robert Franklin co-wrote the book "Echoes of Exclusion and Resistance: Voices from the Hanford Region." Using oral histories, government documentation about segregation policies, and written witness accounts, the two WSU Tri-Cities professors studied segregation in the area.
Richland, Pasco and Kennewick each created their own segregation systems,  Bauman said.
Franklin said Kennewick was proudly "lily white," and the city did not allow Black people to live or shop there. 
"Even up until the '60s, public housing officials in Kennewick would not rent to Black (people). They kind used the opaqueness of the policy, and their preference to select poor white (people) instead of poor Black (people)," Franklin said. 
Richland was a government town built to house permanent workers at the Hanford site. Federal hiring policies mandated the government contractor hire minorities, he said. 
"If African Americans make up 16% to 18% of the American population, you got to hire somewhat something close to that. Close enough, to get the OK of your workforce, basically, to make sure the workforce represented the American people," Franklin said. 
However, the federal contractors did not have to give permanent, high paying jobs to Black people. Bauman said that's how Richland became segregated.
"Only people who were permanent workers could live in that town. It was a federally run city during the first part of the Cold War, and African Americans were prohibited from being permanent employees. They could only be temporary employees. So, because of that, that was a way essentially of discriminating, segregating, prohibiting African Americans from living in Richland," Bauman said. 
That meant Pasco was the only city left where minority groups could live. Even then, Black people and other minorities only were allowed to live in East Pasco. 
"It's (a) very similar story for those early Latinx migrants," Franklin said. "They face the same kind of Jim Crow-ism that African Americans faced, right? Having to live in substandard housing, working substandard jobs, discrimination in employment, where they could live. The Tri-Cities is today still has pretty strong racial districts."
Now, Pasco continues to be the most racially diverse city with 55% of the population identifying as Hispanic, according to the most recent census data. Almost 3% of Pasco's population identify as Black, which is down from 41% of the population 30 years ago. Richland's population is still mostly white at 76.1%, as is Kennewick's population, at 76.1%.
The city councils in Richland and Kennewick reflect these demographics.
According to members of the East Benton County Museum, Kennewick has never elected a person of color to its council. 
The Pasco City Council is more representative of its population. Pasco elected its first Black council member in 1967. More than 50 years later, Pasco elected its first Hispanic representative  in 2020. 

Read more in Part 2 of the series, which explores how past segregation policies have had some influence on how minority communities now fight for local government representation.