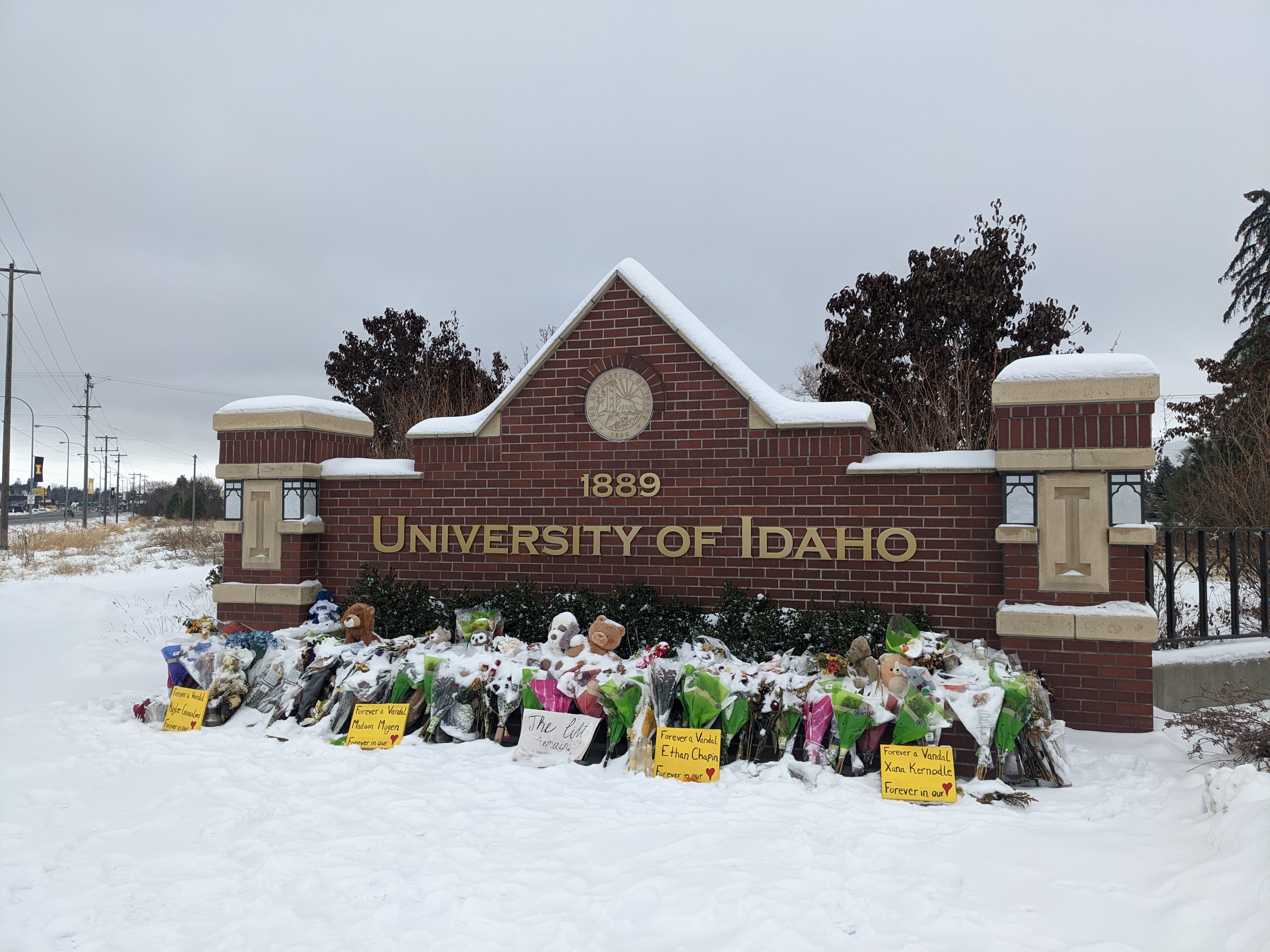 Social media sleuths disrupt Moscow homicides investigation and community
New tips about a white Hyundai Elantra near King Road in Moscow the night of the attack have given investigators a better timeline about what happened in those early morning hours.
But another challenge for the police – aside from solving the case – is the rampant misinformation spreading online and in the media. Robbie Johnson is the Public Information Officer for the Moscow Police Department. She said investigators simply cannot keep up with addressing the constant rumors and speculation about the case.
"That's why we're focused now on just the critical information we need to release that really actually helps the investigation," said Johnson. "And we've seen with these rumors that it's hurting people. And I don't know if people realize that."
The rumors and misinformation also hurt the investigation. Tauna Davis is an Idaho state trooper. She said most of the criticism of how law enforcement has handled the case is coming from outside the community.
"Most of the people that are messaging us saying that we're not doing enough, not doing a good enough job, or why didn't we look here? Why didn't we do this? Are one, not even in Idaho; and two: have no clue how investigations work," Davis said. "So it's unfortunate that they feel like they need to weigh in on this, which can be damaging to families as they're reading articles and social media posts, and can re-traumatize."
Johnson also said some of those rumors have led to online harassment of people who knew the four students. The harassment and rumors also has caused many students to step back from social media. 
Vanessa Lopez graduated from the University of Idaho last year and says the deluge of news reports about the homicides has kept her offline.
"It was definitely very anxiety-inducing, because I live so close to where it happened," said Lopez. "It just made me feel like it could happen again. And it could possibly happen to me."
Lopez said she wishes people online and outside the community would try to be more understanding and kind. 
"This is a tragic event that happened. It's not just another murder mystery that you can speculate about. And it is affecting people in real life. And I guess people aren't really understanding that," Lopez said. "Moscow is a nice community. Unfortunately, because this happened, a lot of people are kind of making a bad reputation about Moscow and that makes me kind of sad just because I've lived here for so long and I know it is a nice and safe town."
Lopez said she and her sister have both left flowers at the University of Idaho. She says it's important to show respect and empathy for the victims.
Down the road at Washington State University, Professor Melanie-Angela Neuilly studies how medical examiners and coroners investigate and classify death. She teaches classes on criminology, homicide and violent crime. 
She also has degrees in psychology. She said she understands that in cases like this, people have a hunger for resolution. 
"When it comes to a narrative arc, as a human as a species, we like stories, and a story isn't satisfactory if it doesn't come to a conclusion, right?" said Neuilly. "What we fail to understand is that a homicide isn't a story. And in the sense, that isn't a story for the public to listen to, right? It is a private story that happens between individuals, the ones who died and the ones who were killed. And there is something really unsatisfactory about that."
Instead of coming together as a community and supporting each other in their pain, Neuilly says now people are sleuthing on social media. People are sharing private information and documents (also known as doxxing) about people they think might be suspects. She said people often think it's important and helpful.
"All we're doing is creating a divisive environment in which we end up hurting people more than helping anybody," she said. "And I think we really have to be mindful about that."
Neuilly said it's a natural urge for people to fight back and question. But our challenge now, she said, is to resist that urge, and ask ourselves, 'Will what I'm doing really change anything?'
"If we think about that a little bit more, if even one person, next time they're going to type a comment, is like, 'You know, maybe I shouldn't.' I feel like maybe that can create a small ripple effect," said Neuilly. "And we can just kind of listen to the better angels of our nature."
If you have information you wish to share with officials investigating this case, information can be submitted through the following ways:

• Tip Line: 208-883-7180
• Email: [email protected]