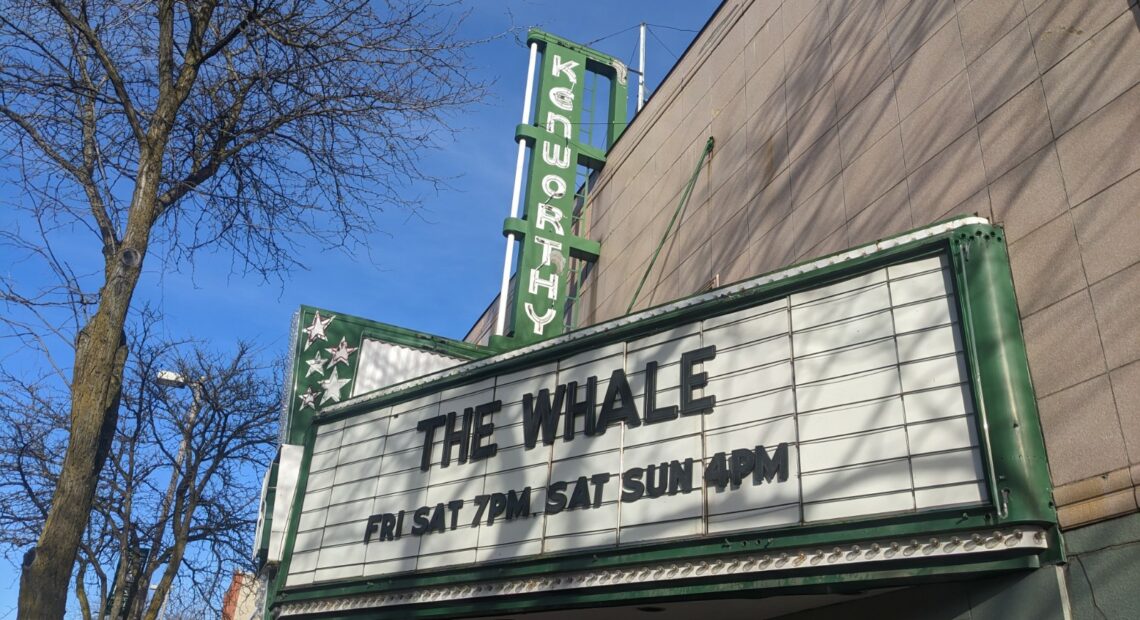 Moscow Playwright Comes Home : Interview with "The Whale" writer Samuel D. Hunter
It's a sunny, wintry day at the historic Kenworthy Theatre in downtown Moscow. Black letters on the marquis spell out "THE WHALE" — a new film generating Oscar-buzz, written by Samuel D. Hunter, who himself grew up in Moscow.
"His productions of 'Lewiston / Clarkston,' and 'A Bright New Boise' have been major events here at the Kenworthy. So it's really cool to see that there's a homecoming of sorts with this film," said Colin Mannex, executive director of the Kenworthy.
Mannex says he worked hard behind the scenes with production studio A24 to bring the film to Moscow and says he's followed Hunter's work since he was an early playwright.
The film, set in Moscow, follows Charlie, a six-hundred pound English professor (Brendan Fraser) as he tries to reconnect with his estranged daughter Ellie (Sadie Sink.) Charlie is homebound, reclusive and cared for by his longtime nurse as his health starts to decline.
"With 'The Whale,' for the first time, I kind of put a lot more personal stuff on the line."
That's Playwright Samuel Hunter. The first play he produced was at the Moscow Community Theatre and was performed at the Borah Theatre, a venue still located on the University of Idaho campus.
He said he went all the way to New York University to study playwriting. Though he was learning more about theater in the big city, he said he really found his footing when he started setting his plays in Idaho.
"Just because it was like a landscape that I felt like I really knew and was familiar with," said Hunter.

Hunter's family has lived in Moscow for six generations. The small town surrounded by rolling hills is a special place to him, evident by how he continues to return to the gem state over and over again in his work, he says.
"The specificity of Idaho, I think, allows me to get at more universal truths," Hunter said.
Hunter attended a fundamentalist Christian school in Moscow growing up, and was part of a local church. He says had to leave when it was discovered he was gay.
Leaving that religious community was really hard. He says he didn't want to leave God behind, but was told that an indelible part of his identity was in opposition to God.
"It took years and years to process it," said Hunter. "And, for me, you know, that kind of depression and self-loathing can materialize in many, many, many different ways. But for me, it materialized in using food as a coping mechanism."
Hunter says he fell into depression in his early 20s, and that when writing the play, he pulled from his personal life in order to bring realism to the characters.
"I had been self-medicating with food for a really long time and had been rapidly gaining weight," he said. "And I had never really seen that specific story rendered."
While Hunter eventually reconciled his religious split, the process took years. It later inspired him to create the backstory for one of the characters. He also had to adapt his writing into a screenplay.
"I remember I was walking through Washington Square Park one day and my agent called. And he said, 'Darren Aronofsky wants to meet with you.'"
Hunter says it was a long, slow process bringing the play into the realm of film. He was on set the entire time, and worked closely with the actors, he says.
The challenge of the movie, he says, is to have faith in other people.
"Faith in humanity is like a really difficult, complicated project," Hunter said. "And I think that's what essentially the story is about — it's about hard-won hope."
The Kenworthy will host a virtual Q&A with Hunter after the 2 PM screening of "The Whale" at the Kenworthy Performing Arts Centre in Moscow on Sunday, Jan. 22. Visit the Kenworthy's website for ticket and pricing information.