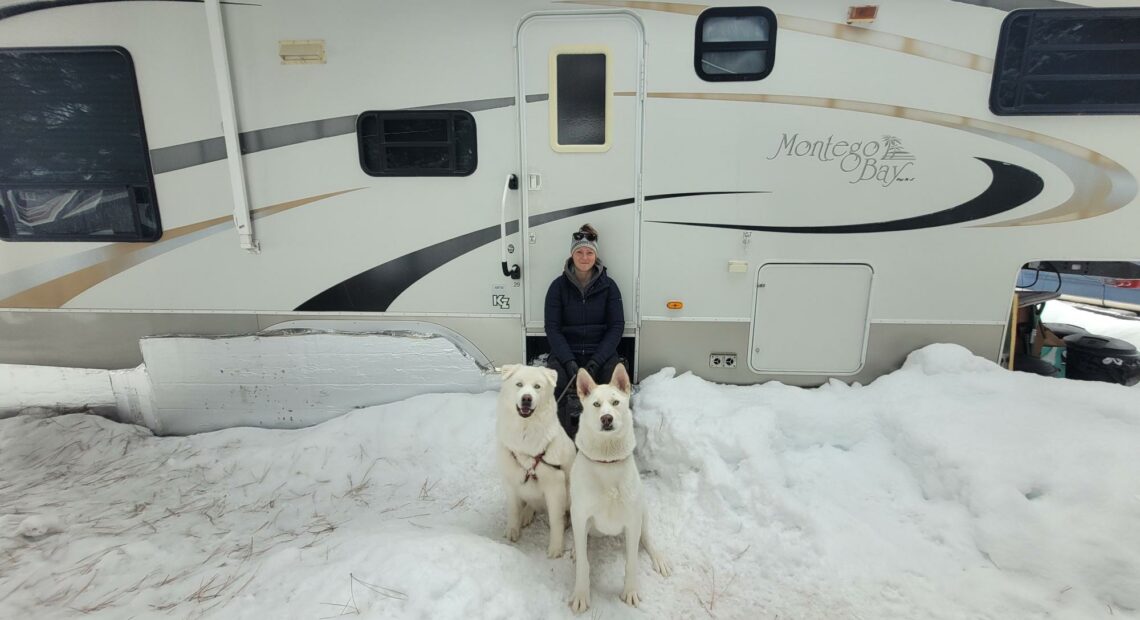 Many in McCall can't find housing, even as most houses sit vacant
Whether he's in his office or out on one of the idyllic woodland trails of the Payette National Forest, U.S. Forest Service Public Affairs Officer, Brian Harris, says he gets a lot of calls that go something like this: 
"Hey, we're going to come up. We've got a contract to do some work on some facility in McCall. We'll be in the area for a month and a half … is there a place that I can live in the National Forest?" 
Even though it's just an example, Harris says he gets calls like that all the time. 
"Much of the available housing is actually owned as a second home, and not available to the local working force. And that's quite a challenge," he said. 
In the summer of 2020, Harris says a handful of employees were living out in the forest because they couldn't find housing in the lakeside community.
"Once we found that they were actually camping out in the forest, we connected them with various different people," he said. "And really within a matter of a week, you know, all of [those] employees actually found a place to live."
But it can be a challenge for newcomers in a small town to form the connections needed to find housing when it's often only advertised by word of mouth, says Harris. Helping seasonal Forest Service employees find housing is now a formal part of the employment process.
St. Luke's McCall Medical Center is also grappling with the housing shortage. The hospital struggled to fill an ultrasound tech position for over a year, largely because of the housing crisis. 
"What happens is, if you come into our hospital and need an ultrasound, we have to either ambulance you down to another hospital or fly you, depending on how critical your condition is at the time," said Amber Green, the chief operating officer for St. Luke's in McCall. 
Green says would-be employees decline jobs on a weekly basis. 
"They will accept the [job] and then once they go looking for a house, they'll call us back and say, 'Sorry, I can't come. We can't find housing," said Green.

She says the lack of housing is the number one reason potential employees decline jobs.
The hospital was forced to adjust its hours, and to rely on traveling nurses and other temporary staff working on short-term contracts. The significantly higher cost of hiring short-term staff increases healthcare costs for the community, says Green. 
So in spring 2022, St. Luke's purchased a building to house employees. The building includes 10 studio apartments on the top floor, and four retail spaces on the bottom. 
Despite the new space, Green says they already have a waiting list of employees searching for somewhere to live. 
Diagnosing the problem's root cause 
The City of McCall conducted a housing needs assessment in 2018 to find out what was going on. 
"There's essentially almost no housing available for folks that work here," said Michelle Groenvelt, community and economic development director for the City of McCall. "We are in a situation where the home prices and rents have become so high that it is becoming unaffordable for our middle income workers to afford homes here." 
The City of McCall launched the McCall Area Local Housing Action Plan in 2022.
"We had other government agencies, we had the nonprofit sector, we had the private sector … kind of all in the room together; we had a pretty large steering committee that helped guide the process," Groenvelt said.
Currently, 73% of houses in McCall sit empty for most of the year, according to the American Community Survey. 
"People tend to get campers and, you know, are living in the National Forest, or the state forest, or in RV parks," said Groenvelt. 
One of those locals living in an RV park is Hannah Stewart. She says she's given up finding anywhere else to live. 
"Rentals are on the low end: $1500 a month here … and that's often just for a room," she said. 
Now, Stewart's learning the ins and outs of what it takes to live in an RV through a season of freezing, winter weather.
"I had to insulate it," she said. "So you have to put, like, foam boards around the base of it to stop as much heat loss from the bottom and so your pipes don't freeze underneath."
To keep heating costs down, she sets her thermostat at 65 degrees. She also wrapped the windows in plastic to keep warmth from escaping.
"And sometimes the propane tank does run out," said Stewart. "Then you have to go out into, like, the freezing cold temperatures and swap it over and get the other tank filled up." 
For many like her, having a full-time job no longer pays the rent. Stewart's taken on side gigs to try to make ends meet.
"Honestly, I can't afford food. Like, I have to go to the food bank, which in small rural towns like this are operating one-day-a-week for two hours," she said. "Some weeks, I can't go because I have work obligations during those hours." 
The challenges are beginning to add up.
"It doesn't feel very feasible to keep living in this community," she said. 
Community and Economic Development Director, Groenvelt, says this is something resort-focused mountain towns have been dealing with for decades.
"If you look at other more developed mountain communities, like Jackson and Aspen, they all have these housing programs," she said.
The challenge for Idaho, Groenvelt says, is that the state and local governments don't have the same resources as other states.
"If you don't have housing, how do you have a community? [Do] you just become this ghost town of second homes and short-term rentals? [Do] you just become a resort? It's a huge challenge."
Small town solutions
The most recent step toward a solution, Groenvelt says, was creating a Housing Authority in November 2022. 
"So, they're able to dispose of properties and create developments in an easier way than a city can. They're also able to bond for housing projects," she said. 
The lakeside mountain town also faces challenges, like infrastructure for water and sewage. There are only so many places to build in such rugged, rural terrain.
"At this point, we need over 700 units for McCall residents," said Groenvelt. 
Building more houses is one thing, but making sure they're affordable is another challenge.
Groenvelt says the new Local Lodging Option Tax will be used to build more housing in the area.
"We're essentially taxing hotels and short-term rentals," she said. "Then we're able to turn around and use the revenues from that tax to go into our housing programs." 
Officials at the U.S. Forest Service are also looking into housing solutions. 
The Payette National Forest Housing Committee was formed to help new employees find a place to live in town. The team of about 20 employees is implementing a five-year plan to make sure the Forest Service can establish housing for new hires, through projects such as replacing old Forest Service barracks built in the 1950s.
Forming partnerships with other organizations in the area, such as local ski resorts, is essential to solving the long-term problem, says Forest Service Public Affairs Officer Harris.
"We've got two ski resorts that are relatively close to McCall," said Harris. "Their need for workers is in the wintertime [and] they have housing that they use for their employees in the wintertime. While our need for housing for employees is in the summertime. So we're kind of the exact opposite as far as when we need the facilities." 
There's an 80-acre parcel of land near the base of Brundage Mountain Ski Resort called, "Thorn Creek" that could potentially be used as a site for housing government employees, says Harris. 
"We'd be able to build facilities there again that the Forest Service would be utilizing during the spring, summer and into the early fall," he said. "And then Brundage Mountain, in this case, would be using it during the winter months."
Solving the problems of the housing crisis requires creativity, and coming together as a community, Harris says.
"Together, we can find those solutions that actually work," Harris said.