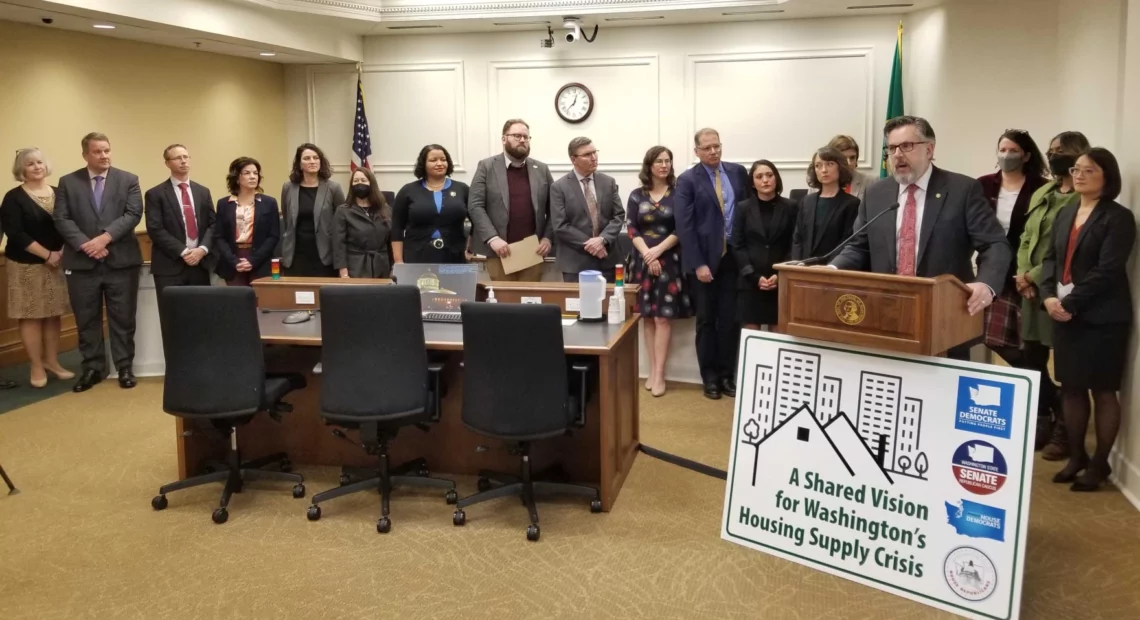 WA lawmakers promise bipartisan action to boost housing supply
By Jeanie Lindsay
Legislators in Olympia are considering a host of bills to address the housing crisis, and Tuesday, members from both parties announced they're finding common ground.
A group of lawmakers highlighted a suite of policy proposals, backed by both Republicans and Democrats, that would make regulatory and construction changes aimed at boosting the supply of homes across Washington.
Representative Andrew Barkis, a Republican from Olympia, said this bipartisan effort reflects how urgent the shortage is.
"These policies will start to chip away and have meaningful impact right away at getting at product on the ground and people with keys in their hands to move into their homes," Barkis said.
The list of bills covers a wide range of construction and regulatory changes, including proposals to speed up the building permit process, create more housing near transportation hubs and diversify the type of housing available in certain areas.
Barkis is sponsoring a bill to allow lot-splitting to allow new construction of units. Another pair of bills would exempt first-time home buyers from the state's Real Estate Excise Tax when they purchase a condo or townhouse.
According to a state analysis, Washington will need at least a million additional homes by 2044.
Washington Gov. Jay Inslee has pitched an ambitious plan to speed up construction of affordable housing, and is asking lawmakers to let Washington voters decide whether or not to approve $4 billion in new borrowing to pay for it. Housing Committee Chair Strom Peterson (D-Edmonds) said there is some bipartisan support for Inslee's plan, but this particular coalition is focused on regulatory changes.
"This is really kind of a separate issue – this is really about the supply, really what can we do with working with more of our private market forces," he said.
With commitments from both sides of the aisle to move forward, Senate Housing Committee Chair Patty Kuderer (D-Bellevue) says this session is shaping up to be a big one for housing.