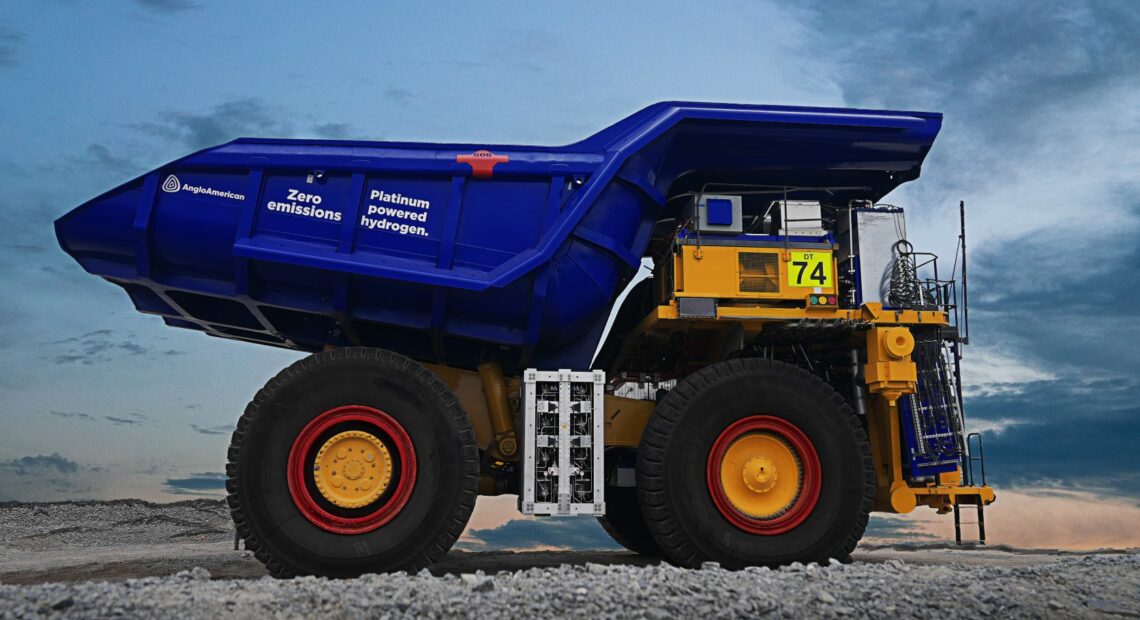 Battery-powered mining trucks to see test run in Lewis County
The site of the last coal-fired power plant in Washington state will soon be home to proving grounds for a carbon-emissions free mining truck. 
The truck is a battery and hydrogen fuel cell powered vehicle, developed by Seattle-based First Mode, and it's the largest emissions-free vehicle in the world. Chris Voorhees, co-founder and chief product and technology officer at First Mode, said they've developed the technology to focus on decarbonizing the industry that provides the products that fuel our daily lives. Unlike other clean-tech engineering focused on consumer-end products like electric vehicles and solar panels, Voorhees said First Mode is looking at the opposite end of the supply chain.
"The source is mining and metals, the source of most of the products we use on a daily basis that drive the economy and the society in which we live. They come from some hole in the ground somewhere around the world," Voorhees said. "It's a source of an enormous amount of greenhouse gas emissions and utilization of diesel fuel." 
A big source of those emissions from mining is haulage; the enormous vehicles that move mined products around. These trucks require around 5,000 liters of diesel fuel on a daily basis and use two to three megawatts of power, Voorhees said.
First Mode has developed the technology to get these trucks to be carbon-emissions free. 
"What we do is we take that diesel generator at the heart of the vehicle, we take it out, and replace it with a combination of battery and hydrogen fuel cell technologies. That takes the power plant that exists and replaces it with one that has a zero tailpipe emissions and allows the system to run off of a green source of energy," Voorhees said. 
It's hard to demonstrate and test these vehicles in a dense place like Seattle, so First Mode has been testing the technology at a site in South Africa. But the new proving grounds will be in the company's Washington. 
To test out the battery and hydrogen fuel cell mining trucks, Voorhees said First Mode plans to use an old coal mine site in Centralia that is owned and operated by TransAlta. That site is currently undergoing reclamation and is scheduled to be decommissioned in 2025. 
"What better place to demonstrate how we are ready to actually transition some of these diesel-heavy and grease grid emissions-heavy industries into something new than a site that's already undergoing reclamation? And is really just next door, from my perspective," Voorhees said. 
Establishing and keeping manufacturing of clean-tech in the state of Washington is important for Washington's carbon goals, hydrogen innovation expansion, and the state's economy, said Brian Young, clean technology sector lead for the Washington State Department of Commerce.
"For us it was a big win in that they're keeping more and more of their manufacturing in Washington state, starting to demonstrate and provide a test ground for these kinds of the future of electrified transportation, heavy transportation," Young said.
First Mode received a $250,000 grant from the state economic development strategic reserve fund to establish the proving grounds. 
Young said innovation economy is a key area for the Department of Commerce, and growing the clean technology industry is a part of that. 
"We really see the opportunity to grow Washington as a place focused on the research, development and demonstrations of this new technology, especially in heavy transportation," Young said.
First Mode plans for the first trucks to roll onto the site this spring. The company has a contract with Anglo American to decarbonize seven of its sites. That would include a total of 400 vehicles, the first of which is scheduled to be deployed in 2025.