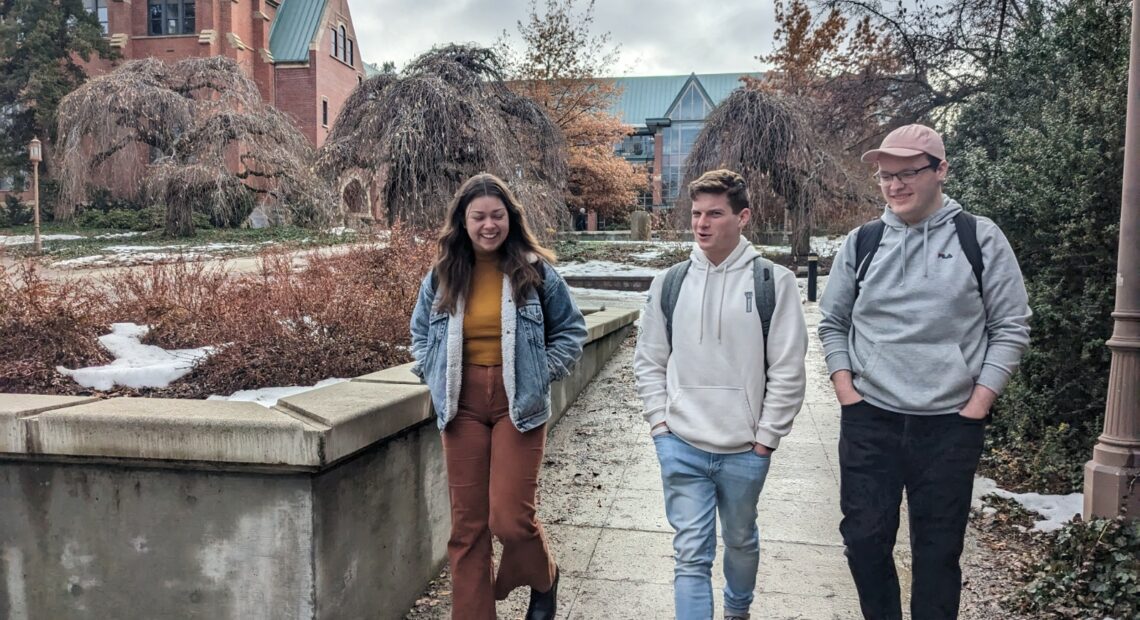 Moscow planting garden, creating scholarships in memory of slain students
After four University of Idaho students were stabbed to death in an off-campus house last November, the small, college town of Moscow was left reeling.
Suspect Bryan Kohberger was arrested Dec. 30, 2022, and charged with four counts of murder. He had just completed his first semester as a criminal justice Ph.D. candidate at nearby Washington State University. Kohberger was extradited to Idaho after his arrest and is now at the Latah County Jail, awaiting his evidence hearing this coming June.
The University of Idaho (U of I) recently announced plans to help the community heal in the aftermath of the tragedy.
In an email sent Feb. 24, U of I President Scott Green said the house on King Road, where the students were killed, will be demolished.
"This is a healing step and removes the physical structure where the crime that shook our community was committed," Green wrote.
Currently, the house is surrounded by a chain-link fence, with a 24-hour security presence.
U of I Senior Director of Communications Jodi Walker confirmed the property owner gave the house to the university. "Whatever we do with the property [after removing the building] will involve students in the planning and development," said Walker.
Scholarships in memory of Xana Kernodle, Ethan Chapin and Madison Mogen have been created, and Green said the university is working with the Goncalves family to create a fourth scholarship in Kaylee's name.
"These endowed scholarships will help future students as they pursue their educational journeys at U of I," Green said.
In addition, planning is underway to create a garden on campus, with a memorial of the four students as the focal point.
Students also are involved in planning the garden and memorial, which can be helpful for those who knew the victims, said Abigail Spencer, a student at U of I.
"Even after everything's kind of tied up, there are so many people who still want to be involved in the process and keep this memory alive," she said.
Spencer is a member of the Alpha Gamma Delta sorority. She said the partying on Greek Row slowed after news of the crimes broke, and now many of the Greek houses have updated their security systems.
Mark Warren, a broadcast student, said that along with fundraisers and planning the new memorial, people are still looking for ways to honor the victims.
Warren works at KUOI, the student radio station on the U of I campus. The radio staff is working on putting together a music program in honor of Chapin, Goncalves, Kernodle and Mogen, he said.
"We're trying to reach out to their friends and family and figure out what music they liked," Warren said.
But Warren said he and his friends still feel on edge when they see an ambulance or fire truck on campus.
"It's one of those things where your heart just kind of sinks because it's like, 'Is this another?'" Warren said.
Student Taylor Dolezal lives with three women and said the tragedy felt especially scary for them, because three of the victims were women.
"I felt a huge weight off my shoulders when [the suspect] was caught," she said. "But even then, I got a knife that has a whistle on it and I have it in my backpack all the time."
Dolezal said she doesn't usually feel a sense of danger on campus but tries not to go anywhere alone at night, even now.
Although the suspect of the November attacks is in custody, Spencer said many people on campus are still feeling the effects of not only the crime but the intense pressure from the media presence in town.
Spencer said students are more wary of the media than they used to be. "A lot of people are more suspicious just in general of what's going on and who they can trust," she said.
At the height of the intense media scrutiny, Corner Club Owner Marc Trivelpiece said he would go to work in the morning and take the phone off the wall because of the constant calls.
"One of the bigger issues that I know my employees and a lot of my customers were facing was the everyday harassment from out-of-town media trying to get whatever little snippet they could to get that extra click."
The sports bar was where Mogen and Goncalves spent their final hours before going to the house on King Road.
Many of the calls were from sleuths trying to see if the Corner Club had cameras or asking for the last names of employees.
Now that the calls have decreased, Trivelpiece said he's noticed his student employees check in with each other more and make sure that everyone is safe.
A photo of Chapin, Goncalves, Kernodle and Mogen is now part of a large collage on a table at the Corner Club.
Students Dolezal, Warren and Tracy Mullinax all agreed that the incident will stay with them for the rest of their lives.
"I can't go to sleep unless I know the deadbolt is locked," Mullinax said.