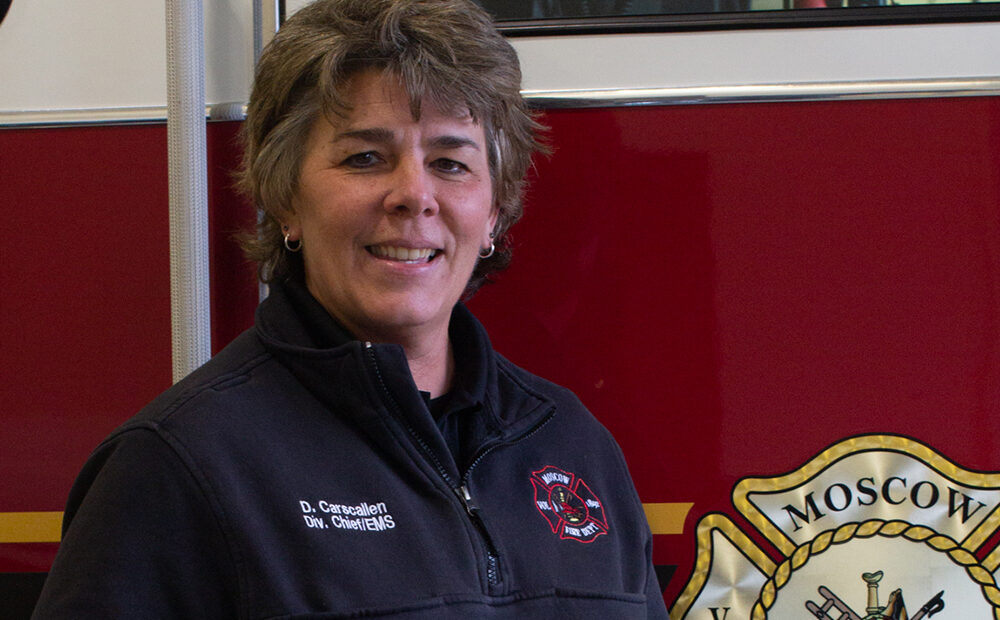 Volunteer firefighter, EMT shortage straining local departments
Local emergency medical technicians (EMTs) and firefighters say increased call volumes and fewer available volunteers have left them struggling to keep up.
The problem is a national issue but has increased for local departments within the last five years, said Debby Carscallen, Emergency Medical Services (EMS) division chief for the Moscow Idaho Fire Department. 
Her department has seen a roughly 20% increase in call volume from a few years ago, and also started noticing fewer people available to volunteer around five years ago.
"Pre-COVID, we started noticing less employers being willing to allow their folks to leave work," Carscallen said. "We had employers that are willing to allow them to, but then we would have a day where they had three calls in a row. And that could eat up their entire workday. And so then they start to think twice about that."
Joe Handley, an assistant fire chief and the EMS supervisor for the Palouse Fire Department in Washington, said he also noticed a change starting around the same time.
"Five years ago, Palouse had close to 16 EMTs. We are now down to eight," he said. "Five years ago, we handled about 60 calls a year. And we just cleared 151 calls."
Those few volunteers who are left have to shoulder a heavy burden, he said, and often miss out on time with family because of it.
"You used to, maybe, miss one sports game a year of your kid's," he said. "Now you're missing multiple of them, because you're going out on calls. And that drains you emotionally and mentally."
Some of the best local volunteers are self-employed, Carscallen said. People such as construction workers, loggers and farmers can set their own schedule. However, those individuals also run into problems volunteering.
"What we found was that they also are either uninsured or they only have major medical. And they're also the breadwinner for the family," she said. "So if they get sick or hurt volunteering for our agency, now they can't earn a living."
Workers' compensation, she said, doesn't pay the bills because it's based on the average volunteer Idahoan's wage and not the individual's income. 
"What we discovered is that EMS and fire in the state of Idaho is not deemed essential," Carscallen said. "Only law enforcement is."
Legislators need to deem EMS and fire essential as well, Carscallen said.
Idaho's volunteer EMTs and firefighters also aren't compensated, and have no retirement system. Washington, by contrast, has the length of service awards program that offers some small retirement benefits — around $350 per month for someone who volunteers 25 years.
"Reserve" firefighters and EMTs also can get paid in Washington but not generally enough to pay bills. In Palouse, firefighters make $10 per call, regardless of how long it takes them. 
"We just now agreed to start paying EMTs," Handley said. "But it's a sliding scale based on how many calls you go to. It'll break down to maybe $7 a call."
Training is an especially big challenge for volunteers or reserves . In Washington, EMTs are required to complete roughly 160 hours for initial certification and another 60 hours of continuing education per year. All training hours are unpaid.
In Idaho, volunteers need 120 classroom hours to certify as EMTs and 160 hours for fire certification. EMTs are required to complete continuing education to recertify every two years, Carscallen said.
Moscow runs its own 90 minute monthly trainings that qualify volunteers for recertification if they complete all of them, she said. But not all departments are able to provide training.
Idaho's Legislature has a task force to find ways to keep EMS service sustainable in Idaho, though no resolutions are expected until next year. 
According to a 2021 report from Idaho's Office of Performance Evaluations, only 18% of EMS directors statewide reported their agency being able to maintain sufficient staff. 65% reported delays in emergency response due to staffing issues.
Moscow Fire Chief Brian Nickerson said some of the shortage of volunteers also is due to rising costs of living, forcing more people to work full-time jobs.
"Years ago, it was the one adult working and the other staying at home," he said. "That's not the case today."
Moscow has more volunteers than other communities because of the university, Nickerson said, and also has seven career staff. But student volunteers can be difficult to schedule, because most come in as a group with many of the same classes and leave within 18 to 24 months.
The region also has been affected by an influx of residents moving to the area, sometimes with remote or commuter jobs, who don't realize local emergency services are largely reliant on volunteers.
"There's some highways you drive, there is no response within an hour of there. And that's scary," Carscallen said.
Some small agencies used to run "quick response units," which would help get people out of cars and stabilize them until more help came, but even those are rare, Nickerson said.
EMTs in small departments do multiple jobs, including administrative work, billing for ambulances, fundraising and also trying to run calls.
"They're doing everything to try to keep their doors open," Carscallen said. "So now they've got to try to train, and run calls, and take care of their kids, and stay married."
Carscallen said fire and EMS agencies are looking at ways they might rebuild their departments, including offering access to group plans for health insurance and retirement, as well as more training options.
"I don't think there's an easy one-size-fits-all answer to this," she said, "but the state is looking at it right now."