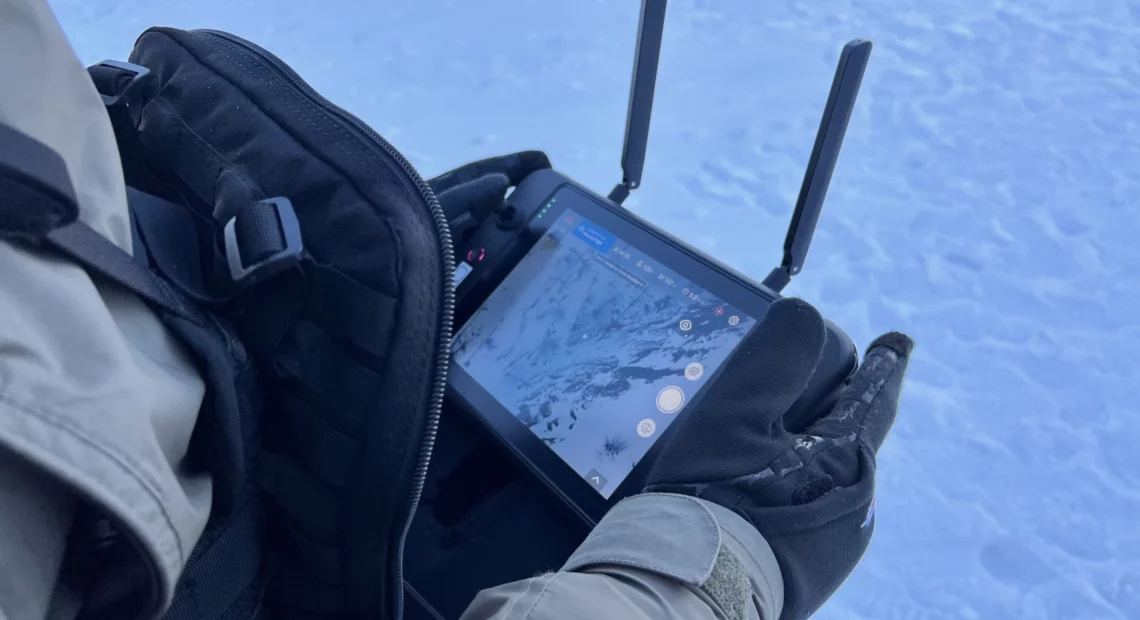 Drone skills 101: Special forces train for Ukraine in Methow Valley
Deep in the forests of northern Ukraine, fighters don't always know what's hiding behind a stand of trees.
U.S. Marine Veteran Dakota Mendenhall embedded with Ukrainian troops last year. They'd get ready for an ambush, he said, only to find Russian forces waiting for them.
"We only knew that once our buddy got his eyes through his glass," Mendenhall said. "He saw them, and it's like, 'Damn, if only we had a drone, we could have seen that well before we got out here.'"
Now, Mendenhall will be able to help with that tactical advantage. He and two other foreign special forces fighters, who also embedded with Ukrainian troops, recently took a weeklong intensive drone training class in Washington's Methow Valley.
"Observation alone is a massive, massive advantage," he said while piloting a drone 120 feet above a nearby apple orchard.
Foreign fighters help fly drones
The Methow's orchards and snowy slopes helped the fighters hone stealthy drone skills, said Sandra Eira, with an American special operations force combat unit in Ukraine called the Dirty Dozen.
"Sometimes we run around in the apple orchard to have targets to find," Eira said. "The deer that are around here have been helping us a lot, not knowing. We adapted to what we know we will be facing out there [in Ukraine.]"
Eira said she has dodged bombs and bullets alongside Ukrainian troops since the war broke out in February 2022.
Ukrainian President Volodymyr Zelensky requested foreign fighters to assist in the war efforts. Special forces shipped in from different countries to Poland, Eira said.
"We got escorted on buses across the border to the base, where the colonel then placed us in this unit that was going to be [a] brand new foreign combat special forces unit. So it was literally being made as we walked," she said.
Eira and other fighters fell under Ukrainian armed forces command, not with the so-called International Legion.
She said she thought she'd be in Ukraine for a couple weeks. Then came Easter, Christmas, and now, a second winter.
"It's disgustingly cold outdoors, and when you go indoors, you have no heating either because there's no electricity," she said. "The cars were cold. The houses were cold. There was no hot shower anywhere."
At times, she said, she's questioned whether the hardships are worth it.
"You experience a lot of loss. People around you die. People you sit around the kitchen table with one day are gone the next," Eira said.
A changing war
After more than a year in Ukraine, Eira said learning new defensive skills, like piloting surveillance drones, could be a matter of life and death.
"The war shifted from being a full on World War II. During the spring [and] summer, it turned into being all about drones and artillery. So it's a brand new war, and it always switches and changes," Eira said.
The Russian forces have begun to use more drone warfare, she said. Russian forces also were able to track DJI drones donated to Ukrainian troops, which meant Ukrainian drones consistently got shot down.
"Without a drone, you're literally just walking around blind," Eira said. "It's a whole lot harder and a whole lot more dangerous without it."
Now, Eira said, the fighters are asking for Autel drone donations, which can't be tracked – and shot down – as easily.
A wildland firefighter, coaching trainees in the snow
J., a former firefighter, watched the war in Ukraine unfold from his home in the Methow Valley. (He asked to be identified only by his first initial due to safety concerns.) He said he knew that a switch to drone warfare would come and said he wanted to help.
J. said he first learned to pilot drones from a fellow smokejumper. He said he knew he could teach these fighters the drone skills he'd learned during search and rescue and other missions in the Methow Valley and abroad. J. also helps train professionals on advanced piloting techniques.
Drone pilots can be self taught, he said. But he thought he could teach fighters surveillance skills to help in Ukraine.
"Aviation is, if you don't do the homework and know how it works, can you still do it? Yes," J. said. "There's good pilots, and there's exceptional pilots. So it's like: Who do you want to fly with?"
These fighters, he thought, could be exceptional.
Winter stealth maneuvers
Once the fighters arrived in the Methow Valley, J. taught them to fly drones and fixed wing planes on a virtual handheld simulator. Then, they took to the skies in frigid temperatures, surrounded by snow – conditions Eira said she was made for, born in Arctic Norway.
On this training day, in the Methow Valley, the team practices stealth maneuvers: Switching to thermal sensors, and taking off and landing around obstacles like trees and buildings. They also tracked four deer nearby.
For Mendenhall, observing the Methow Valley's wildlife came as a surprise bonus to the training.
"There's two herd of deer, one that goes down here in the orchard and then another much larger herd that's up here on the plateau and the ridge, like 16 up there," he said. "Just the other night, there was a pack of six coyotes that just chased after this herd in the orchard."
Mendenhall flew his drone high – enough that it was difficult to spot with the naked eye.
"I can make him hide. I'll start doing that," Mendenhall said.
Beyond stealth maneuvers, Mendenhall said he's learned about drone mechanics, such as how to prevent ice from building up on the propellers. He said he's also noticed smaller details, like how the drones sound.
"At night, the sound is very, very different, especially out here," he said. "It's wide open, and it just echoes a lot more. And it's really strange, too, like when we're taking off. We could be off to the side, and it sounds completely different than during the day."
Pop quiz: Land on the X
After a few maneuvers in the air, J. makes an X in the snow.
"See if you can get on that little X there," J. coached Mendenhall.
"Oh, yeah, trying to find it," Mendenhall said, as he scanned the drone's camera.
The buzzing intensified as he flew closer.
"Let's see how good you are," J. joked.
Mendenhall gently eased the drone's joysticks, landing right on the X.
"Good enough for government work," Mendenhall replied.
The team hoped to take what they'd learned back to fighters in Ukraine, helping train them in advanced drone skills. J. said he would continue training fighters as needed.
For Eira, who said she couldn't imagine leaving the fight now, these drone skills she learned in the Methow Valley are the future.
"It's gonna be a game changer," Eira said. "This little thing is literally our intel, it's our eyes."
CORRECTION, 3/17/23: An earlier version of this story misstated Sandra Eira's title. She's with American special operations force combat unit in Ukraine called the Dirty Dozen.