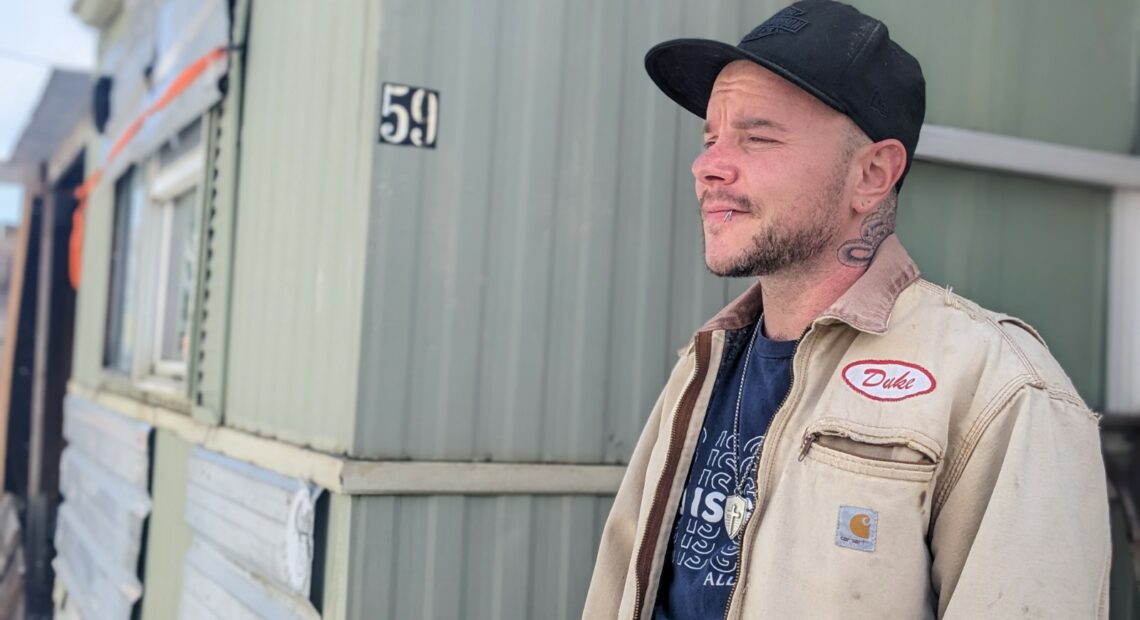 Nowhere to go: Facing steep rent increases, mobile home residents are organizing
The rolling farm hills and old brick buildings that paint Moscow as a picturesque Northwest college town aren't what make it attractive to real estate investors. 
"It's the apartment buildings, always filled with students," said Latah County Commissioner Kathie LaFortune. It's been that way for decades, she added.
But then, the COVID-19 pandemic hit. Many schools and businesses shut or pivoted to remote work. 
"A lot of the students vacated their apartments, let go of their first and last month's rent, their security deposit, and just moved out," LaFortune said.
That's when investors went looking for other ways to make money, she said. 
"They started investing in these mobile home parks, because people who live in the parks pay rent. They own their house, but they don't own the land underneath it," LaFortune said.
Residents of mobile home communities pay "lot rent" to rent the land beneath their houses. Hurst & Sons, LLC., a privately-owned investment and property management company based in Port Orchard, Wash., recently purchased four mobile home parks in Latah County.
Under the new ownership, residents of Abiel Mobile Home Community, Appaloosa Community, Palouse Hills Community and Woodland Heights Community are now facing steep rent increases, new fees and new rules. 
Johnny Taylor has lived at the Abiel Community for nearly five years and used to pay $375 per month for lot rent. The new rent amount is $525. He said the new lease also includes new fees for pets. 
"I do feel like they're trying to eradicate the poor right now," Taylor said.
Taylor said he's not planning to stay in the park. But, he said for many residents, it can be hard to think about where to go when there are so few affordable housing options in the area. 
"My biggest concern is that we're going to have a lot of people that are going to be homeless," he said.
University of Idaho Sociologist Leontina Hormel is working on a needs assessment survey with residents of all four communities. She wants to use the data she gathers to help local government and state leaders understand what people in these parks are experiencing and push for change.
"Over half of the residents I've talked to said this new lot rent takes up at least half of their monthly income, since many on fixed incomes are retirees, people on disability, veterans and students," Hormel said.
Hormel is also talking with local leaders about possible legislation that would cap rent increases and protect residents from wrongful eviction.
Many Northwest states have passed such legislation in recent years.
In 2019, the Oregon Legislature passed SB 608, which says landlords legally cannot raise the rent more than 7% plus the Consumer Price Index per year. 
New legislation proposed in Washington under HB 1389 would cap rent increases at 3% or the rate of inflation, whichever is higher, up to 7% per year. There would be exceptions for new buildings.
There are no limits to how much a landlord can raise the rent in Idaho.
Hormel said mobile home parks are one of the few affordable housing options for people in the United States. 
"And in places like Idaho, and especially Latah County, Nez Perce County, rural parts of Idaho … they're even more significant in terms of providing affordable housing for low-income, working-class families," she said.
Hormel said investment firms see mobile home parks as an easy way to make cash. Residents own their homes, but not the land, and despite having "mobile" in the name, many of the houses can't be moved easily.
In 2012, corporations began to get financial loans based on projections for how much rent they could get from property, and the trend has escalated, Hormel said.
"2021 was a mammoth year for hedge funds and investment firms to buy up houses and turn them into rentals, to buy up apartment complexes and turn them into rentals. And they focus specifically on low-income communities," said Hormel, who specializes in community studies with an emphasis on housing. 
The United States' GDP is no longer centered on manufacturing, but is now centered on the finance industry, she said.
Home prices in Idaho have increased 112% since 2016, according to a report from the Idaho Center for Fiscal Policy. The report also found rents have increased by 31% since 2020.
"One thing that was so attractive about Abiel is the price of the lot rent seemed fair," said Breanna Sipley, an Abiel resident. 
"And I have a mortgage on this, and so it's not just the lot rent, it's the lot rent and the mortgage," said Sipley, who is a graduate student at the University of Idaho.
After meeting with Latah County Commissioners and local park residents, Hormel organized a meeting with Victoria O'Banion of ROC Northwest. 
ROC stands for Resident Owned Communities. ROC Northwest works with residents of mobile and manufactured home parks to form a cooperative. The eventual goal of the cooperative is for residents to purchase the community's land from the owner, changing those monthly rent payments to mortgage payments. Once the tenants own the land, they manage the park themselves.
"The owner-investor knows they can charge whatever the market price will allow, and the residents are either going to pay it, or they're going to sell their home and find somebody who can," O'Banion said. 
Even though purchasing the land could take years, forming a cooperative could still benefit the residents in the short-term, O'Banion said. Residents could elect a board of directors that represents the residents from all four parks, relaying information to the park, or communicating concerns and negotiating with the owner. 
To officially form a cooperative, 51% of the households have to vote in favor. 
O'Banion presented these ideas at a meeting on March 7 at the 1912 Center in Moscow to a room of around 100 vocal attendees. The meeting was tense, with frustrated residents venting their concerns.
Taylor and Sipley attended the meeting. 
"If something is to be done, then I think organization will be helpful. And I hope that we do organize," Sipley said.
Taylor said he's going to help some of the older people in the park without internet access fill out the online survey created by Hormel. 
"I'm willing to go door to door with my laptop and say, 'Did you get a chance to fill this out?'" he said.
O'Banion said she has witnessed the same challenges Latah County park residents are facing across the region, and the country. "What we need to do as a society, is work to protect these communities. This is one of the last, if not the last, single family and subsidized affordable housing option."
Moscow Mayor Art Bettge said the whole thing presents a challenge because of the strength of Idaho's private property laws. 
"I just whipped off a long email to Senator Crapo's representative regarding this issue, to see if there's anything we can do," said LaFortune. She's also talked to representatives for Congressman Russ Fulcher and Congressman Mike Simpson.
"The trouble is, there are no rent protections for residents of mobile home parks, or even apartments, or condos anywhere in the state of Idaho," LaFortune said. 
LaFortune's emails to politicians at the state and federal level continue to go unanswered, she said. 
Moscow Mayor Art Bettge plans to meet with Congressmen Fulcher and Simpson and Senators Crapo and Risch in person in Washington D.C. later this month. 
Bettge wants to talk with them about what can be done about balancing the rights of tenants with those of private landowners, he said.
LaFortune was at the March 7 meeting and said she was glad to see residents fired up and passionate about the issue. They will have more power together as a group to deal with something like this, she said.
"It feels like grassroots politics, which to me, is the only way that anything ever really gets done," she said.
Hurst & Sons LLC., the new owners of all four communities, own more than 60 mobile home parks, most in Washington state. A representative from the company said by phone they had no comment for the story.