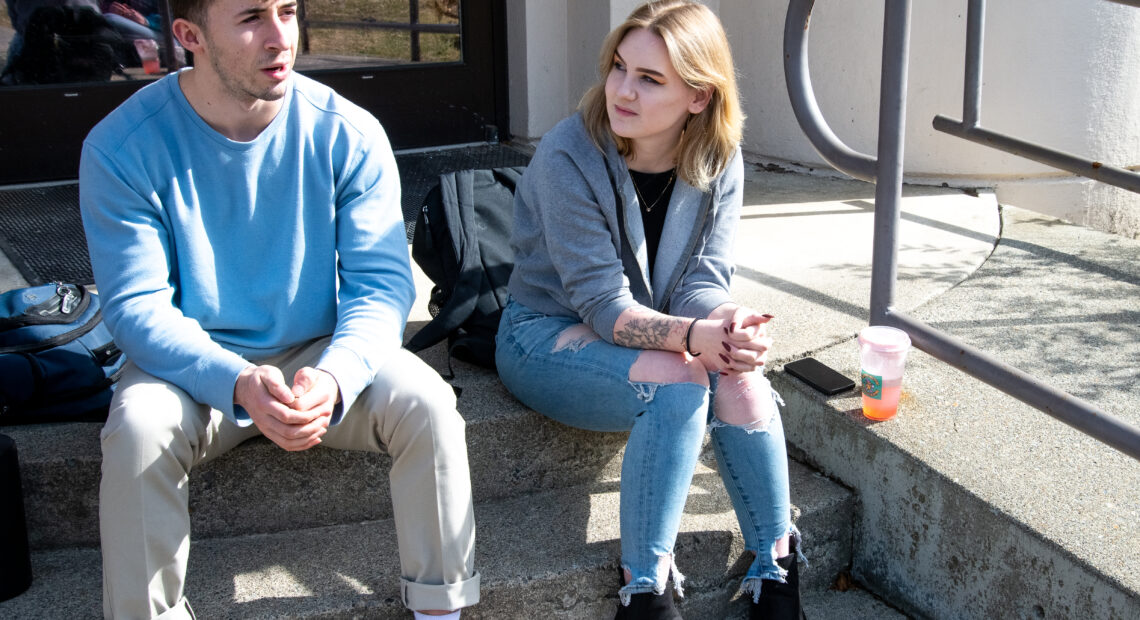 NIC students, supporters foresee detrimental effects if college loses accreditation
North Idaho College sits on the shores of Lake Coeur d'Alene surrounded by trees and the sounds of singing birds.
Student Maximillian Bazler grew up here, exploring the forests and the lake. Now, he's sitting in the sun with his friends on campus. 
Bazler is set to graduate this spring and said he's worried about how his degree might look to potential employers if NIC folds.
"I do know that there's a lot of drama going around in North Idaho College, and it's become pretty concerning,"Bazler said.
The Northwest Commission on Colleges and Universities (NWCCU) has issued multiple warnings that NIC is out of compliance with many NWCCU accreditation requirements and standards and the college is now on the brink of losing its accreditation. 
North Idaho College must take steps to come into compliance with the accreditation standards listed in NWCCU's show-cause letter and explain why it should not lose its accreditation in a report to the NWCCU that's due at the end of this month.
The five-member NIC Board of Trustees currently is made up of a 3 to 2 conservative majority. In 2021, that majority fired NIC President Rick MacLennan — without cause — after he implemented a campus mask mandate. Last December, the board placed MacLennan's successor, Nick Swayne, on paid leave after he questioned the legality of hiring an ally of the board's majority as the school's attorney.
Through its actions – and arguments submitted in legal documents – the board majority appears keen on making clear that it is in charge of the president.
"There's conspiracy that has been woven by this board with mentions of 'deep state' and 'liberal indoctrination' that folks have completely bought into, and it has made our jobs very difficult," said Brian Seguin, an associate professor at the NIC Molstead Library.
All of Sequin's professional librarian colleagues have decided to leave the college at the end of the semester, he said.
A peer review team from the Northwest Commission on Colleges and Universities plans to visit the NIC campus on April 26 and 27. They'll talk to students, faculty, staff and the board of trustees to determine if the college's accreditation can be saved.
"The answer that could come from the NWCCU in the next month or two could be that, 'You're done.' So for those in the community who are thinking that everything's going to be fine and that there are guardrails in place, they're not," Seguin said.
Trustees of colleges and universities are supposed to work with the president and top administrators to approve major policies, make long term plans and oversee the budget.
In Idaho, college boards of trustees are elected by voters through local elections. Coeur d'Alene City Council Member Christie Wood said those elections have consequences — and that the board's actions, which have contributed to the jeopardization of NIC's accreditation, appear to be intentionally driven by partisan politics. 
"And I think some of the nonpartisan races have been very purposeful," she said.
After spending 18 years as a member of the NIC Board of Trustees, Wood resigned from the board last May. She said the Kootenai County Republican Central Committee (KCRCC) made it very clear that the KCRCC purposefully rates and vets candidates that KCRCC members believe share their political ideology and then the KCRCC places their chosen candidates into what have traditionally been nonpartisan roles, such as members of the NIC Board of Trustees.
All three members of the current board majority were backed by the KCRCC in their election bids. 
Committee Chair Brent Regan has framed concerns about the board's dysfunction as liberal whining and described the board's critics as "malcontents."
"When you're in a nonpartisan role, you're representing everyone," Wood said. "There isn't any time for partisan discussion. We're talking here in the city about fixing roads, making sure everyone has great water service, police and fire. That's not a partisan discussion."
NIC supporters said the very real possibility of going on probation or losing accreditation would have effects extending far beyond the school's campus.
"I feel so sad about this, that there's so much at stake," said Wood, who herself attended NIC as a student. "There are generations of Idahoans here who have benefited from North Idaho College, whether it's one class or it's a full degree."
Victor Begay was an associate professor of American Indian Studies at NIC. He left the college last year, after the stress of constant change motivated him to look for other job opportunities. He said North Idaho College is an economic engine for the area and provides opportunities for different worldviews. It's also an educational hub for Indigenous students in the Northwest, he said.
"Research and data demonstrate that for [most] Indigenous students, a two-year school is their first experience in higher education," Begay said.
Begay said NIC serves students from the Nez Perce Tribe, Kootenai Tribe, Colville Tribe, Spokane Tribe and the Native communities of the Indigenous Columbia Plateau.
Like many people who grow up in rural areas, Begay said tribal members often want to be close to the reservation or close to home and family, and that the loss of accreditation would mean less opportunity for tribal students.
"That's going to provide yet another barrier to education," he said.
Along with programs in art, engineering and business, NIC also offers trade programs in construction, mining and welding.
A lot of graduates from NIC's nursing program get hired right out of college to work at the main Kootenai Health campus in Coeur d'Alene, said Patrick Murphy, a registered nurse and an alumnus of NIC.
"If that labor pool starts drying up because there's no accreditation anymore, it's going to have a huge impact on the community, and makes me worried for the future," he said.
Murphy enrolled in the college's nursing program after training as a medic in the Army Reserves. He said NIC was the closest and most affordable option for furthering his education.
Murphy now works as a Progressive Care Unit nurse in Spokane. He said North Idaho College's program gave him the opportunity for a good career that lifted him out of poverty.
"If we're going to take NIC away from future generations, I kind of worry about what they're going to do," he said.
Murphy said he views what's happening at his alma mater as a microcosm of national political trends.
"The unfortunate reality is a lot of these fringe ideas that are being pushed up here in Coeur d'Alene are starting to gain prominence on the national stage. And it worries me, it really does," Murphy said.
The board of trustees declined to be interviewed for this story. But time for NIC to respond is running out. 
The Northwest Commission on Colleges and Universities has been issuing warnings to NIC's board of trustees for more than a year. The actions of the board, according to the NWCCU, have destabilized the college, eroded public faith and jeopardized the school's future.
This June, the NWCCU will decide what happens to NIC. The next step could be probation, or it could be the loss of accreditation that NIC has held for more than 70 years.
Back on NIC's campus, Megan Hudlet sits outside in the sunshine with her friends between classes. She said the mood of the campus has changed since a Kootenai County District Court judge ordered Nick Swayne to be reinstated as NIC president in early March.
"The positivity, it just, like, skyrocketed as soon as President Swayne came back," Hudlet said.
While some on campus remain hopeful that a worst-case scenario can be avoided, City Council Member Wood said if NIC loses accreditation, students won't be able to transfer credits, receive federal financial aid, or get certificates or diplomas that will be worth anything.
"We're a tragic example [of] when people put their politics before a community," Wood said. "Lives are going to be affected by this." 
Spokane Public Radio Reporter Brandon Hollingsworth contributed to this report.