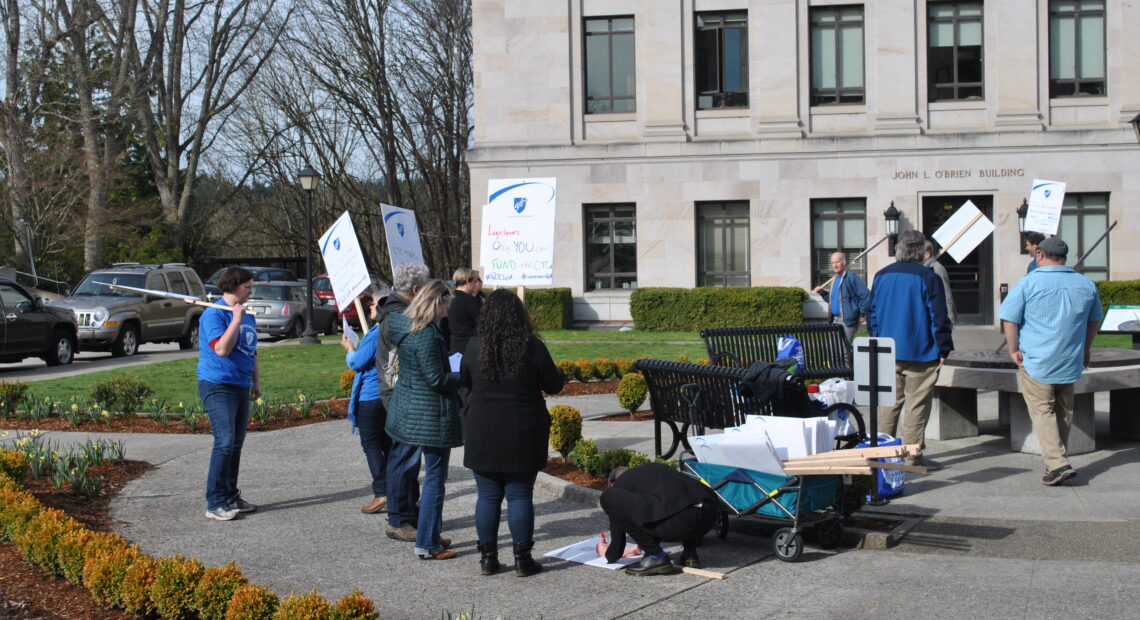 Washington community and technical colleges to stage walkout April 11
Students, faculty and staff at community and technical colleges across Washington will participate in a walkout on April 11.
Information picketing, marches and rallies will take place at Bates Technical College, Seattle Central, in Lynnwood and Olympia and other locations throughout the state, said Courtney Marabetta, communications specialist for the American Federation of Teachers Washington.
Rachel Dorn, an art instructor at Yakima Valley Community College, said the plan is to send participants to Olympia to rally in support of policies aimed at making Washington's 34 community and technical colleges better at supporting students and keeping faculty.
"We're losing faculty to the K-12 system because they can pay a lot more, said Dorn. "But we're also having some challenges in providing students with support and services."
Pay equity for part-time staff, mental health counseling for students and fully-funded cost of living adjustments are policy improvements organizers would like to see funded by the Washington Legislature, Dorn said.
"It is critical that we support our educators and ensure they are paid fairly and equitably for the invaluable work they do. As a part time educator and member of the American Federation of Teachers, I'm standing in solidarity with those demanding more and will continue to work in my role as a senator to fight for more funding for our community and technical colleges," said Sen. Marko Liias (D-Everett) in an emailed statement.
"Every Washingtonian should have the opportunity to seek out higher education opportunities should they choose," he continued in his email.
Liias sponsored Senate Bill 5194, which passed in 2021 and added 200 tenure-track positions to community and technical colleges in Washington. That bill also made it easier for Washington students to meet residency requirements for financial aid, including undocumented students.
Fernando Mejia-Ledesma is a former undocumented student and one of the organizers of the April 11 walkout.
"Many years later, I see students facing similar challenges to the ones I was facing," Mejia-Ledesma said.
Mejia-Ledesma said he wants to see an expansion of access to childcare for undocumented students trying to take college classes. He thinks more can be done to provide college navigation services and curriculum that includes cultural and racial backgrounds of students of color.
"We're setting up the landscape to have a deeper conversation about the very role of our community and technical colleges in our society, which is one of investing in the public," he said.
Additionally, investing in community colleges means investing in communities and students of color and low-income students, Mejia-Ledesma said.
"Tuition is just one of the obstacles for our students," he said. "[Other] obstacles are housing, transportation and food. "
Mejia-Ledesma said one of the conversations organizers want to push is making community and technical college free for all Washington residents.
And it's not just about money, said Meja-Ledesma, access to free college is about expanding democracy.
"Because if you have a little bit more flexibility, you can study, you don't have to worry about whether you're going to have food, then maybe you're going to have more time to be civically engaged," he said.