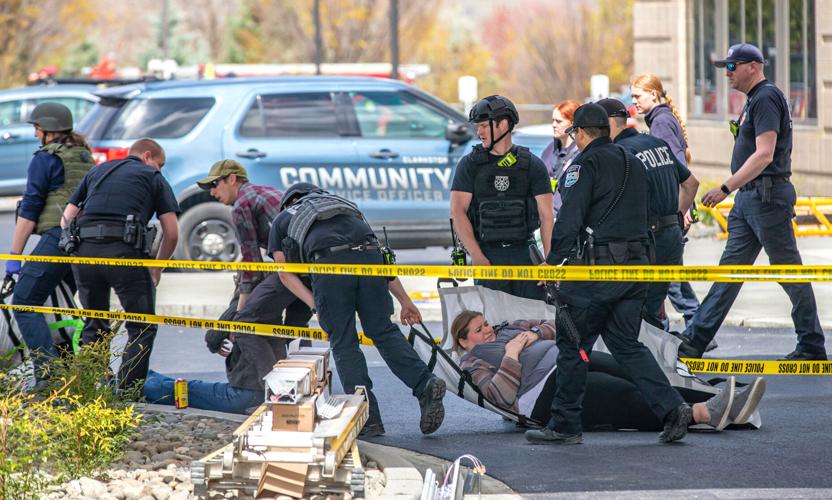 'Don't wait': Hospital staff, first responders practice active shooter response
A few pops of simulated gunshots, a chase through the hallway, and moments later, it was over.
During an active shooter drill at Tri-State Memorial Hospital on Friday, April 21, Michelle McIntosh, an employee who worked as a receptionist throughout the training, said before doing the drill, she hadn't realized how little time she would have.
"I always thought we'd have time to kind of think," she said. "You don't have time to think. If you're at the front, it's just so quick."
The active shooter drill was held in the hospital's unopened inpatient and dietary wing, as a collaboration between the hospital and first responders from Clarkston and Lewiston. Roughly 15 staff members and their families took on victim roles.
Officer John Morbeck with the Clarkston Police Department said law enforcement's aim for the drill was to become familiar with the layout of the hospital and be able to move quickly in the event of a real active shooter.
"If we have an active shooter, however fast, however many people get there, they're immediately going in," he said. "There's no pausing, there's no hanging out. There's no waiting for the SWAT team to get there. We're going in immediately."
In the past week, there were 15 mass shootings reported in the United States, according to the Gun Violence Archive. Morbeck said the department has seen more requests for training in the past few years as the number of mass shootings has increased — from 273 in 2014 to 647 last year.
"I've gotten a lot more requests for training since everything's been happening in the last couple years," he said. "We've had active shooter training for probably five or six years. Most of it initially started with schools because of the school shootings."
For many, it was the first full-scale active shooter drill they had done. Elise McManigle, a 13-year-old whose mother works in the operating room, said she had done lockdown drills at school but never like this one. Pseudo-victims, with cards stating where they had been shot, were carried out by police and transported to the emergency room, where ER staff practiced triage care.
"It was really scary at first," McManigle said. "But toward the end it was really cool."
Thirteen-year-old Laela Leavitt, who also volunteered as a victim in the drill, said she often thinks about what would happen if she encountered an active shooter.
Dustin Miller, an employee at the hospital, said that although it was unfortunate the training was necessary, he was glad it was available.
"I'm glad this is something they do, but I'm also at the same time really sad that it's something we actually have to do. That it's our reality," he said.
Anita Carmichael, a nurse who was stationed on the second floor, said the gunshots weren't as obvious as she thought they would be.
"The first one that went off, we were like, 'Is that it? What's happening? Are we starting?' And then you heard the shots upstairs, and we're like, 'Oh, yeah. It's time to run.'"
Several volunteers said their biggest takeaway from the training was to move quickly and to know where a building's exits are.
"Don't wait around to confirm that, yes, you heard gunshots," Miller said. "If you think you're hearing gunshots, move. Don't stop to think, 'Is that one?' Don't go looking for it. Move away and be quiet."'
This report is made possible by the cooperative agreement with NWPB, the Lewiston Tribune and the Moscow-Pullman Daily News.