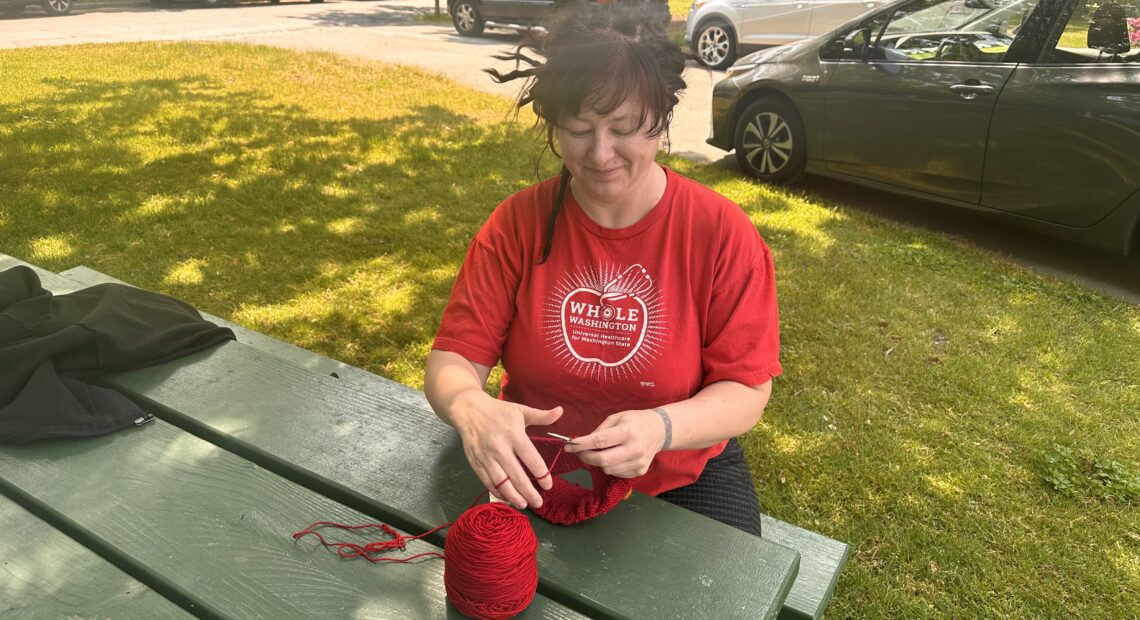 Tacoma 'craftivist' featured in documentary on 'health care for all' movement
A new documentary, "Healing US" premieres in Tacoma at the Grand Cinema on May 19. The documentary tells the story of the national movement for Medicare for All, where folks advocate for universal health care. One of the key players in that story is Laura Fielding, founder of the Red Berets for the Medicare for All coalition in Tacoma.
Fielding started knitting the berets in 2017. She was inspired by former presidential candidate Bernie Sanders' call for Medicare for All, and after listening to a National Nurses United conference, she realized how she could lend her creativity to the movement.
"I started thinking, 'Wait, we need to be crafting something for healthcare justice, for Medicare for All,'" Fielding said.
She decided to knit red berets, using the color of the National Nurses United organization. She began posting about her "craftivism" — crafting for activism — on social media, and then connected with Whole Washington, a grassroots organization of healthcare professionals and volunteers championing Medicare for All. Ever since, she has been knitting berets to support local organizers and legislation.
"I tend to look at it as a craftivist who creates fabric, as actually every single one of these things is a stitch — every person, every action, every strategy — is a stitch in that fabric, and we really don't want any dropped stitches," Fielding said.
From her perspective, as a creative organizing on this issue, Fielding said the issue of Medicare for All can be overwhelming for folks. Even among those aiming toward that same goal, she said the best course of action can be a divisive subject. So, having a symbol that unites the movement was important, as was finding a way for people to get involved as an additional form of activism.
"I think the main takeaway with the berets is that everyone can bring something to this movement," Fielding said. "Because, if everybody just kind of gravitates toward where they feel passionate, and how they feel they can best contribute, then maybe we will create that social fabric and get there."
Over the years Fielding has spread her message through social media. She has a following of over 28,000 on Twitter, and she can't pin down how many crafters have contributed to the movement. She said she knows there's a solid base of five to six who regularly create berets, and she can recognize their handiwork in photos from rallies and other actions across the country. She said she could name 20 to 30 people who have been involved over the years. Fielding herself has knitted well over 1,000 berets.
The Medicare for All movement takes action through rallying, signature gathering and contacting legislators. What Fielding and the other craftivists joining her have done is create a symbol for their movement and bring art and creativity to the organizing.
"In all of the organizing, when we gather signatures, and we rally, and we show up to our legislators, and we do different actions, we craft the berets," Fielding said. "They're a symbol of solidarity, and they're seen out on people's heads, and people notice them and it creates conversations."
Whole Washington has pushed to get a number of initiatives on the state ballot that would establish access to nonprofit health coverage for all Washington residents. Last year, Fielding and other organizers gathered 4,000 signatures for Initiative 1471 in the 27th Legislative District and brought those results to Democratic Rep. Laurie Jenkins, Washington's Speaker of the House.
"It is working with the legislature to go gather the signatures, because then we get to go and say, 'Oh, look how many of your constituents are signing this,'" Fielding said.
In Washington's 2021 legislative session, legislators passed Senate Bill 5399 to establish a universal health care commission, that is meant to prepare the state for the creation of a health care system that will provide coverage through a universal financing system.
Fielding said she supports the work of the commission, but Whole Washington already has provided a financial study for universal health care in the state. She wants legislators to hold a public hearing and endorse Whole Washington's legislation to enact nonprofit health coverage for all Washington residents.
"I would like to think that they would be trying to pass the very best version of universal health care that actually benefits the working class and is not another boon to the insurance lobby and pharma," Fielding said.
For Fielding, the issue of getting health care for all at the national level is a heavy burden. So, using her energy on the issue in a creative way provides some relief.
Fielding said knitting is a way to make this daunting task manageable.
"It's a way of just saying, 'Maybe. But one stitch at a time. Right?'" Fielding said.