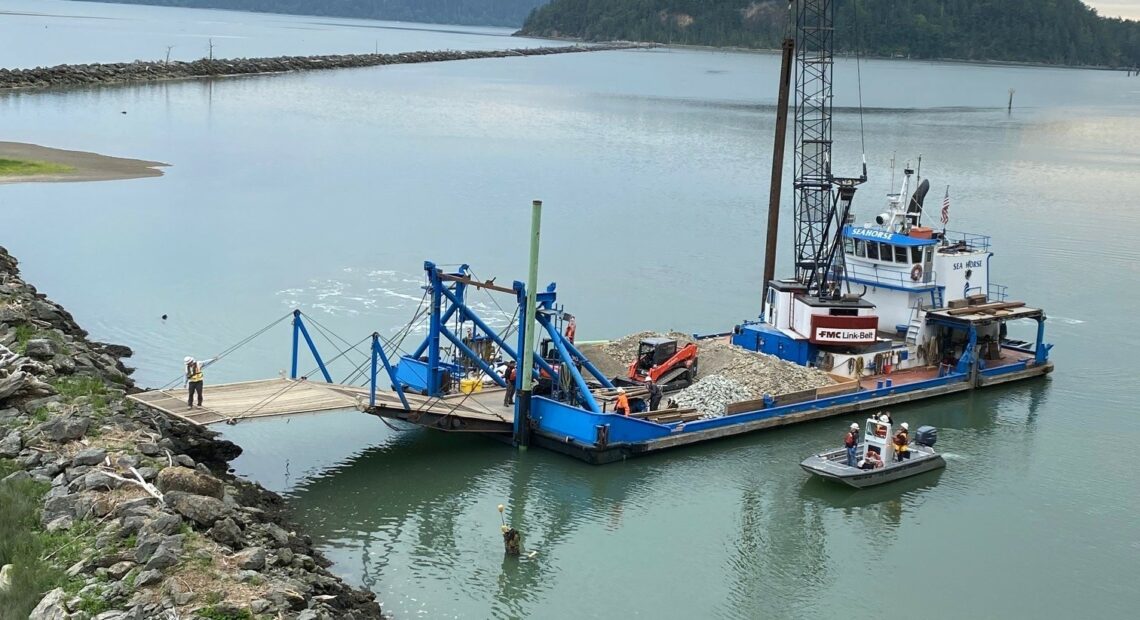 Dead salmon prompt Army Corps of Engineers to repair Skagit River jetty
UPDATE: This story has been edited to reflect more accurate numbers of salmon found dead, and that Chum salmon in the Puget Sound Watershed are not listed as threatened under the Endangered Species Act. 
The Army Corps of Engineers began emergency repair work May 22 on a jetty that sits at the mouth of the Skagit River's North Fork, near La Conner.
Crews will use cobble and sediment to essentially plug porous areas of the McGlinn Island Jetty. Those gaps have stranded, harmed or killed out-migrating juvenile salmon this spring, according to a press release from the Swinomish Indian Tribal Community.
Steve Edwards, chairman of the Swinomish Tribe said the repairs are a Band-Aid.
"It's not going to completely fix the problem," Edwards said. "You plug a hole here, there's going to be a weakness down the jetty somewhere else. So it's still going to have its domino effect."
On April 13, staff from a number of organizations, including the tribe, Army Corps and Washington Department of Fish & Wildlife found dead salmon in the area near the jetty, prompting the repairs, according to the press release. In the weeks since, staff have continued to monitor the area and find dead and stranded fish.
It is difficult to know exactly how many fish have been impacted, Edwards said.
"Regardless if it's in the hundreds, or one or two, it's a huge impact," Edwards said. "It's devastating."
The salmon found dead include hundreds of Chum and Chinook salmon. Both of these are species of concern.
Not only crucial to Native American cultures across the Pacific Northwest, salmon are part of a connected ecosystem. Multiple scientific studies have found that Chinook salmon are key to the diets of Southern resident orcas, another endangered species, according to information compiled by the Center for Whale Research.
A lack of maintenance and monitoring of the jetty likely has led to the disaster, Edwards said. The Army Corps said the jetty, which was built in the late 19th century, has not been maintained for 50 years. Over time, increased and changing water flow have created holes in the jetty, allowing for water to pass through from one side of the jetty to another. 
In the face of a changing climate, with unknown impacts, it will be crucial to continue to monitor the area to see if further measures need to be taken, such as partial or complete jetty removal, to ensure salmon preservation, Edwards said.
"It's our livelihood, it's our way of life, and it's a part of our culture, the salmon," Edwards said. "Without that, what do we have? We're losing a piece of our culture each and every day."
Repairs will take place every day, during daylight hours, through June 9. The Army Corps is requesting fishers and recreational boaters stay 300 feet away from construction work.