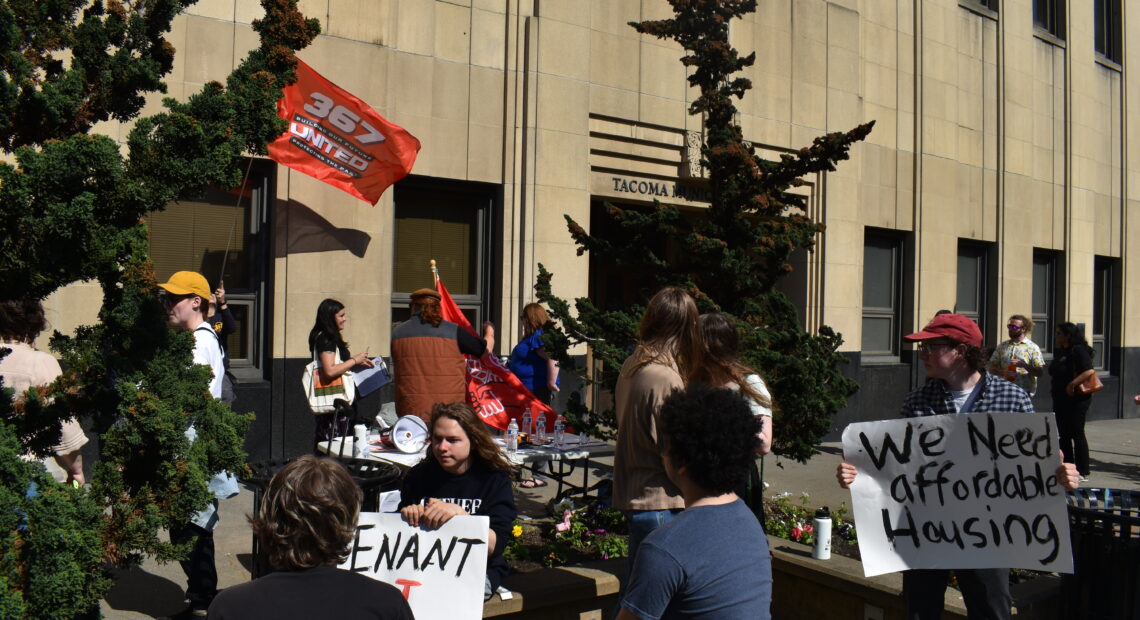 Supporters of tenant rights bill make their voices heard at city hall
Organizers from the tenant-rights advocacy group Tacoma For All and their supporters gathered with signs and megaphones Thursday afternoon to show their support of an initiative, known colloquially as a tenant bill of rights, which Tacoma For All hopes to get on the ballot for voters this fall.
The rally took place before a meeting of the city's Community Vitality and Safety Committee, where city council members Catherine Ushka, Keith Blocker, Sarah Rumbaugh, and Kiara Daniels were briefed on the city's proposed changes to the Rental Housing Code.
While those proposals address some of the same issues as the Tacoma For All initiative, those rallying said it's not enough.
"I think that what they're doing is good but doesn't go nearly far enough," said Devin Rydel Kelly, communications, with Tacoma For All.
During the briefing, ChiQuata Elder from the city's Office of Equity and Human Rights and Ted Richardson from the city's Office of Strategy, briefed the committee members on the differences between the proposals and the considerations for the committee. The briefing included feedback received from stakeholders, including landlords, tenants, and Tacoma For All.
The city's proposed changes have different standards for notification of rent increases. The city originally proposed standards that depended on the percentage the rent was increased by. Through feedback, city staff concluded that the tier system was confusing and now the staff proposed a 120-day notice for all rent increases. 
Tacoma For All proposed two notices for all rent increases, the first, six months prior to the increase, and the second, three months prior. 
The two proposals also have different late fee caps. Tacoma For All proposed a $10 cap per month, while the city proposed limiting late fees to 1.5% of unpaid monthly rent, with a $75 cap per month.
Before the rally, Rydel Kelly said meetings between Tacoma For All with city leaders have been civil and that he agrees with some of what the city proposes.
However, he said, "They just haven't moved nearly as much in our direction as we would like."
The city's proposed changes also included standards for shared housing and screening criteria. There are a number of changes within these categories, including prohibiting landlords from having a blanket ban on a tenant with felony convictions and arrest records. 
Instead, landlords will have to do individual assessments of the proposed tenant's criminal history to determine eligibility based on severity of and how long ago the offense occurred. The changes also would make it so landlords cannot pursue evictions if they don't have a business license. 
A memorandum from Lisa Woods, director of the city's Office of Equity and Human Rights, comparing the two proposals can be found in the meeting agenda at this link. Because the committee briefing was only for informational purposes, no recommendations, alternatives or fiscal impacts were discussed. 
Dave Zink was at the rally with a "Housing is a Human Right" sign. He said he worries the city is proposing a "watered-down" version of the initiative. 
"Tacoma has gotten together with some high-pressure lobbyists from representatives from the landlords and the developers that are trying to hammer out a watered down version of the fair housing referendum that's going to be competing against this one and confusing matters," Zink said.
One of the proposals from the Tacoma For All initiative would require that in some circumstances, landlords would have to offer relocation assistance to tenants that can't afford rent increases, when the increase is over 5%
"What do they say — we're all like, two paychecks, three paychecks away from being houseless, and we got to stop that," Zink said. "The best way to stop houselessness is to give the bloody people a house, put a roof over their head."
Low-income tenants already can receive relocation assistance through the city, where the landlord and city each pay $1,000 to tenants.
Tacoma For All's initiative, which can be read in its entirety here, would also protect against certain circumstances for economic evictions, for example, educators cannot be evicted for failure to pay rent during the school year. It also would put a moratorium on economic evictions between Nov. 1 and April 1.
Tacoma For All has until June 16 to get 4,200 signatures of Tacoma voters to get their Landlord Fairness Code initiative on the ballot.