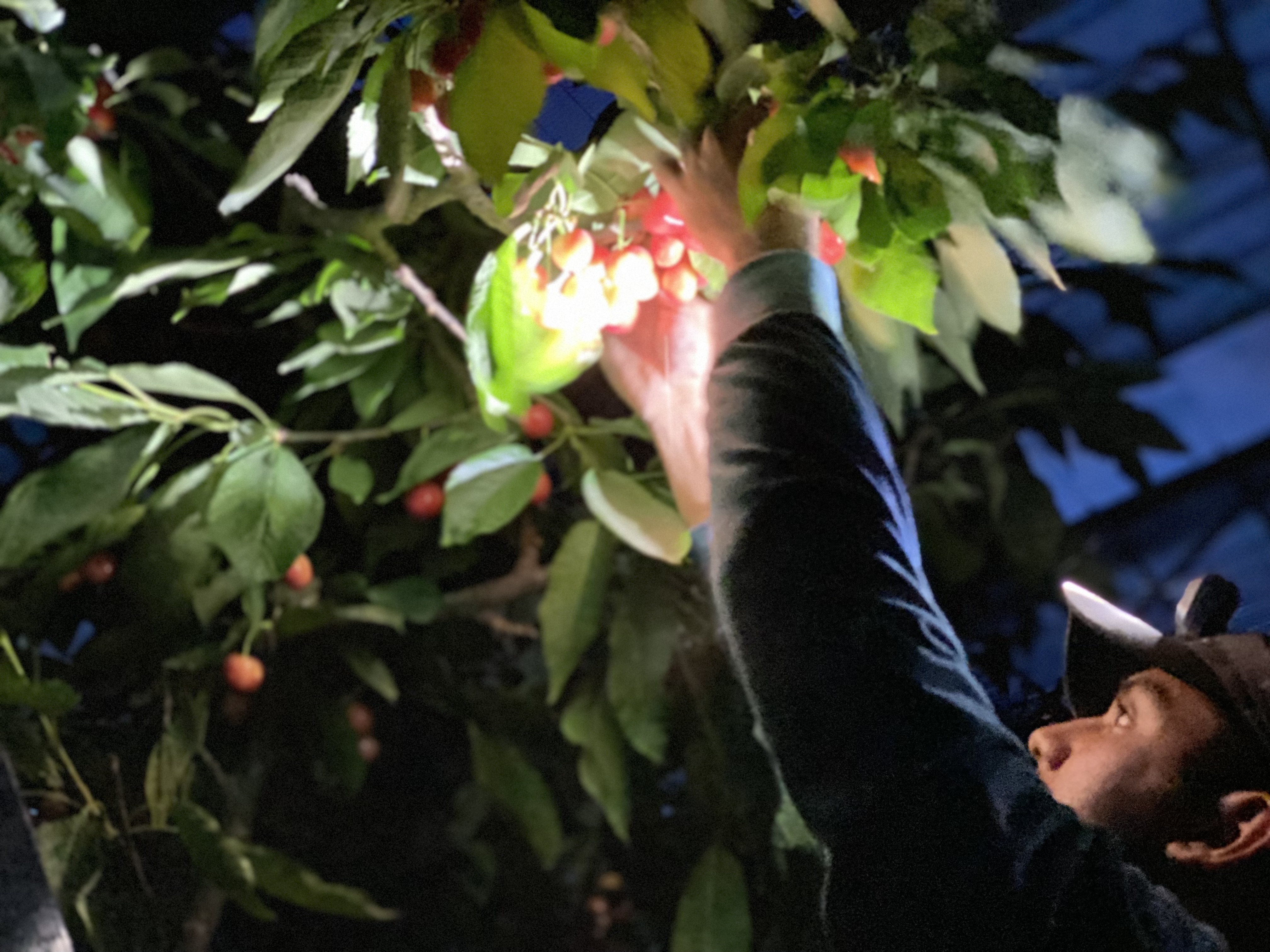 Rare, luxurious, greenhouse-grown cherries fetch top dollar in Asia
The cherries you'll find at Cherry Ridge Farms in Kennewick, are not your typical cherries. They're huge and expensive – super deluxe, and they're not for sale in the Northwest.
Greenhouse Rainiers' quality for export market to Asia is great, Kam Chauhan, 43, said. And the Asian market loves it.
"They're willing to pay double prices than normal cherry," he said. "They're clean, they're sweet, they got more flavor and they're big."
Chauhan's family has been farming for seven generations, and this is his 28th cherry season. He's a Yakima-based overseas marketer for Cherry Ridge and many other farms.
He said he exports to Japan, Singapore, China, and other Asian countries where the fruits are more of a luxury item, selling for up to $10 per cherry or $20 for a small cup of the fruit.
"They love the flavor," Chauhan said. "They like the color, but mostly they love the flavor."
It's peak cherry season in the Northwest. The fruits are typically grown outdoors in an orchard. This business in southeast Washington is doing things a little differently: Chauhan said the greenhouse where they grow Rainiers is the only one of its kind in North America. Each cherry is nearly the size of a golf ball.
A Jungle
Inside the greenhouse, it's like a jungle. Deafening, recorded bird calls play over the tight rows of trees.
Those sounds scare tiny cherry-eating birds away.
When the sun goes down, workers' headlamps flash all around and it feels almost like a rave —without the music.
Usually speed is the name of the game at harvest time. But Manuel Sanchez tells his team to work slowly and carefully to find the biggest fruits, with the best color.
"So, the most important thing is going to be the size," Sanchez tells the group of young men crowded around him. "We are not going to look at the color, but if we find small fruits, we are going to warn you."
Then they get to it, scrambling up aluminum ladders in squeaking boots.
The plump, almost golf-ball-sized Rainiers are yellow with a blush of scarlet. They're nearly perfect – hardly any marks, splits or bird pecks. Chauhan said it's a lot of work.
"I mean you got to put in 18 hours a day to get this kind of production and color. And the flavor and the crunch you can hear it," Chauhan said, biting into a fruit and then, another. "Almost crunch like a plum. Normal cherry you bite into it, you don't hear that crunch, but these cherries are just special."
Auto Greenhouse
Tod Wilmoth is a co-owner of the two covered acres, and he controls the greenhouse from his cell phone. The greenhouse closes like a Seattle sports stadium if there's a whiff of rain, hail, wind, or even too much sun. The greenhouse has sensors that close and open the top automatically, too.
"If it gets [to] 100 degrees, and I don't want the heat on it, I'll close it to shade the trees," Wilmoth said. "Then when it starts to get down to 90 or 80, or 85 or whatever, I'll open it back up."
With the push of a button, the rain-proof poly material stretches across the top – like the top of a convertible. Many windows of the sky close all at once.
The installation set him back about $700,000, but it was worth it, he said. Nearly all his cherries will make export grade to lucrative markets. In a normal outdoor orchard, he said, he'd lose around 10% of the crop even on a good year.
Though the greenhouse has run into problems – one year the trees didn't set fruit at all.
This year, Chauhan said the cherries are really happy.
"They're like a happy baby," Chauhan said. "I say I treat my cherry trees, my apple trees, like my babies. Love them, I think they give you love back."
For those in the region, here's plenty of common-sized sweet cherries for sale here in the Northwest. Growers expect to pick about 440 million pounds of cherries this season.