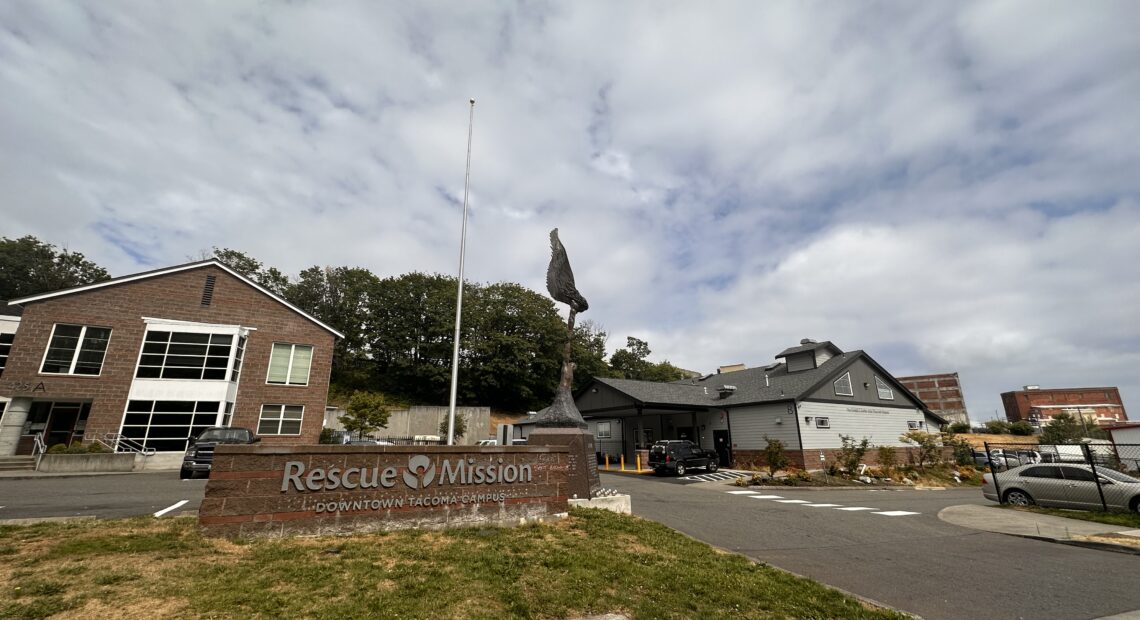 Funding for some Tacoma homeless shelters reduced
This year's funding for Tacoma Rescue Mission homeless shelters has decreased. That means next month, the mission will have to decrease the number of shelter spaces available. 
As of June 23, the mission had 24 spaces available in their women's shelter and 39 in their men's shelter. But by July 1, those will go away, according to the mission. 
"The reality is, on July 1, we will be at capacity," said Myron Bernard, senior director of community engagement for the mission. "If we don't fund shelters, and if shelters close, then we are kind of furthering ourselves down that path of saying it's essentially illegal to be unhoused."
The largest source of funding Pierce County receives annually for homeless housing services comes from the Homeless Housing Program (HHP.)
Last year, the Tacoma Rescue Mission received $2,017,937 for shelter funding through HHP. That decreased for this coming year. On June 20, the county announced the mission will receive $1,821,604 through HHP funding for 2023-24.
In addition to funding decreases, service providers are also hindered by the camping-ban ordinance that went into effect last fall in Tacoma. 
"With the clearings that have been happening, it's made our jobs difficult," said Davina Schwab, program manager for the Tacoma Rescue Mission's outreach department. "We're oftentimes working with people, and then they're gone."
When officials clear encampments, outreach workers have a harder time locating people as they are dispersed further from services or into unincorporated Pierce County, where they won't be found or where the camping ban ordinance doesn't apply.
"Since the camping ban has gone into effect, there's been a high degree of distrust in the unhoused community that kind of pushes people farther and farther away from resources," Bernard said
According to the City of Tacoma, between Nov. 15, 2022, and May 31, 2023, the city completed 62 encampment removals. Most of those removals are in compliance with the new ordinance.
Of the folks ordered to leave their encampments, 127 individuals moved into temporary housing. That's out of 601 people contacted at the encampments. 
"We will have maybe 10 to 15% come into shelter after sweeps," said Nate Cooper, director of emergency services at the Tacoma Rescue Mission.
Shelters don't meet the needs of everyone experiencing homelessness, Schwab said, which is why meeting people where they're at to provide other services is a big part of the Tacoma Rescue Mission's work.
"What we have seen is that a lot more people are actually using habitation in their vehicles," said Caleb Carbone, homeless strategy systems and service manager for the city.
While the city doesn't track where individuals living in their vehicles go when officials sweep an encampment and they aren't moved to temporary housing, Carbone said he believes they are moving to other parts of the city, continuing to reside in vehicles.
The ordinance makes camping within a 10-block radius of temporary shelters illegal, as well as camping on public property within 200 feet of Tacoma's mapped rivers, waterways, creeks, streams and shorelines.
Schwab said, "We're adding more barriers to people that already have so many barriers."
The Neighborhood and Community Services Homeless Engagement and Alternative Liaison Team, known as the HEAL Team, in partnership with the Tacoma Police Department, carry out encampment removals. The punishment for camping is a maximum of 30 days in jail or a fine of $250.
Lt. Mike Lim of the Tacoma Police Department said no officers from the community policing division have made any arrests in response to the ordinance. 
Outreach workers with the Tacoma Rescue Mission said they are hesitant to be present at encampment removals, because those experiencing homelessness are more skeptical of law enforcement and other officials since the ban.
Cooper said the outreach team works to maintain connections with individuals at encampments they know will be cleared, while also making sure not to be present when police are clearing encampments, so they do not become associated with law enforcement. 
In a press release, Council Member John Hines, who introduced the ordinance, said, "Outside of those areas defined within the ordinance, data also shows that complaints regarding the impacts of homelessness are not surging. We are getting people off the streets and not just moving them into new areas."