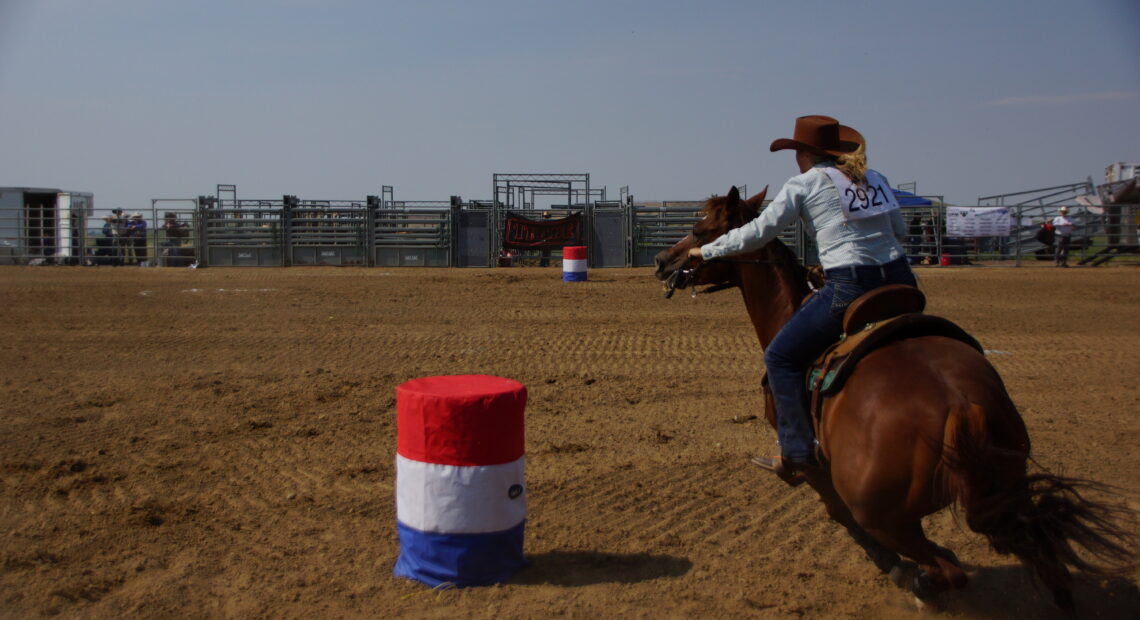 Gay rodeos are queer spaces in rural places
Curt Westberg sits on the porch of his house in Palouse, Washington. He lives here with his husband, but says growing up gay in a small town wasn't always easy.
"I got bullied pretty bad when I was in fourth and fifth grade," said Westberg. "Somehow they just knew I was different." 
Westberg grew up in Pullman but moved to Colfax in high school.
"I didn't really fit in anywhere. And I kind of fell in with the cowboys," he said. 
He learned how to ride steers, and then bulls. He did rodeo in high school, and again at Washington State University. 
When he was 23, Westburg moved to Denver to compete professionally. 
"I saw a flyer somewhere that said, 'A gay rodeo' And I was going, 'You gotta be kidding me!" Westberg lets out a hearty laugh. "I couldn't even imagine," he said. 
Organizers set up an arena in the parking lot of a hotel, Westberg said. It was one of the first gay rodeos in Denver.
"And there was hundreds of men there … It's like I died and went to heaven," said Westberg.
Westberg did team roping and breakaway roping, and as the years went on, more gay rodeos popped up around the West, in places like Wichita, Dallas and Houston.
"They blew up. I mean, they got to be really big and the money started to get good," said Westberg.
Rebecca Scofield chairs the history department at the University of Idaho. Her research centers on the early days of gay rodeos.
To understand the gay rodeo scene, Scofield says we first have to understand who a cowboy is, and the real history of cowboys. 
"It was a world of working class, largely men, from multiple races, ethnicities, languages, who really existed at the edges of respectable society," said Scofield. 
Rather than the heroes in shows like "Gunsmoke," cowboys often had a reputation for being drunk, disorderly and moving around a lot, Scofield said. 
At the turn of the 20th century, she said all of a sudden, cowboys became cool.
It was a key moment in cowboy history. The cowboy became a national symbol. And the complexity around who cowboys really were began to get drowned out by pop culture noise, said Scofield. 
"Over the next several decades, cowboys become white, and they become straight and they become masculine. They are no longer deviant in any way. They are no longer working class even. We sort of took away the historical reality and replaced it with Ronald Reagan and John Wayne," she said. 
Now, there are fewer gay rodeos today than there were back in the '80s and '90s. This coincides with the decline in queer spaces like gay bars, Scofield said. 
She and Westberg agree that it's also a success story because being gay is more accepted and normalized, so there isn't as much of a need for those spaces.
"It's a good thing that we're gaining this acceptance. We're not going to go to the gay bar, we're just going to go to the bar," said Westberg.
The West has a complicated history of colonialism, racial injustice and histories of hate. But Scofield said Northwest states also have history centered in activism. Idaho was one of the first states to give women the right to vote.
"What we can't do is allow histories to be written in such a way that erase the realities of the past and tell people they don't belong here," said Scofield. 
Many queer people like living close to the land, being around horses, and don't want to be forced to embrace anonymity as the only pathway to safety, she said. 
Westberg lives in a small town with no chain stores and no traffic lights. "There's a grocery store and a couple restaurants and a post office. And that's about it," Westberg said. 
He says that's the way he likes it.