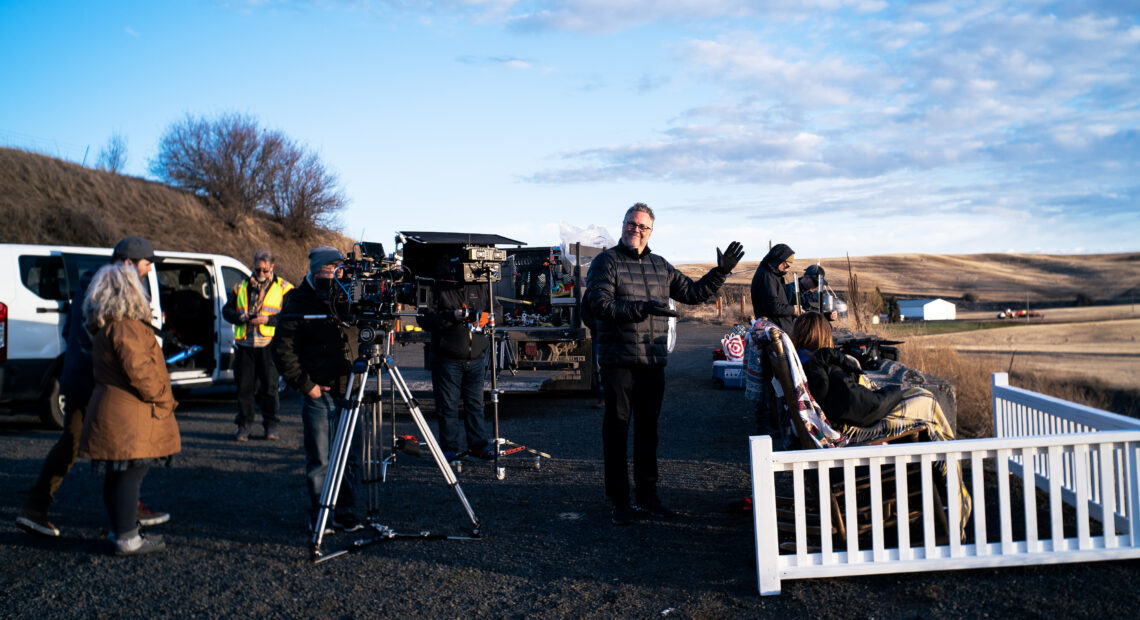 As the money grows, Washington's film and TV industry is taking root
While the writer's strike is bringing major studio productions to a standstill, there are plenty of commercials and independent projects still underway in the Northwest.
Created by the Washington state legislature in 2006, the Motion Picture Competitiveness Program is meant to draw filmmakers and TV creators to Washington.
"We like importing dollars from Hollywood and paying our local folks," said Amy Lillard, executive director of Washington Filmworks, the nonprofit that manages the MPCP and the state film office. "That's really how we define our success in many ways, which is, can we help support creative people making a living being creative here?"
Filmed in a park in North Seattle, "JourneyQuest" is a fantasy comedy show following the adventures of orcs, wizards and zombies. The series has a Dungeons and Dragons vibe and just wrapped its fourth season. 
"It's been crowdfunded for years," said Lillard. "And it is all creatively driven by local folks."
"Going Home" is a medical drama filmed in Spokane. It follows a nurse at a fictional hospice facility while she cares for patients coming to terms with the lives they have lived, said creator Dan Merchant.
"We have a soundstage here [in Spokane] and we built an enormous set that replicates a hospice center," said Merchant.
The nurse, main character Charlie, is played by Cynthia Geary, an Emmy nominated actress and Washington resident.
"I had such a great experience shooting here in the Inland Empire that I wanted to make a show here again," said Merchant. 
Merchant created and sold zombie horror show "Z Nation" to the SyFy Channel, which aired from 2014 to 2018. The apocalyptic theme was perfect for shooting in the Scablands of eastern Washington, he said. 
"In the Northwest, the locations are spectacular," said Merchant. "We were able to make a show that you could shoot daylight exterior and take advantage of all these incredible locations."
The picturesque, rural landscapes of Washington are great for movies and TV but are also a favorite for filming car commercials, said Lillard. 
"We've seen them on the Palouse, we've seen them out on Whidbey Island at Ebey's Landing, we've seen them up in the Cascade Mountains," said Lillard. "I mean, it really does broadcast some of the most iconic locations in Washington State." 
Washington Filmworks offers funding assistance of up to 40% for commercials filming in rural counties. That means companies receive cash-back, up to a certain percent if they invest in wages, benefits and services in Washington.
Companies must spend at least $150,000 for commercials, $300,000 per episode for series and $500,000 for movies to qualify for funding.
Those dollars create union jobs and go into the pockets of local people in Washington, Merchant said. The carpenters who help build the set, the lighting crew and the drivers.
"Your electricians, your plumbers, we hire them to remodel, to build sets, we hire everybody," said Merchant.
The Washington Filmworks incentive program is less about giving a lift to Northwest creatives and more about creating jobs, said Richard Cowen, a producer on "Going Home."
"When you're making a [medium-budget] movie, you hire a local crew. That develops the localism of what we're trying to achieve," said Cowen.
The incentive is structured to bring in small and medium-sized productions, rather than big-budget movies, said Merchant.
A movie with a budget in the hundreds of millions can bring in a crew from around the world.
 "That doesn't really build a local crew at all," said Cowen.
Medium-sized productions with budgets between $2 million and $10 million like "Z Nation" and "Going Home" are in demand largely because streaming services need content, said Merchant.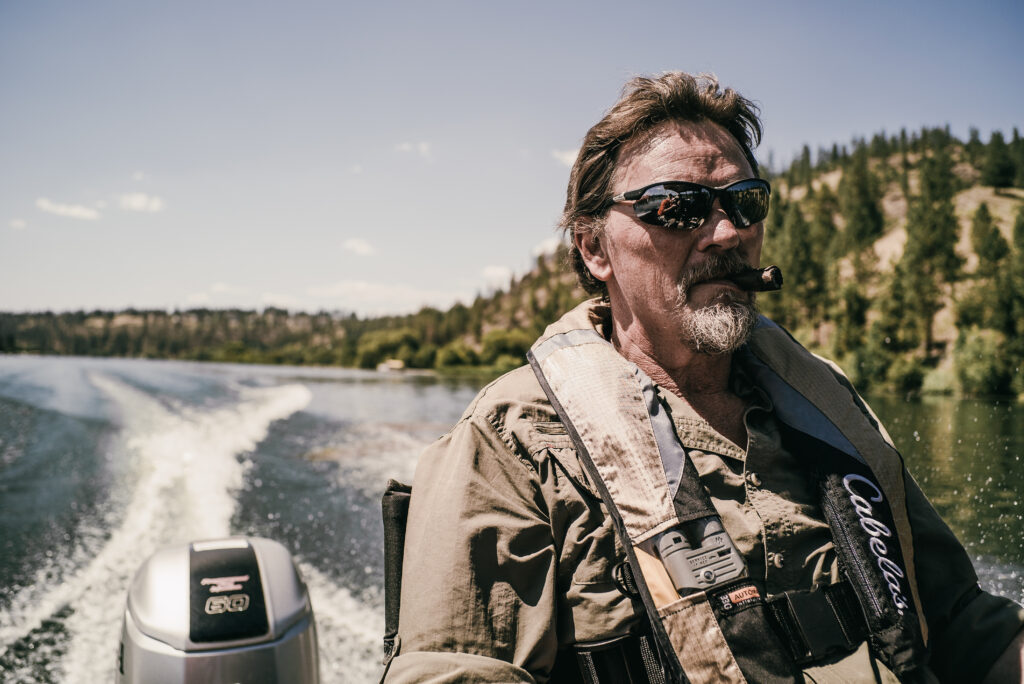 Transportation Coordinator Mike Kjolso drives a boat on Lake Spokane during production of "Z Nation." (Credit: D.S. Schaefer / Outlier Imagery)
Despite the demand, financial perks are top of mind for studios of all sizes. That's where the incentives come in.
"We're filling the restaurants, we're filling the hotels, we're putting gas in the vehicle. So we elevate an awful lot of local businesses and small businesses," said Merchant.
Another small production filming over the summer in the Northwest is "The Wilde Girls," written and directed by Timothy Hines. 
The movie is set in the Great Depression era, and stars two young heiresses – Tinsley and Mattie — trying to survive in the wilderness after being duped out of their inheritance.
The movie includes a lot of outdoor scenes, with shooting locations in Lakewood, Port Townsend, Shelton and Port Ludlow, said Hines. 
"I prepared everyone in the cast and crew that going to the set is not going to be all that different from an actual trek up into the forest," said Hines. 
One of the challenges of filming in the Pacific Northwest is the ever-changing weather, he said.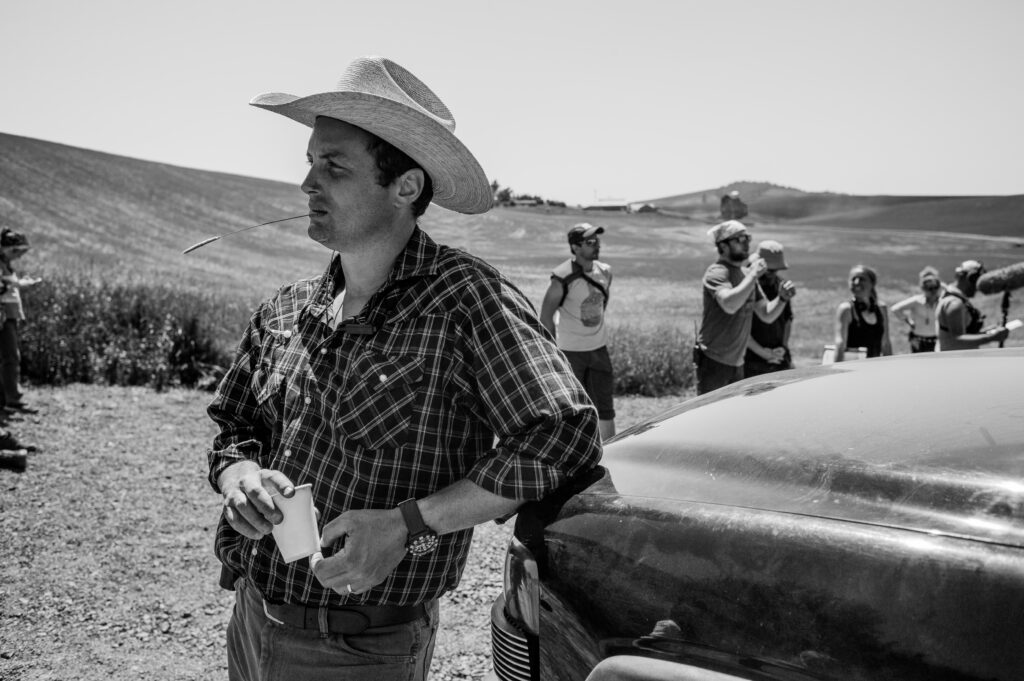 Co-Stunt Coodinator Alex Terzieff while working on "Going Home" near Fairfield, Washington. Terzieff was born and raised in Seattle's Ballard neighborhood. (Credit: D.S. Schaefer / Outlier Imagery)
"It'll rain for an hour then it'll be sunny for an hour," said Hines. "So I have to do matching shots where occasionally it's half rain, half sunny to be able to bridge these scenes."
Born to older parents, Hines said he grew up surrounded by people on the Washington coast who had lived through the Great Depression. 
"It was just fascinating the stories they would tell me of what survival was like at a time when Washington was becoming electrified, when people were still living by candlelight," said Hines.
The stories he heard about what the Northwest was like nearly 100 years ago inspired the theme for the movie, he said, including the wealth divide between rich and poor, which he said is as stark today as it was then.
Although Hines expects a theatrical release for "The Wilde Girls" and filming will continue, he said talks with major distributors stopped when SAG-AFTRA went on strike.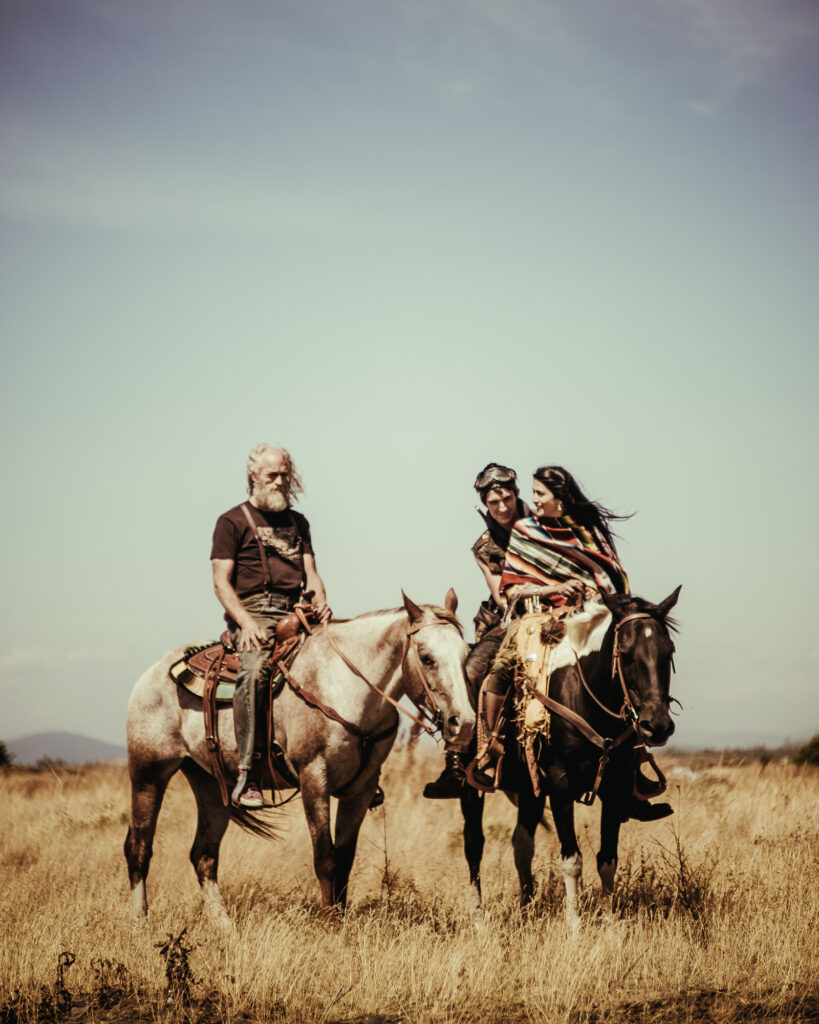 Actors filming for "Z Nation" at the Northern Quest Resort & Casino in Spokane, Washington.(Credit: D.S. Schaefer / Outlier Imagery)
Merchant is in the Writer's Guild and he and producer Richard Cowen are both in the Director's Guild. Both worked on deals with the big studios. But many SAG-AFTRA and Writer's Guild members are still on strike.
"It's a little quiet for us right now," said Merchant. "Unless we have a script that's already written, we're on ice too." 
Filming for "Going Home" wrapped before the strike and is now in post-production. Season two will premiere December 29 on Sony's streaming service Pure Flix. 
In 2022, the budget for Washington state film production incentives went from $3.5 million to $15 million in 2022. That makes Washington competitive with other Northwest states, said Lillard.
Oregon has a $20 million dollar incentive while Montana prices out at $12 million.
The recent bump has made it easier to bring local productions like "Going Home" to the Evergreen state, said Merchant. 
"We bring Sony money into Washington because of this program," he said.  
Merchant and Cowen both live in Spokane.
"We love when our crew start buying houses here and establishing roots. That's what makes me excited," said Cowen. 
On a medium-sized production like the one Cowen and Merchant work on, there might be a crew of 75 people.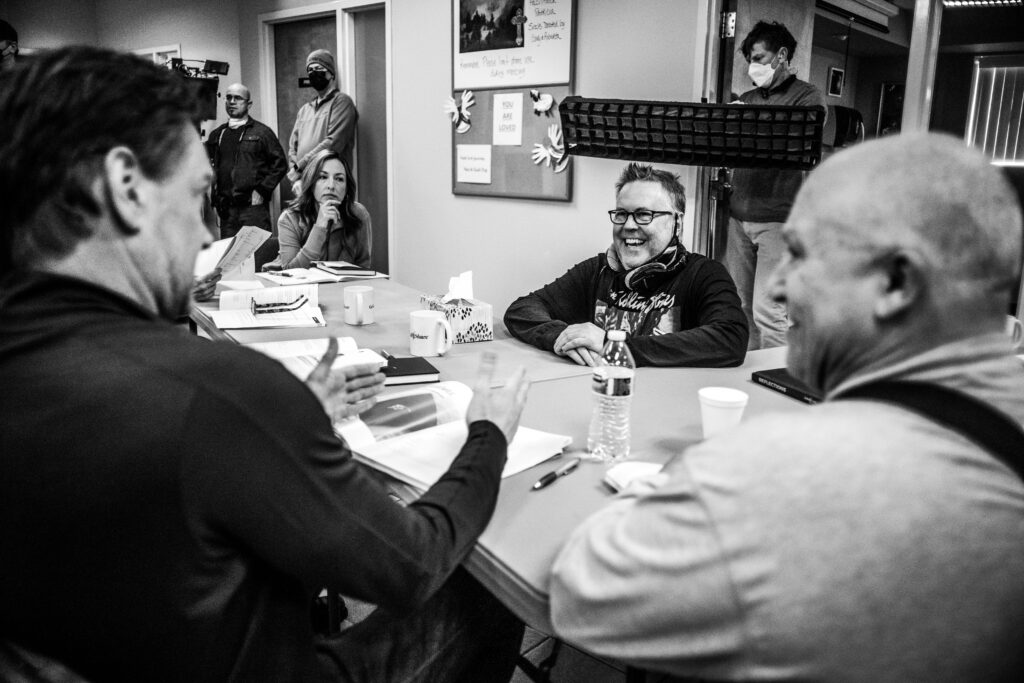 Director Dan Merchant, cast and crew on the set of "Going Home" in Spokane, Washington. (Credit: D.S. Schaefer / Outlier Imagery)
"There's one or two writers, maybe 10 actors. The rest of the people are working people, union members doing their craft," said Merchant. 
The other part of what makes these Northwest productions special is the stories originated here, said Merchant. 
"I am so in awe of how much we get to do in educating up-and-coming filmmakers," said Rebecca Cook, Vice President of the Spokane Film project. The organization supports newcomers to the Northwest film scene with workshops and networking opportunities.
Cook also serves on the Washington Filmworks board of directors.  
The Small Budget Project Initiative is funded by Washington Filmworks and encourages new filmmakers to apply for project funding. Submissions for the latest round were reviewed in early July.
"Each application for the Small Budget Project Initiative was so different," said Cook, who explained that board members and staff approve which projects will get funding for the next round. "The finalists showed us a wide swath of the talent and diversity of storytelling we have here in Washington."
New cash from the incentives will help with supporting workforce development in film, increasing diversity, equity, and inclusion and developing film projects in rural communities, said Cook. 
"The new staff and programs in Washington are pretty exciting and we are just starting to see the impact," she said. "There's a lot more to come."