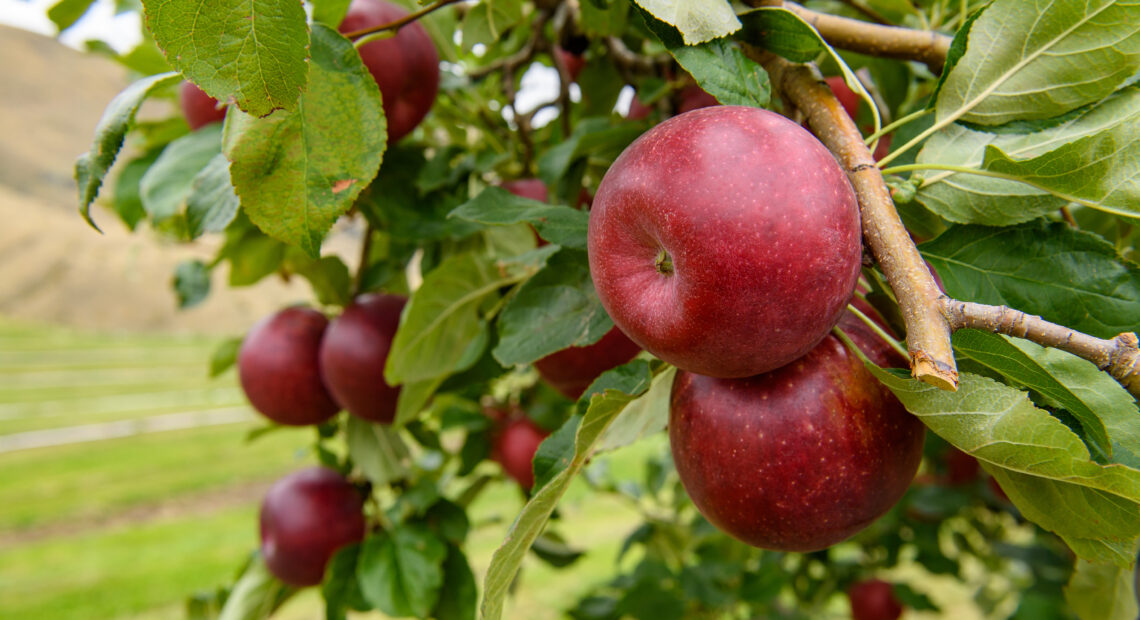 Cosmic Crisp boasts big sales for Washington, with new apple varieties on the way
Known for its crunch and sweet taste, the Cosmic Crisp apple has been awarded "Best Snack" by Good Housekeeping for the third time.
"Categories are assessed by dietitians, food scientists, chefs, and taste testers to bring you the best snacks in many categories," reads a statement from Washington State University's Office of Research. "In the category of Powerhouse Produce, Cosmic Crisp ranked number 1 in best apples."
The red fruit speckled with dots that look like distant stars is a hybrid between an Enterprise apple and a Honeycrisp. 
"As a plant breeder, we're just a glorified bee really," said Kate Evans, who runs the apple breeding program at WSU where the Cosmic Crisp was created. "We took pollen from the honey crisp, put it onto the flower of an Enterprise, and you wait and that flower produces the fruit."
Inside that first fruit were the seeds that created the Cosmic Crisp.
"The [apples] never brown when you cut them," said Pullman resident Cheyenne Webber, who said she likes the Cosmic Crisps for snacks while rock climbing with her husband.
Different apple species are constantly combined to breed them for selective traits, said Evans. Seedlings showing promise are selected to have their fruit evaluated in the laboratory for taste, nutrition value, and long-term storage sustainability. 
"I love them," said Kelsey Hanson, who lives in Seattle and buys Cosmic Crisps regularly. "I alternate between Fuji, Honeycrisp and Cosmic Crisp depending on what's on sale."
But not everyone feels the same way about the award-winning snack.
"I try them every year and remind myself I have many others I like much better," said Moscow resident Rick Fletcher. 
"I'm Team Red Delicious," said Austin Hengen, who also lives in Moscow, Idaho. "Cosmic Crisps are more expensive."
The premium pomme is usually a little pricier than its other apple counterparts. Sales of the Cosmic Crisp apples averaged around $2.44 per pound between September 2022 and January 31 2023, according to Kathryn Grandy, chief marketing officer for Proprietary Variety Management (PVM). Based in Yakima, PVM was contracted by WSU to help commercialize the new variety.
"Cosmic Crisp sales are strong nationwide, becoming the 8th in sales for apples in the U.S.," said Grandy. Sales grew 163% from the past year to $41 million according to a press release from WSU.
After designing a new apple, WSU works with commercial nurseries who grow and produce the trees. Then, the saplings are sold to orchards.
"The current sales are just over 20 million trees of the Cosmic Crisp in Washington state alone," said Evans. 
Sales of Cosmic Crisp producing trees are exclusive to Washington. The Cosmic Crisp is the intellectual property of the university, and has its own patent. "It's [technically] an invention," said Evans.
While the apples are limited to being grown in Washington state, there are Cosmic Crisps being grown in Italy.
"We can license very specifically to international territories to make sure that fruit that has been grown there isn't in direct competition to any fruit that's been produced by Washington growers," said Evans.
More than $11 million has been spent on building the Cosmic Crisp brand, she said.
"Apples are a fairly unique fruit in that consumers buy it by brand, they buy it by name," said Evans. 
Marketing counts when it comes to consumers recognizing the apple, and making the decision to buy it again, said Evans.
"We projected 5.5 million 40 lb cartons of Cosmic Crisp would be produced by the state of Washington in the 2022 crop year, and as of last week, the state has shipped approximately 77% of that total," said Jill Burberry, the database administrator at PVM.
The royalties from the creation of the award-winning fruit are supporting the WSU breeding program, said Evans, which has allowed it to become self-sufficient, rather than relying on money from growers.
The apple breeding program at WSU started in 1994, and was created and led by Dr. Bruce Barrett. "I took over in 2008, and we've been continuing to create new unique [apples] every year," said Evans.
WSU scientists are already working on another new apple – a cross between a Cripps Pink and a Honeycrisp.
"It's a firmer apple with a nice combination of tartness and sweetness," said Evans.
The apples from the 2023 crop will ship December 1, said Grandy.