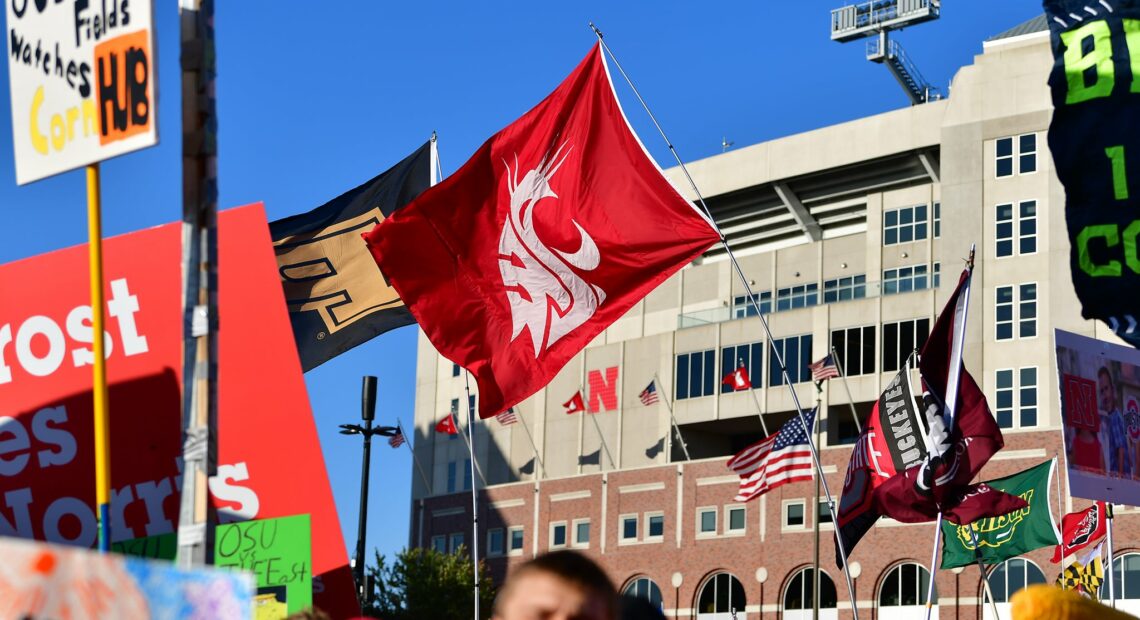 WSU alumni, students worry about the future of athletics after Pac-12 news
Every ESPN College GameDay, somewhere in the crowd you can see a giant crimson flag featuring the Washington State University logo waving above people's heads. The flag has graced football fan's TVs 287 times, in total – but this year, there could be a little bit of a drag to the revelry.
After rival universities of Washington and Oregon joined the Big 10 Conference, that left the fate of WSU and Oregon State University with little conference support.
"We were shocked when the University of Washington and the University of Oregon announced they had accepted Big 10 invitations," wrote Kirk Schultz, WSU System President, in an email to staff and students.
CJ McCoy, the president of the Ol' Crimson Booster Club, has waved WSU's flag during GameDay at least 30 times. He called the decision to disband the Pac-12 heartbreaking – not only for the fans but most importantly the student athletes and the impact athletics has on education.
"To lose the kind of exposure that Washington State football generates, means that other athletes are going to lose the opportunity to play at the highest level and I think it's a downward spiral," McCoy said.
That's sports from swimming to women's soccer.
"Many of them grew up watching WSU sports and wanting to be a member of a WSU sporting team," McCoy said.
Other student athletes grew up watching Pac-12 sports, like incoming freshman Allan McKeraghan, who went to Colville High School and also ran track for the Spokane Speed Academy.
He picked up track after recuperating from a torn ACL. He said he admired how hard work and determination can make up for raw talent in the sport.
"Whatever you achieve is done on your own and that means that if you put in the work and you put in the time, the outcome will be what you were looking for," he said.
Upon hearing the Pac-12 announcement McKeraghan said he was bummed.
"I grew up watching the Pac-12. Some of my earliest memories were watching football – both my parents went to Oregon State," he said. "And everyone in eastern Washington has such a tie to Washington State and the Pac-12 that when I was able to commit to a Pac-12 school, I had a lot of community support."
When it came time for McKeraghan to pick a team to run for the 100-, 200- or 400-meter sprints he went with the Cougs. He said he had watched athletes at several schools and wanted to surround himself with nationally-ranked track stars at WSU.
"I knew I needed to put myself in a position where, even though I wouldn't be 'the guy' there, I'd be in a position that would push me to be the best of myself," McKeraghan said.
He said he thinks the athletic director will make the best choices possible for all student athletes.
Alumni McCoy said he hopes something works out for the student athletes.
"If nothing else changes, this [year] will be the last time that some of these young athletes and students who are there now will get to experience the highest," he said. "We have swimmers competing at the Olympic level, and those folks are going to lose their opportunity."
McCoy said the deal for TV dollars disregards the value of college education in the state.
"If you simply are going to make a bet on a football team and the University of Washington, then you're disregarding the entire value of college education for the sake of TV dollars," McCoy said.
For now, Schultz asked fans for their continued support – and to not lash out.
"Whatever solution we come up with, it will be different moving forward. Washington State has been a member of the same athletic conference since 1917, which has served us very well over the past 106 years," Schultz wrote.
In the meantime, McCoy said, through thick and thin the Ol' Crimson flag will keep flying.
McKeraghan moves to Pullman this week – he said track practice starts in September, and he will keep running fast.
"I try," he said with a laugh.