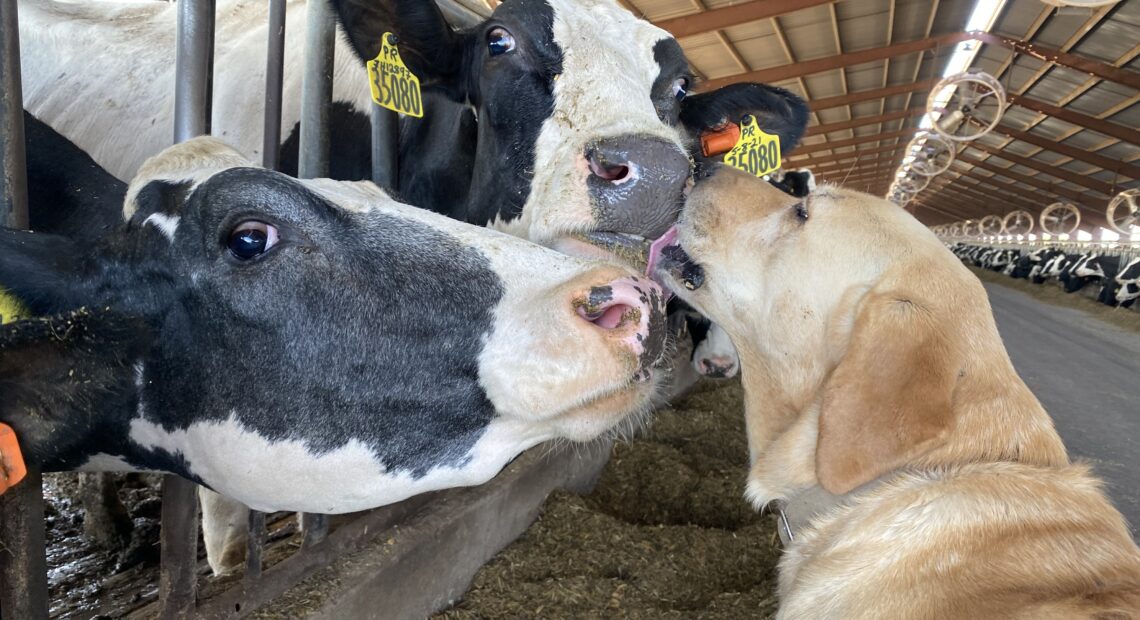 Dairy Steamer: Milk cows, like people, get hot and farmers use innovative ways to cool them
It's hot! It hit about 110 degrees in the Columbia Basin this week. So how do dairy cows, with no air conditioning, stay cool? Turns out one Sunnyside, Washington, dairy farm is using 6-foot fans, water sprayers and even watermelon to keep its "girls," or mama cows, more comfortable. One interesting fact: most times happy cows don't moo, they're quiet. We visited with farmer Jason Sheehan for this summer audio postcard.
STORY TRANSCRIPT:
Jason Sheehan: "Basically, cows are a big furnace … you know, to convert forages into milk and meat is basically a big furnace, and that creates quite a bit of heat.
Agriculture is not for the faint of heart. And most of us do this first because we love it. And, uh, we enjoy working with the animals. We enjoy working with the people. And so anytime you've got uncomfortable animals or people, you're going to do everything you can to help make them comfortable.
This summer's been pretty cool for the most part. So we're hoping this is the only week of real extreme heat.
When it gets hot like this, it's always hard on the people and the cows. And, between our cows and, and our crew around here, it's really frustrating to see how hot it can get. So we're doing everything we can to keep both the cows and the people comfortable in the heat.
We always try to have shade for all of our lactating and dry cows. And then, the second thing out here in the past, we would just use water, try to soak the cows down a little bit. And it seems like as we continue to get more extreme heats, we've ended up now installing fans. So, the combination of shade, soakers with water and now fans is what we're doing to keep the cows cool and the people cool.
The nighttime temperatures cooling down below 70 helps a lot. A lot of times at night, the cows radiate their heat to the night sky as long as it stays below 70 degrees. So, that's helpful when the nights are cool.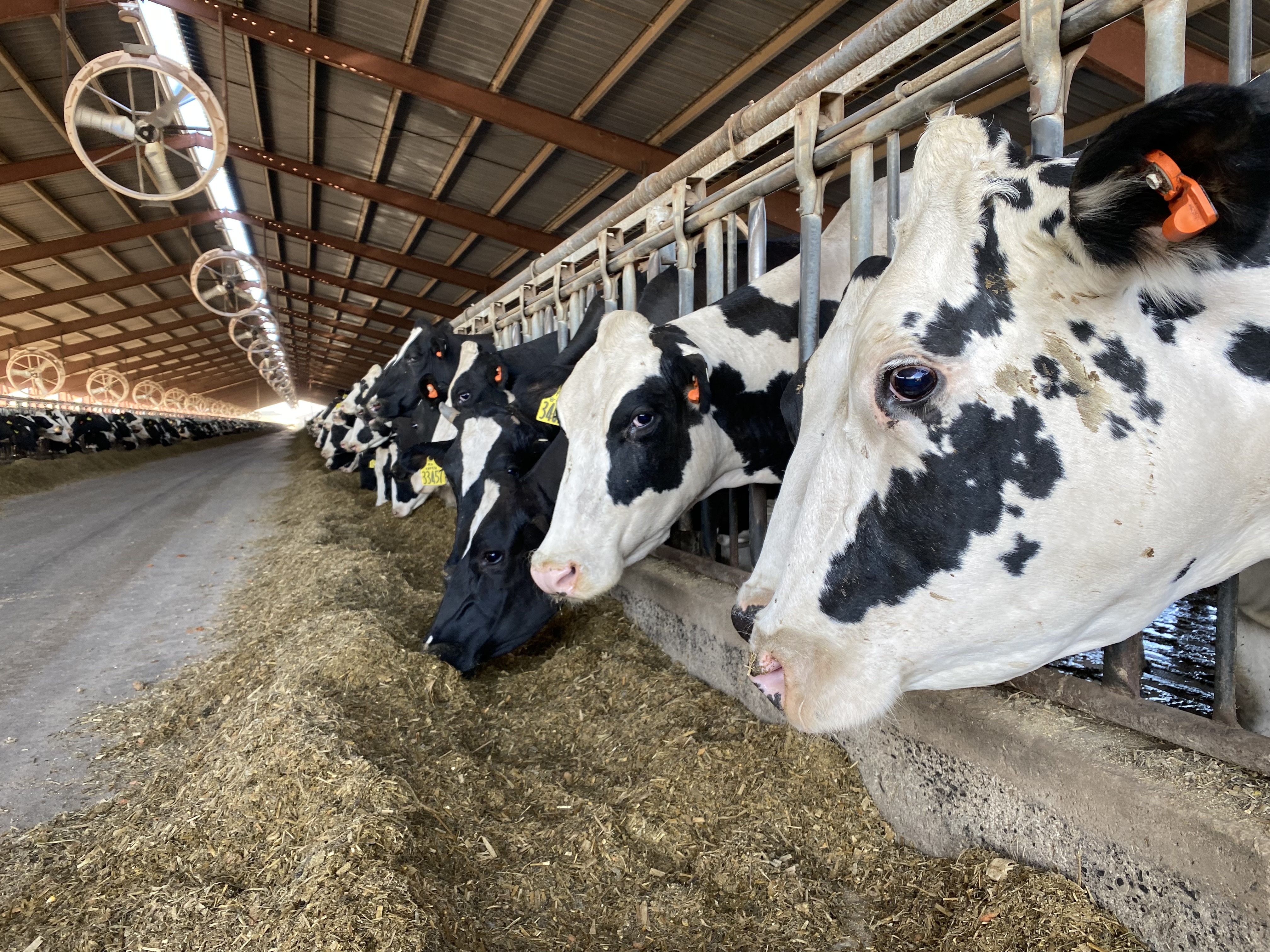 Fans, water soakers and shade help keep milk cows cooler during extreme heat. These cows also wear orange-colored trackers in their ears so the farmers can see if they are acting normal, or if they are heat stressed. (Photo: Anna King)
Jason Sheehan: "We've actually got activity monitoring, so every single cow in our dairy has the equivalent of a Fitbit in their ear. And, it's very interesting, we can see when a cow gets heat stressed, her movement actually goes up. Because she's trying to get comfortable. So, you know, for a cow, what she wants to do every day is she wants to get milked and she wants to eat food and drink water and lay down and relax and make milk. And when cows are heat stressed, they are not able to relax because they're hot. So, before we had our fans running this spring, we could see when it got warm in May that the cows' activity was up. And once we had the fans running, we could see that activity really even out and smooth down, which shows us that the cows are truly relaxed.
And, the other thing you'll notice cows doing when they're relaxed is they're chewing their cud. So, that's a good sign that a cow is feeling good.
We try to get our highest producing cows to get cooled off the best.
So, we've got well over half of them with the fans, and we keep that to the ones … You know, the first thing to go with cows is the milk production drops off because they don't eat as much.
So you try to keep them comfortable eating. And then, the reproduction will fall off also, so you're trying to continue to get cows pregnant.
And we do everything we can to keep the highest producing cows that we're trying to get pregnant the coolest and most comfortable.
Right now we're feeding some fresh culled carrots. And then we've also got some cull watermelon. So that helps keep the feed a little bit more moist in the summer and a little sweeter for the cows.
It's a lot of work for everybody, but we do the best we can to take care of these girls."